Pacific Islands Cruise Destinations

The Pacific Islands are some of the world's best untouched treasures. Boasting pristine, turquoise waters, warm weather, unforgettable snorkeling, and world class diving, this tropical paradise could easily make the top of any keen traveller's bucket list. They are an ideal destination for cruisers with hundreds of thousands flocking to the islands each year to holiday.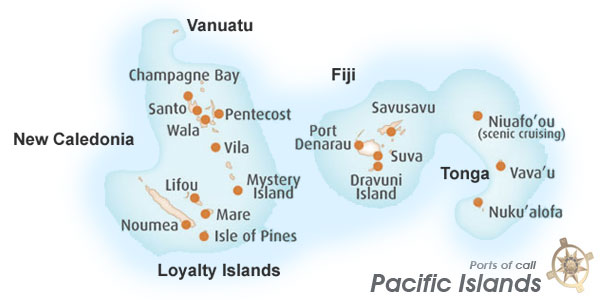 A holiday to the Pacific Islands is a holiday that has it all! Explore the islands by car, relax on the beach, take a 4X4 tour, soak up the views from the lookouts, or visit the multitude of cultural sites that are scattered across the islands.
Friendly locals greet visitors to the islands with smiles, making you feel welcome and right at home. They invite you to share their unique culture and heritage, allowing you to truly immerse yourself in this very special way of life. It is these feelings that will make you feel like you are worlds away from anywhere else and will have you wishing you never had to leave.