Bursting with history, culture and beauty, Dunedin is a stunning city to visit, offering visitors a unique insight into New Zealand´s fascinating past.
Gateway to the incredible Otago Peninsula and positioned on a gorgeous harbour setting, Dunedin encompasses some of the country´s best beaches, buildings, gardens and wildlife.
Take some time to visit the Dunedin Botanic Garden or the stunning landscaped lawns of Larnach Castle, before embarking on wildlife experiences like encountering seals, penguins and albatross on the Otago Peninsula.
In the city of Dunedin itself, absorb the wonder and beauty of standout Victorian and Edwardian buildings like First Church and Dunedin Railway Station, or simply take a walk through the Octagon to experience the best of Dunedin´s iconic buildings.
Rain, hail or shine, Dunedin always rises to the challenge of impressing all who grace its presence.
What to Explore
Expand
Otago Peninsula
Home to an abundance of world-famous wildlife, the spectacular Otago Peninsula is a must-see when visiting the city of Dunedin.
A range of wildlife tours are on offer, giving you up-close encounters to the Royal Albatross, Yellow Eyed Penguins, the Little Blue Penguin, Stewart Island Shag and Hooker Sea Lions.
Unique beaches and quaint country villages add to the charm and appeal of this destination, with scenic vistas out to the calm blue waters of the ocean, sure to take your breath away.
Cadbury World
Chocolate lovers get excited! Dunedin is home to New Zealand's premier chocolate factory; Cadbury World.
The Cadbury World Tour is a chocolate lover's dream that will overwhelm the senses and leave you with a long lasting appetite for all things chocolate.
Enjoy the colourful and educational environment, with chocolate-themed displays delighting those both young, and young at heart.
Larnach Castle
Visiting a castle in any location always promises to be an enchanting experience, and Larnach Castle is no exception.
Positioned on the beautiful Otago Peninsula, Larnach Castle boasts a fascinating history, magnificent carved ceilings, precious local antiques and incredible scenic views.
Stroll the stunning landscaped gardens and soak up the true majesty of this incredible place.
Temperatures
Expand
Average Temperatures
January: 15°C
February: 15°C
March: 13°C
April: 12°C
May: 9°C
June: 7°C
July: 6°C
August: 7°C
September: 9°C
October: 11°C
November: 12°C
December: 14°C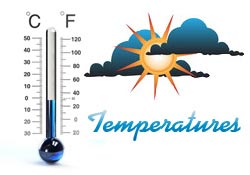 Dining
Expand
Dining Suggestions
Dunedin's dining precinct is centered on the infamous Octagon, along with the Lower Stuart Street, Princes Street and George Street.
Great local places to eat include The Terrace Bar, No. 7 Balmac, Capers Cafe, Rentons Restaurant and the Little Hut Cafe.
Bring to Shore
Expand
What to bring to shore?
Comfortable shoes are a must if you plan on doing a lot of walking around.
If you are staying outdoors, a hat and sunscreen are a must!
Bring your swimmers is you plan on taking a dip off the Otago Peninsula.
Make sure you don't forget your camera either!
Docking
Expand
Docking
Your cruise ship will dock in Port Chalmers, approximately 20 minutes from the city centre of Dunedin.
Taxis are available pier-side and shuttle buses are available for transportation into the city centre.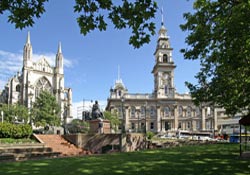 Information
Expand
General Information
Currency: New Zealand Dollar (NZ$)
Language: English
Population: 116,600
Time Zone: NZST (UTC+12)