Bora Bora is a name commonly whispered when talk of exotic international tourist destinations comes up. Famous for its aqua-centric luxury resorts, this island is located among the Society Islands of the French Polynesia.
Surrounded by a lagoon and a barrier reef, it is picture perfect all year round and boasts everything an island destination should.Volcanic peaks lie dormant in the background, cascading down to glorious green rainforests that meet pure white sands and aquamarine waters. The beaches are lined with coconut palms and speckled with villages filled with happy and playful children.
The island is also abundant with history as it acted as an American naval base between 1942 and 1946. History buffs could spend weeks exploring the intricate remnants that remain from this time.
No matter what you´re after, whether it´s relaxation, adventure or history, there is something here for all.
What to Explore
Expand
4WD Sight Seeing Tour
If you´re going to explore everything the island has to offer, there really is no better way than to do it on a 4WD adventure. You will discover culture, history, flora and fauna all in one, with highlights undoubtedly including the World War II sites, including the ammunition bunkers which are still used by the locals in cyclone season.
Your 4WD can also take you to the beautiful Matira Lookout, which offers spectacular views over the island and its surrounding lagoon and reef.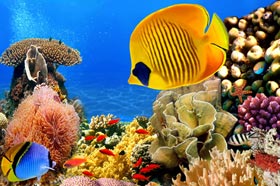 Watersports
As an island, it should come as no surprise that watersports are a hugely popular activity here. Those wanting to dive below the surface can scuba dive and snorkel the reef, discovering the fascinating marine and coral ecosystems that lie beneath.
Stay above the water and get the adrenaline pumping with jet skiing, jet boating, water skiing and surfing or try your hand at sailing or kite surfing. The possibilities when it comes to getting our on the water are seemingly endless.
Lagoonarium
Unique to Bora Bora, the exotic Lagoonarium is home to all the marine animals you see in the barrier reef photographs. Get up close to turtles, dolphins, sharks and rays and discover why this island is such a popular destination with tourists.
Temperatures
Expand
Average Temperatures
January: 26°C
February: 26°C
March: 26°C
April: 26°C
May: 26°C
June: 25°C
July: 24°C
August: 25°C
September: 25°C
October: 26°C
November: 26°C
December: 26°C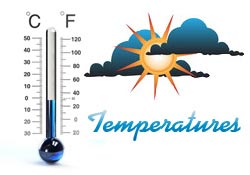 Dining
Expand
Dining Suggestions
Bora Bora offers fantastic dining options to suit every kind of traveller. If you are on the move and just want to grab a snack, why not visit Bora Bora Burger, Snack Matira and Roulotte Matira (Chez Sam)?
Those looking for French food should make a stop at La Matira Beach Restaurant, Restaurant St. James, Aloe Café, La Bounty and Restaurant Fare Manuia.
For fresh seafood you really can´t go past Bloody Mary´s Restaurant and Bar, while La Villa Vahana offers fantastic international cuisine for those travelling in style.
Bring to Shore
Expand
What to bring to shore?
Comfortable shoes are a must if you plan on doing a lot of walking around. Ensure you bring your swimmers and snorkelling gear so you can explore the reef.
If you are staying outdoors, a hat and sunscreen are essential. Ensure you bring your passport, identification and cash/credit cards. Make sure you don´t forget your camera either!
Docking
Expand
Docking
Your cruise ship will anchor in the lagoon at Vaitape. You will then be tendered ashore to the Vaitape pier where there are limited taxis available.
Le Trucks, which are open-air vehicles with bench-type seating, are the most commonly used method of transportation on the island.
Please note: the vast majority of drivers in Bora Bora do not speak English.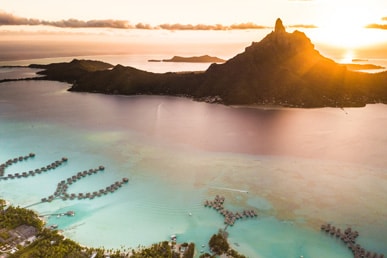 Information
Expand
General Information
Currency: Comptoirs Francais du Pacifique Franc
Language: French (Official) Polynesian dialect
Population: 8,927
Time Zone: UTC-10, −9:30, -9