Due to the COVID-19 concern, our office will be closed on weekends.
Originally a subsidiary of Royal Caribbean Cruise Lines, Azamara Club Cruises secured a brand of its own as its two ships, Azamara Journey and Azamara Quest, were distinctively different and unlike anything seen before. Offering passengers a more intimate experience with first class amenities and service, Azamara takes its guests to hidden parts of the world that larger cruise ships cannot reach.
Ships like Azamara Journey and Azamara Quest both boast an incredible social and immersive atmosphere, with its inspired itineraries and comfortable small ship cosiness. All the staterooms allow maximum comfort with its selection of European bedding and soft goods, with a large number offering ocean views and private verandas. Regular onboard celebrations and attentive staff to attend your every need make an Azamara cruise one that you'll never forget.
Rest assured that Azamara Club Cruises will offer the very best in what a cruise can offer as you discover unparrelled sides of the word.
Accommodation
Expand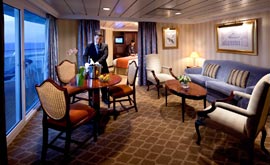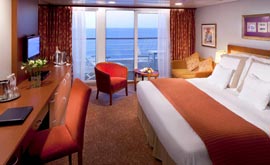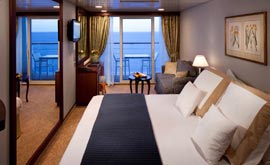 Stateroom Inclusions:
Flat-screen television
Refrigerator with mini-bar
In-room safe
Thermostat-controller air conditioner
Direct-dial telephone with voice mail
Two lower beds convertible to queen size
Hand-held hair dryer
Suites Inclusions:
Separate living room
Floor-to-ceiling sliding glass doors
Master bedroom with two lower beds convertible to queen size
Marble master bath with whirlpool tub and shower
Veranda
Flat-screen television
DVD/CD player
Refrigerator with mini-bar
Thermostat-controlled air conditioning
Direct-dial telephone and voicemail
Desk
In-room safe
Hand-held hair dryer
Facilities
Expand
Facilities
An Azamara cruise offers an impressive range of facilities that will leave you feeling good and looking great!
Let that stress melt away whilst taking a sensual spa bath or choose from a selection of massage therapies and acupuncture services. Pamper yourself at the salon after you've worked up a sweet at the state-of-the-art fitness and personal training centre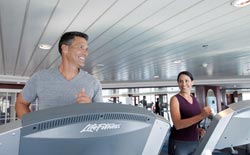 Dining
Expand
Dining
An exquisite selection of wining and dining options combined with a rich atmosphere are what you can expect on an Azamara cruise. Be treated to a large selection of culinary delights prepared by the crews highly experienced and versatile chefs. There is a selection of boutique cafes and casual dining options for a nice change of menu.
Sensational room service is also on offer around the clock, 24 hours day. Meals are lovingly prepared with fresh ingredients and the waiting crew on board is ready to meet your every need and call.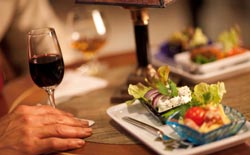 Entertainment
Expand
Entertainment
The premium entertainment options on board make Azamara cruise ships one of the the most distinctive cruise lines to travel with. Everything on offer is incredible with everything from an on board casino, four-star cabaret shows and regular festivities and celebrations make Azamara truly unique.
You'll not only be entertained but also enriched by the choice of classes and incredible lectures by guest speakers.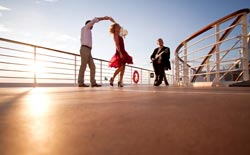 Kids
Expand
Kids
Whilst there are no specific children's programs; children can still enjoy a good choice of console gaming, board games, and on board television programming.