Due to the COVID-19 concern, our office will be closed on weekends.
Royal Caribbean cruises are a holiday destination of their own. The biggest cruise ships on the water belong to Royal Caribbean, capable of carrying 6,000+ passengers they are floating cities with all the activities and amenities you would expect to find in a real one on land.
On board activities are limited only by your imagination with, rock climbing walls, bumper cars, relaxing spa treatments, ice skating, mini golf, FlowRiders, sky diving simulators, water parks and much, much more. It isn't all about the adrenaline junkies though, Royal Caribbean cruises have state-of-the-art live shows and performances award winning cuisine and a robot that can make you cocktails…seriously!
Popular Royal Caribbean cruises from Australia include itineraries to the South Pacific, New Zealand and Great Barrier Reef but recently the cruises in South East Asia or transpacific cruises to Hawaii have grown in popularity.
If you are a first time cruiser with Royal Caribbean and want to see what it is all about, take a look at upcoming cruises on the Ovation of the Seas, their newest and largest ship in Australia!
Use the search tools above to find the perfect cruise or browse the information below to learn more about Royal Caribbean Cruises
Accommodation
Expand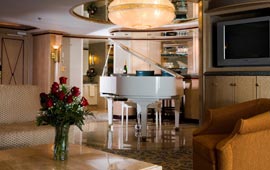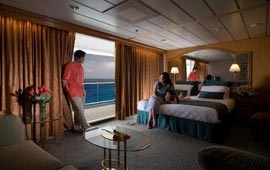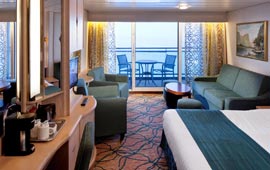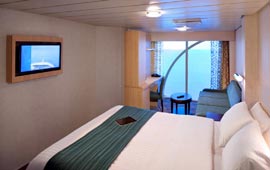 Cabin Inclusions:
Two twin beds
Sitting area with sofa
Private bathroom
Vanity Area
Minibar
Television & phone
Safe
Refrigerator
Suites Include:
Seperate bedroom with king-size bed
Private balcony
Concierge service
Entertainment centre
Flat screen TV and bedroom TVs
Private bathroom
Dining table for four
Cabin Layout Samples:
Layouts for illustrative purposes only. Your actual cabin may differ slightly from this illustration. We provide you with more detail about your cabin during the booking process. Please see our descriptions/photos on your selected cruise.
Facilities
Expand
Facilities
Each Royal Caribbean ship includes a top-of-ship lounge called the Viking Crown Lounge offering sweeping panoramic views, onboard rock climbing walls, bars, lounges, spas, gyms, a main dining room and alternative dining venues. The line has a special kids and youth program known as Adventure Ocean.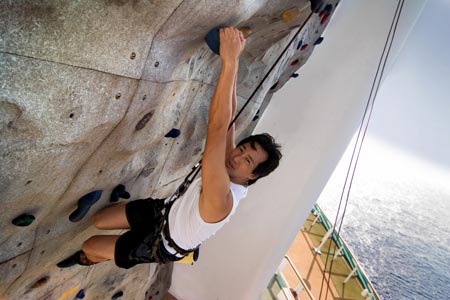 Dining
Expand
Dining
From cupcakes to California rolls, finger foods to a five-course gourmet meal, a Royal Caribbean cruise is a journey of culinary discovery. Our innovative chefs, each trained and certified by the American Culinary Federation, will globalise your palate with a line up of complimentary and speciality options. Pair your meals with a beverage package and save up to 25% on your favourite drinks.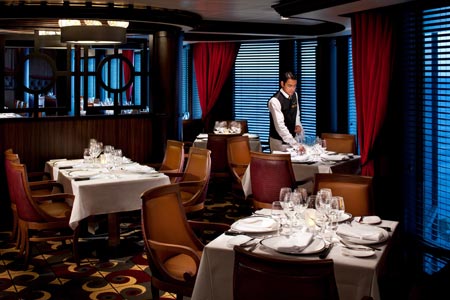 Entertainment
Expand
Entertainment
Royal Caribbean Productions creates, produces, and manages the largest premium entertainment operation at sea! From full Broadway musicals, to Las Vegas style production shows, and even ice and aqua spectaculars; no single production company provides more exciting opportunities to both entertainer and audience member.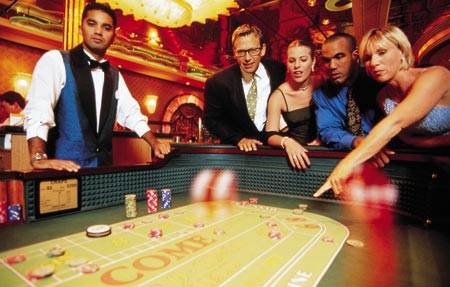 Kids
Expand
Kids
Adventure Ocean is the brand name for Royal Caribbean International's youth activity program on board their vessels. There are different programs tailored to fit seven age groups. Most Adventure Ocean activities are free. Some activities are sponsored by Fisher-Price and Crayola. The Adventure Ocean program includes Adventure Science, a science-based lab where children can do experiments at sea. "The Living Room," "Fuel," and "Optix" are the teen hangouts aboard Royal Caribbean ships.