Due to the COVID-19 concern, our office will be closed on weekends.
The city of Noumea is New Caledonia´s tourist hub and home to world-class island adventures. Dubbed as the "little piece of France" in the Pacific, this progressive French territory boasts an impressive array of tourist attractions, ranging from unique architecture and charming boutiques, to stunning nature walks and picturesque island outlooks.
Combining the ambience of a French province with the mystical wonder of an island paradise, Noumea lies on the island of Grande Terre and is the capital city of New Caledonia. Although it is one of the most westernized capitals of the Pacific Islands, it still boasts a unique untouched beauty, with white-sand beaches and turquoise waters enticing visitors to its shores.
What to Explore
Expand
Tjibaou Cultural Centre
Long considered a sparkling jewel of the South Pacific, Tjibaou Cultural Centre is an absolute must-see while visiting Noumea. Famous for its breathtaking architectural designs, the centre captures the true essence of the Kanak culture and is the perfect place to immerse oneself in the island way of life.
Nearby Islets
Take a tour of the nearby islets to discover a whole new world of paradise. Explore snippets of the incredible barrier reef that surrounds the island and relax on secluded beaches before heading back to the mainland.
Island adventures
Whether it's by 4WD, bush trekking or kayaking on the island river, the ways to explore this beautiful island paradise are endless. Why not take a helicopter ride to see it from the air, or dive beneath the surface on a scuba diving adventure? The possibilities are sky high!
Temperatures
Expand
Average Temperatures
January: 26°C
February: 26°C
March: 25°C
April: 24°C
May: 22°C
June: 21°C
July: 20°C
August: 20°C
September: 21°C
October: 22°C
November: 23°C
December: 25°C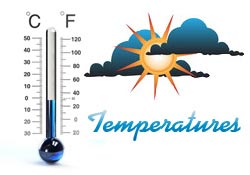 Dining
Expand
Dining Suggestions
The city of Noumea is bursting with great places to eat and drink. Places like Casa Italia, Snack Ulysse and Cafe de la Gare are popular with tourists, while Huong-Xua Express and Zanzibar are perfect for those who don't want French cuisine.
Bring to Shore
Expand
What to bring to shore?
Essentials like a hat, sunscreen, flat-soled shoes and lightweight clothes are a must if you plan on exploring everything Noumea has to offer.
Ensure you also bring along your swimming and snorkeling gear, bottled drinking water and enough money for eating and shopping on the island.
Docking
Expand
Docking
Cruise ships usually dock at Gare Maritime Terminal, which is situated in the heart of Noumea Island port.
The city of Noumea is a short distance away from the port. Le Petit Train is one of the most popular ways of getting into Noumea and exploring the city.
Information
Expand
General Information
Population: 93,060 (2010 estimate)
Language: French and Kanak dialects
Type of Government: French overseas territory and local government
Currency: French Pacific Franc