Due to the COVID-19 concern, our office will be closed on weekends.
The Cunard Line began in 1839 when it was awarded the first British transatlantic steamship mail contract. It quickly became a leading passenger liner and today prides itself on retaining its signature classic style and quality. All Cunard staff are trained at the cruise line's White Star Academy to ensure each guest enjoys impeccable service for every moment of their voyage.
In keeping with this luxury cruise brand, every vessel offers fine dining, theme balls and high class entertainment. On board theatres host musical and Shakespeare productions; live pianists, string quartet, orchestra and big band perform in bars and lounges; and classes as varied as fencing, watercolour painting and ballroom dancing.
Explore the world onboard a high class Cunard Line ship for a royal experience.
Accommodation
Expand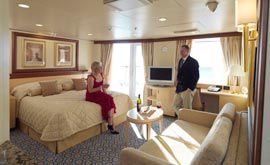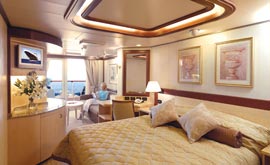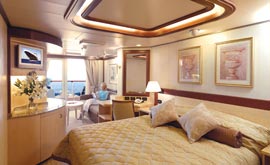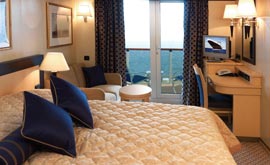 Cabin Inclusions:
Satellite TV with multi-language film and music channels
Nightly turndown service with pillow chocolate
Daily shipboard newspaper
Bathrobe and slippers
24-hour room service
Suites Inclusions:
Butler and concierge service
Priority embarkation, disembarkation and luggage delivery
Exclusive access to The Grills Lounge, The Courtyard and private deck area
Bon Voyage bottle of Champagne and strawberries on embarkation
Facilities
Expand
Facilities
Cunard Line vessels are world-famous for high quality down to the finest detail.
Experience the glamour of fine dining, outstanding live entertainment, elegant bars, and Royal Night Theme Balls.
State-of-the-art sports and fitness facilities include tennis, golf, gym, fencing, shuffleboard and fitness classes. While away blissful afternoons with luxurious spa services, boutique shopping and enrichment classes.
Each ship features unique services and amenities for the voyage of a lifetime. Visit each ship to discover more.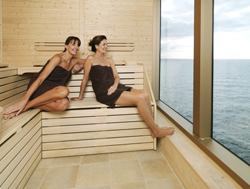 Dining
Expand
Dining
Dining onboard Cunard vessels is like no other, with tempting dishes crafted by dedicated and highly skilled chefs.
The main dining rooms feature menus created by Cunard's Global Culinary Ambassador, Jean-Marie Zimmermann amid luxurious decor. Each ship also has a unique gourmet specialty restaurant, for a truly extravagant experience. With all Cunard staff trained at the signature White Star Academy, your delicious food will be accompanied by outstanding service.
Enjoy fine dining at any hour with buffets, cafes, afternoon tea and 24 hour room service.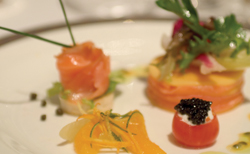 Entertainment
Expand
Entertainment
Cunard Line provides the very highest class of entertainment.
Live the high life with a range of high-class bars with dazzling dance floors and live piano, jazz, big band and string quartet performances. May the odds be in your favour in the Monte Carlo-inspired Empire Casino.
You'll be enthralled by the musicals and Shakespeare productions on stage in the Royal Court Theatre. First-run feature films make for a relaxing afternoon, or break a sweat in the gym or on the tennis court.
There is certainly no shortage of things to do with diverse sporting facilities, classes in skills such as acting, watercolour painting and ballroom dancing and relaxation spaces including quiet libraries and sunny poolside lounges.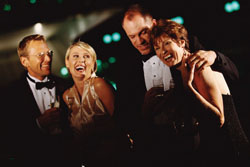 Kids
Expand
Kids
All Cunard ships offer complimentary youth programs to entertain and look after children and teenagers aged 2-17 years while parents enjoy their cruise. Children's supper/tea is served daily so parents can have formal dinner by themselves.
Activities vary every day and run during the day and into the night. Depending on age, your young ones can take part in arts and crafts, movies, quizzes, table tennis and scavenger hunts. Specially designed areas The Play Zone and The Zone are the base of activities and can be used by appropriate age groups to simply relax and meet new friends.
A night nursery for ages 12-23 months is open from 6:00pm to 11:00pm daily on a first come first served basis. Children under 2 years old can use the facilities and activities during the day with parental supervision.