Easily one of New Zealand´s most attractive cities, Napier is nestled at the southern end of Hawkes Bay,just 20 minutes outside of Hastings.
Known as the "Art Deco City", Napier boasts a stunning collection of art deco buildings, which are celebrated each year at the Art Deco Weekend Summer Festival.
Napier is also highly regarded as one of New Zealand´s oldest wine making regions. Enjoying some of the best sunshine hours in the country and a great climate for visiting, Napier is an ideal destination for grape growing.
It is also known as the largest wool centre in the Southern Hemisphere, as well as being within a region that produces a vast amount of apples, pears and stone fruit.
With so much to see, do and explore in the Napier region, it will be hard to squeeze it all into just one day!
What to Explore
Expand
Hawkes Bay
Hawkes Bay is a picture perfect holiday destination all year round, with long hot summers and mild winters ensuring everyone is kept happy.
The region itself boasts over 70 vineyards, a fabulous array of fresh produce, a rich cultural heritage and some of the country's best dining experiences.
Stunning scenic vistas add to this, making Hawkes Bay an unforgettable place to spend a lazy day or two.
Wineries
Home to the longest established wineries in New Zealand, Hawkes Bay is the ultimate destination when it comes to exploring the North Island's wineries.
Highlights include Mission Estate Winery and Moana Park Winery, where you will be able to sample a range of grape varieties including Cabernet Sauvignon, Merlot, Cabernet Franc and Syrah.
City Sights
Explore Napier's unique art district with a walk around the city centre. Begin at the scenic Marine Parade and through some of the residential areas that can be found nestled in the surrounding hills, for excellent views over the city.
Buildings of interest in Napier include the Hawkes Bay Chambers, the Municipal Theatre, the Daily Telegraph Building, the Former Hotel and the Taylor Building.
Temperatures
Expand
Average Temperatures
January: 18&degC
February: 18&degC
March: 16&degC
April: 14&degC
May: 12&degC
June: 9&degC
July: 9&degC
August: 9&degC
September: 11&degC
October: 13&degC
November: 15&degC
December: 17&degC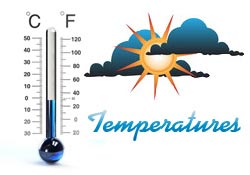 Dining
Expand
Dining Suggestions
Aside from the fantastic array of wineries available in the Napier and Hawkes Bay area, a wide range of restaurants and cafes can be found in this region.
Some great places to dine include the Earl of Spencer Historic Inn, Nonna's Restaurant, Dylans on the Terrace and The Mission Restaurant.
Bring to Shore
Expand
What to bring to shore?
Comfortable shoes are a must if you plan on doing a lot of walking around.
If you are staying outdoors, a hat and sunscreen are a must!
Make sure you don't forget your camera either!
Docking
Expand
Docking
Your cruise ship will dock in Napier Port, just a 5 minute drive from the city centre.
Taxis are available outside the pier area.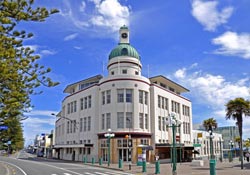 Information
Expand
General Information
Currency: New Zealand Dollar (NZ$)
Language: English
Population: 58,600
Time Zone: NZST (UTC+12)