Due to the COVID-19 concern, our office will be closed on weekends.
Located on the famous island of Tahiti, Papeete is the capital of the French Polynesia and is a unique city like no other in the world. It acts as the perfect base for exploring everything this incredible island has to offer.
Papeete was once a gathering place where Tahitians came in search of fresh waters. Today it offers an impressive nightlife, fantastic shopping facilities, world-class resorts and vibrant markets, which are particularly popular for those searching for local black pearls.
The island of Tahiti is a true paradise, offering rugged scenery and a contrast of some of the best things about Mother Nature.
What to Explore
Expand
Papenoo Valley and Waterfall
Head inland on a 4WD tour and you will uncover the scenic beauty of the Papenoo Valley and waterfall. Located on the rugged east coast of the island, it is close by to fantastic attractions like One Tree Hill, which offers stunning views over Matavai Bay.
The Papenoo River system boasts countless cascading waterfalls that spill into gorgeous mountain pools that are simply begging to be dived into.
This is one excursion you won´t want to forget the camera for.
Papeete Lagoon
Take a cruise on the Papeete Lagoon and you will soon uncover some of Tahiti's most historical sites. As you travel through Papeete´s main harbor you will straight away pass the French Navy base, before passing the black-sand beaches of Point Venus before taking a dip in the crystal clear waters.
Temperatures
Expand
Average Temperatures
January: 26°C
February: 26°C
March: 26°C
April: 26°C
May: 25°C
June: 25°C
July: 25°C
August: 25°C
September: 25°C
October: 25°C
November: 26°C
December: 26°C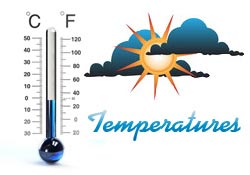 Dining
Expand
Dining Suggestions
If you are after a classy dining experience while in Papeete your best bets are L´o a la Bouche, Les 3 Brasseurs and roulottes de Place Vaiete. However, expect some high prices.
Bring to Shore
Expand
What to bring to shore?
Comfortable shoes are a must if you plan on doing a lot of walking around. Ensure you bring your swimmers and snorkelling gear so you can explore the reef.
If you are staying outdoors, a hat and sunscreen are essential. Ensure you bring your passport, identification and cash/credit cards. Make sure you don't forget your camera either!
Docking
Expand
Docking
Your cruise ship will dock near the downtown area of Papeete and taxis are available pierside.
Le Trucks, open-air vehicles with bench-type seating are the most common form of transportation on the island.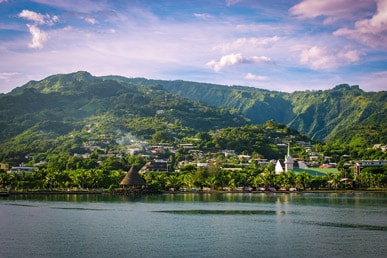 Information
Expand
General Information
Currency: French Pacific Francs
Language: French, Tahitian and English
Population: 262,000
Time Zone: (UTC-10, −9:30, -9)