Offering a wide variety of onboard activities, dining choices and entertainment, a Carnival Cruise is sure to exceed your wildest expectations. Exciting destinations, once-in-a-lifetimes experiences and friendly onboard staff will make it a holiday you will enjoy and remember for many years to come.
Ships like the Carnival Spirit boast 12 decks of fun and span the length of three football fields. Staterooms are well appointed, comfortable and spacious and act as a haven to relax after a full day out and about. Perfect for an action-packed or relaxing holiday, Carnival ships can cater to your every need and desire.
So what are you waiting for? Take some time out to have fun and discover a holiday onboard a Carnival Cruise. It never fails to exceed the ordinary and always takes you to the extraordinary!
Accommodation
Expand
Accommodation
Accommodation onboard the Carnival Spirit is second to none, boasting spacious and contemporary staterooms, which offer the perfect haven for relaxation. There are plenty of styles to choose from, with all rooms including comfy beds, soft towels and plush robes.
Cruisers can choose from Interior, Ocean View, Balcony, Suite or Grand Suite staterooms, with all rooms including a pampering service, 24-hour room service and unique towel animals. Over 60% of the spacious staterooms also feature private balconies and added luxuries like soft carpeting, indirect lighting, ample storage space and individual climate control will make your cruise all that more comfortable.
Carnival Cruises also cater for passengers with special requirements and disabilities, ensuring all their needs are looked after and treated with the utmost importance.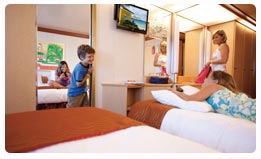 Connecting Staterooms
Connecting rooms are perfect for families and groups, offering two rooms joined with a door to access both rooms from the inside. If you want to stick together are still keen for your own space, this is the room option for you and is available for most stateroom categories.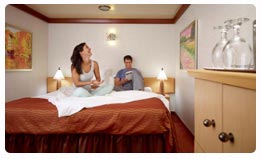 Interior Stateroom
Interior staterooms are a comfortable, value for money option. Offering 24-hour room service and a personal ensuite, these well appointed rooms are a great option for many cruisers. Interior staterooms are available for twin, triple and quad share.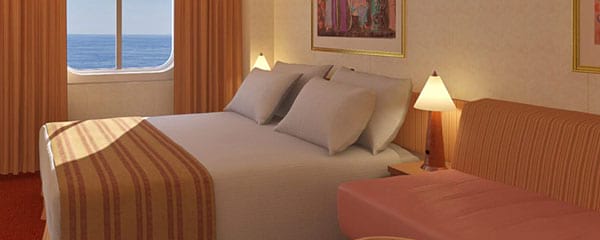 Ocean View Stateroom
If you want the true cruising on the open ocean experience, an ocean view stateroom is what you are after. The large window provides natural light and will help you keep an eye on the horizon and even give you a sneak peek of the destinations. The Quad option has room for the whole family, while the 24-hour room service and ensuite will ensure your privacy is maintained.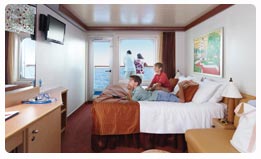 Balcony Stateroom
Kick back on your own private balcony when you book a Balcony Stateroom for your cruise.
Catch some sea breeze, watch the horizon and just relax in your own space.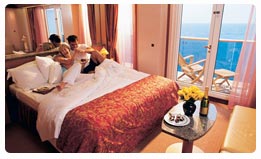 Suite
If sailing in style is your style, then you can't go wrong with a spacious suite. It's extra roomy, extra cosy and extra special. Featuring a separate sitting area, private balcony, whirlpool bath and shower, large vanity/dressing table, refrigerator and VIP check-in, it's the perfect option for those who wish to cruise in luxury.
Facilities
Expand
Facilities
The atrium is the heart of any Carnival ship and boasts a magnificent grand staircase and beautiful, high ceiling. It is also where you can find all the answers to your questions, where you can plan some fun at the shore excursion desk, enjoy music that helps set the atmosphere… and even see what's good at the full bar and happening on the dance floor.
There is an onboard mobile service and Wi-Fi capability to keep in touch with friends and family back home who wants to know how your cruise is going!
24 Hour Room Service
It's not often you can take advantage of food on demand, but while you are on holiday you may as well make the most of it!
Take advantage of the 24-hour room service on offer onboard your Carnival Cruise and simply pick up the phone, around the clock to order delicious food, straight to your door.
Best of all, it's included in your cruise fare!
Carnival WaterWorks©
This fun water playground is a favourite with kids big and small, with a twister waterslide, bucket waterfall and water playground.
Designed to make other waterslides jealous, the Twister Waterslide is four decks high and 300 feet of spiraling awesomeness, making it the largest on any cruise ship.
The 82-foot-long side-by-side racing slides are the centerpieces of shallow splash pools, with multiple fountains and water sprays, making them perfect for children.
Green Thunder delights adventurous cruisers with its100 ft. sheer drop, while the Drainpipe ends your slide experience with one major swirl of a finish. The PowerDrencher is another popular favourite, dumping 300-gallons of water on top of excited and expectant children.
Spa
When it's time to relax, the spa is the place to be. Indulge in a hot stone massage, facial and a mani & pedi or simply relax in the spa.
This two-deck spa features both exclusive spa staterooms and an extensive range of top-quality facilities and treatments in an elegant, tranquil setting.
Jogging Track
Walk, jog or skip around the ship…as long as you work off some of that 24-hour room service! Canival's special jogging track has some of the best views on offer and is a great workout to boot.
Whether you feel like an early morning jog or a midnight run under the stars, the jogging track is always open and available for anyone looking to get their heart rate up over the great blue sea.
Mini golf
Get into the swing of things with a round of mini golf onboard your Carnival cruise.
The greens are meticulously maintained and the view is pretty spectacular!
Just remember your follow-through and no bogeys allowed!
Hair & Beauty
Get ready to make heads turn when you indulge in some of the onboard hair and beauty services. Experienced Carnival staff are there to make you look and feel beautiful, while also help you relax and soak up the pampering on offer.
Don't forget, men have to look good too! That's why Carnival offers plenty of professional grooming services for men, including haircuts, shaves, manicures, pedicures, facials and hairstyling. Thinking of darkening that grey? Consider your Carnival onboard experts.
If it's total relaxation you're looking for, book a massage to work out those aches and pains, and schedule a little time in the steam room or sauna to feel your worries melt away.
Fitness Centre
Looking for a fitness centre where working out is fun? Stay fit on your holiday with your Carnival fully equipped fitness centre and spa. Go for a jog, lift some weights, or use our state-of-the-art equipment to work up a sweat and get stronger. If it's a heart-pumping workout you're after, why not try the indoor cycling or cardio circuit training? There is something on offer for every kind of fitness level.
Dining
Expand
Dining
Cuisine for all
The dining options onboard Carnival cruises cater for a variety of tastes and preferences, with everything from pizza to ice-cream on offer!
Whether it's Asian cuisine, the best burgers found on sea, delicious pastries or American-style BBQs, Carnival cruise ships offer something for everyone.
All Day and Night Food
As you may have guessed, Carnival's cruise kitchens never close. So that means whenever you're feeling slightly peckish, or hungry enough for a buffet, there will always be food available to you.
Whether it's the onboard dining rooms, the varied restaurants and cafes or the 24-hour room service, there is sure to be something to meet your needs.
Kids eat well onboard!
Whether your kid loves to try new things or stick to a few favourites, Carnival have something for every kind of fussy kid.
The kids' menu features delicious, fun foods, with all the familiar options like spaghetti & meatballs, chicken nuggets, hot dogs, mac & cheese, peanut butter & jelly sandwiches, and fresh fruit and veggies, sure to tempt.
Entertainment
Expand
Entertainment
Casino
Poker Nights, Black Jack, Slot Machines, Roulette and Bingo and Tournaments are just some of the exciting casino activities on offer on your Carnival cruise. There's something for the amateurs and the high rollers, ensuring everyone's gambling fantasies can come true.
Live Shows and Music
Get set to be entertained like you never have before with the broad range of live shows and music onboard your Carnival cruise.
Carnival`s stage shows are designed to razzle and dazzle, and feature talented singers, musicians and dancers performing crowd-thrilling numbers in extravagant costumes with awesome sets and scenery. All performances are created to ensure that every night feels like opening night. And best of all, since shows are included in your fare, it`s like having top-dollar tickets to the hottest show in town, absolutely free.
Piano Bar
Finally. A bar where singing along isn't just tolerated; it's strongly encouraged.
The Piano Bar is a bar where you can call the shots! Pull up a seat, order your favorite cocktail, and let your friendly piano player know the songs you´d like to hear. Then join the sing-along for a hand-clapping, foot-tapping, finger-snapping good time.
The Library Bar
For a relaxing time, check out The Library Bar, where great literature doesn't stop at the wine list. This intimate cocktail lounge features state-of-the-art self-serve wine dispensers, plus bartenders who can make a you a tasty drink.
BlueIguana Tequila Bar
Offering real Mexican brews and tequila, you will love the Mexican BlueIguana Tequila Bar. Pull up a stool and try a slushy tequila drink or an ice-cold Mexican cerveza. The menu offers Mexican favorites for you to enjoy.
These, plus plenty more exciting clubs and bars are just some of the exciting entertainment venues that await on your Carnival cruise.
Kids
Expand
Kids
Endless amounts of fun await the kids onboard a Carnival cruise…the hardest part for them will be deciding how to spend their time. From mini-golf and water parks, to family-friendly comedy shows and age-appropriate youth programs, there are plenty of exciting choices for all ages.
Camp Carnival
Young kids aged 2–5 will have a blast with toys and arts and crafts. Juniors 6–8 can make spin art and play games while kids aged 9–11 can chill at pool parties and take part in scavenger hunts.
Circle "C"
Young teens aged 12–14 can hang out together for late-night movies, night time swims, sports, the latest video games and dance parties.
Club 02
Teens aged 15–17 can gather in their own lounge area to play the latest video games, dance on the state-of-the-art dance floor, or just relax and chat with friends at the non-alcoholic drink bar.