Port of Call - Whitsundays
Aquamarine waters, white sandy beaches and 74 practically deserted islands are just some of the characteristics of the beautiful Whitsundays region of Queensland, Australia.
Located right in the heart of the Great Barrier Reef, the islands of the Whitsundays are among the most beautiful in the world and offer the perfect escape from everyday life.
Relax on the famous Whitehaven Beach, snorkel on the pristine waters of the coral reefs and party until the early hours of the morning at Airlie Beach.
The possibilities in the Whitsundays are endless. The hardest part will be deciding how to fill your time here.
What to Explore
Expand
Airlie Beach
Regarded as Australia's ultimate party town, Airlie Beach is renowned worldwide for its prime location, stunning surrounds and lively nightlife.
As the hub of the Whitsundays, Airlie Beach offers a wealth of shopping and dining facilities, along with sun swept beaches, shaded by tropical palms and useful walkways.
The beautiful swimming lagoon set in the parklands overlooking the ocean are ideal for families with young kids, or those just wanting to swim without the hassle of wearing stinger suits.
Young travellers can dance and drink the night away at pubs, clubs and bars that line the main street of town, with happy hour generally lasting well into the night.
Daydream Island
Daydream Island is a place where dreams really can come true. Measuring only 1km in length and only 400m at its widest point, the island has just two tourist resorts, and well, not a lot else.
A hot spot for sailing enthusiasts, it offers a unique outdoor aquarium, endless opportunities for snorkeling, sail-boarding, jet-skiing, parasailing, scuba diving, tennis and volleyball.
Whitehaven Beach
Everything you see in the postcards is real! From the pure white sand, to the transparent green and blue waters; Whitehaven Beach never fails to live up to tourist's expectations.
Hike up to the lookout to soak it all in before trekking along the pure white sand and splashing into the clearest of clear waters. There really is nothing quite like it!
Temperatures
Expand
Average Temperatures
January: 27°C
February: 26°C
March: 25°C
April: 24°C
May: 21°C
June: 20°C
July: 19°C
August: 18°C
September: 22°C
October: 24°C
November: 26°C
December: 27°C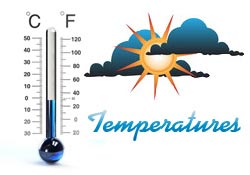 Dining
Expand
Dining Suggestions
The main hub of the Whitsundays, Airlie Beach, is bursting with fantastic places to eat, with many located right on the water's edge.
Simply take a stroll down the main street and Airlie Esplanade and you will find an eclectic mix of different cuisines, in everything from fine dining restaurants and Al Fresco cafes, to seaside pubs and bars.
Sneak in a cocktail or two as well.
Bring to Shore
Expand
What to bring to shore?
Wear comfortable clothing and shoes and bring along a hat, sunscreen and bottled water.
Bring your own snorkeling equipment or look into hiring some from onboard your cruise ship.
Your camera will also be put to good use.
Docking
Expand
Docking
Your cruise ship will disembark at Abel Point Marina in Airlie Beach, which is a 5 minute drive from the city centre.
Limited taxis are available on Shute Harbour Road and shuttle buses are available for transportation into Airlie Beach.
Information
Expand
General Information
Currency: Australian Dollar (AUD$)
Language: English
Population: 2751
Time Zone: AEST (UTC+10)