Pentecost Island is a 60 km-long, uncorrupted island of Vanuatu in the beautiful Pacific Islands. Long considered the original home of bungee jumping, Pentecost is the perfect destination for those with an adventurous spirit and who are brave at heart.
Pentecost gets its name from the day on which it was first sighted by the Europeans, back in 1774. It still remains a unique destination to see the original bungee jump, in which local men jump from tall towers with vines attached to their feet as part of a yearly ritual.
Most of the island's inhabitants live in small, rural villages and rely heavily on local agriculture. However the island offers an exciting array of activities, making it an outdoor lovers' paradise. Ranging from simple sight-seeing and village tours, to limited public viewing of age-old traditions of the Pentecost people, a visit to this island will expose you to the incredible way of life the people here live.
What to Explore
Expand
Land-diving/ Bungee Jumping
With legendary roots, the story of the traditional land diving on Pentecost Island is one that many tourists come to see play out in real life. Naghol (land-diving) is a traditional ceremony that has helped boost the local economy by enticing tourists to come and visit.
It is the primitive form of modern-day bungee jumping, made possible by constructing a tower made from a combination of vines and timber, with the long forest vine serving as the suspending structure. Traditionally practiced to ensure good crops the following year, Naghol is an experience not to be missed while visiting Pentecost.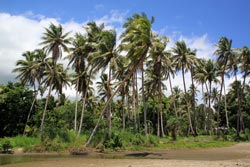 Ceremonial Dancing
Once you have experienced the world-famous Naghol ceremony, make sure you catch one of the local traditional dance displays, put on by the locals. See the culture of Pentecost come to life in these enthralling performances and soak up what the local culture and traditions are all about.
Village Tour
Take a village tour of Pentecost and you will see interesting things like the Vanuatu graves, outlooks onto breathtaking volcanic islands and theenchanting volcanic harbour at Lolowai.
Temperatures
Expand
Average Temperatures
January: 26°C
February: 26°C
March: 26°C
April: 26°C
May: 25°C
June: 25°C
July: 24°C
August: 24°C
September: 24°C
October: 25°C
November: 26°C
December: 26°C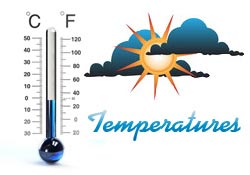 Dining
Expand
Dining Suggestions
The dining options on Pentecost Island are limited, so it is a good idea to bring your own food onto the island.
However, some of the local delicacies can easily be found if you look hard enough, including laplap (a savoury pudding) and kava, which is a narcotic root used to prepare a traditional drink.
Bring to Shore
Expand
What to bring to shore?
Your camera will be a must when you come to the Island of Pentecost. Also ensure you bring lightweight shoes and clothing, sunscreen, sunglasses, hats anda bottle of safe drinking water.
Your swimming and snorkeling gear will also be essential for a good time here.
Docking
Expand
Docking
Your cruise ship will anchor at Panngi, where there is a jetty for island access.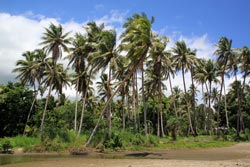 Information
Expand
General Information
Language: Bislama, English, French
Time: GMT+11
International Country Telephone Code: + 678
Currency: Vanuatu vatu (VUV)