What's So Special About Balconies?
Cruise ships offer a range of staterooms to choose from for your holiday. The cheapest is almost always the interior cabin - but while you save money, you lose a part of the cruise experience.
Inside rooms on a ship may as well be a hotel room on land - you can easily forget you're at sea. This is great if you're prone to seasickness but for most passengers a cruise is about that sea life experience.
Why Should I Book A Balcony?
Balconies mean you're never more than a few steps away from your own piece of railing and fresh sea breezes. You'll never be stuck with the choice of having to stay inside or go out in public for fresh air. A balcony cabin means you'll always have your own space with airy ocean views.
What Can I Do On A Balcony?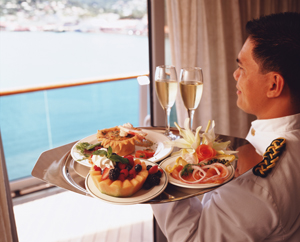 Private dining
Room service is free of charge on most cruise lines, so enjoy a night in and have a peaceful dinner on your own balcony against the beautiful ocean backdrop. Princess Cruises takes this one step further with Ultimate Balcony Dining, a four-course fine dining package which includes a pre-meal cocktail, flowers, a half-bottle of champagne and a souvenir photo.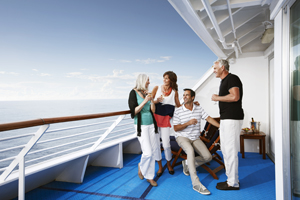 Host a party
Invite your shipmates and order room service drinks and nibbles for your own private party. If you're staying in a suite with a butler you can have the entire party arranged for you. But just check your ship's policy on parties before throwing an extravaganza.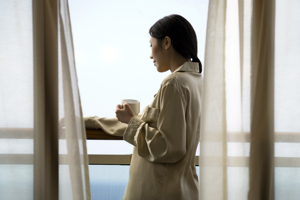 Watch the sun rise
Wake up and watch the sun rise without having to venture on top deck. Order a room service coffee and breathe in the fresh, salty sea air without even having to change out of your pyjamas.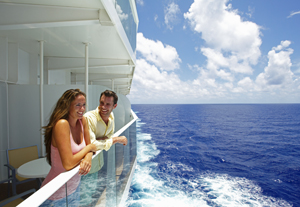 Enjoy your own private view
On top deck you'll be competing for prime viewing spots with other passengers. With your own balcony, you've got your own seat with a perfect view of the sea, the sky and the land as you cruise by. You won't lose your spot if you move - it's always yours. This is particularly useful on cruises to scenic destinations such as Alaska's glacier coast or when entering and departing ports of call.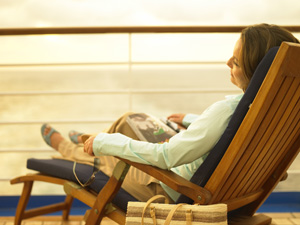 Fall asleep to sounds of the sea
Leave the balcony door open to fill your room with fresh salty ocean air and the ambient sound of gently crashing waves. There's a reason why beachfront apartments are so popular and expensive. Experience the waterfront lifestyle on your cruise for a better deal than forking out for a pricey beach resort.
What Kinds of Balconies Are There?
Your best tool in choosing the best cabin for you is the ship's deck plan. Check out our cruise ships pages to find your vessel's deck plan. When booking your cruise, ask our friendly staff about cabin location and we can find the best available choices for you.
Price categories are arranged by stateroom type and deck. However, price doesn't always correlate to the better cabin - everyone has different preferences and there's a few hidden gems in surprising places.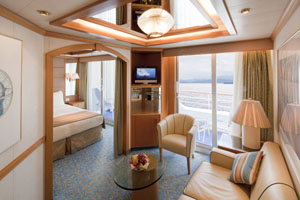 Best views
Look at your itinerary map and consider whether one side of the ship will get the majority of land views. This isn't really important some cruises but if you're headed on a coastal cruise choose a cabin on the side of the ship that will face the coast.
Balcony cabins on the ship's aft are incredibly popular for views over the ship's frothy wake. Stargazers will love the Dolphin Deck mini-suites on Princess's Grand-class ships - the balconies are roofless with clear views straight up into the sky.
Space
Not all balconies are the same. Cabins are made to fit the shape of the ship so there's usually some variation in size. A keen eye can help you get more balcony space without paying more.
Many ships don't have straight sides - they curve, which means that cabins on the widest part of the curve have larger balconies than others in their categories.
Corner aft cabins with wrap-around balconies are particularly popular as they offer clear views both from the side and over the ship's trail. On Carnival Legend and Carnival Spirit's Vista deck, the corner aft cabins have balconies almost as big as the cabins themselves.
Consider the category of cabin you want. Suites have more space and extra amenities compared to standard balcony cabins.
Adjoining Cabins
When cruising in a large group, ask about adjoining cabins. Many cruise ships have some cabins with interconnecting doors. The same also applies to many balconies - if you're travelling with friends, book balconies next to each other, have the divider removed and you've got yourself twice as much deck space!
Are Balconies Affordable?
You may be under the impression that a balcony cabin is something extravagant to splurge on. However, balconies are so popular that cruise lines design ships to have as many balconies as possible. On most ships at least 75% of cabins have a private balcony, so there's plenty of supply.
The price difference between an inside and a balcony cabin is just a fraction more but the difference in the quality of your holiday is massive. You can compare prices by finding a cruise in our search box and changing cabin type. Why not try a balcony cabin and experience the ultimate sea holiday yourself?