Cruise Entertainment
One of the most enticing things about taking a cruise holiday is the entertainment that is offered on board. Endless day activities, spectacular shows and performances, vibrant nightclubs and exclusive bars and lounges are there to fulfil all of your entertainment needs and desires.
So what are you waiting for? Book your next cruise holiday today and start discovering the wealth of entertainment that is waiting for you to discover.
Princess Cruises
While cruising with Princess, there really isn´t anything you can´t do! Whether it´s learning how to cook, create ceramics or mastering the art of juggling, or practicing your swing on the green, squeezing in some exercise at the gym or getting a massage at the spa, there is something for everyone on board a Princess Cruise.
Daytime Activities
When it comes to daytime activities on a Princess cruise, the possibilities are seemingly endless!
Why not indulge at The Sanctuary, where you can enjoy relaxation at its best? Enjoy a massage and a light meal with your own personal entertainment!
Head outside and take a dip in one of the onboard pools or test your skills out at a putting green. If you´re in the mood for a book you can also check out the onboard library.
Night-time Activities
Princess Cruises are renowned for their world-class entertainment and nightlife, offering something for everyone! From dancing, karaoke and comedy, to wild parties, theme nights and a seemingly never ending selection of bars and lounges, Princess Cruises have it covered.
Movies Under The Stars
If you fancy a night of taking it easy, but don´t want to stay cooped up in your cabin, why not head out for a Movie under the Stars? The 300-square foot, 69,000-watt poolside movie-theatre offers a cinema experience like no other. Watch the latest Hollywood blockbuster under the stars on a comfortable lounge chair and enjoy your complimentary popcorn, warm cookies and milk.
Entertainment Shows
Those looking to be entertained on a whole different level will love the impressive array of shows and productions on offer on board the Princess Cruises. Sit back and enjoy lively music and fantastic choreography, brought to you by the most talented performers at sea.
Casino
On-board each Princess ship you will find a casino decked out with the latest slot machines, table games and bingo, ensuring a fun night out for all those punters out there.
Bar and Lounges
The Piazza is a great place to start your night out on board. Enjoy a drink at Vines Bar, before heading to one of the many other bars and lounges scattered throughout the ship. The Wheelhouse Bar is popular on several ships, while the Skywalker Nightclub on board the Diamond Princess is always a hit with young adult cruisers.
P&O Cruises
While you are onboard a P&O Cruise, eevery night will be a celebration. An impressive array of shows are sure to make every night one to remember and the cosy collection of bars and lounges on board your ship will make intimate drinks and crazy nights out a breeze.
Daytime Activities
The great thing about a cruise is that there is always something to do…even if you are 100 miles out to sea. P&O Cruises offer something to suit every need, age and desire.
For those who feel like staying active during their holiday, the jogging track, table tennis, boot camp at Sea, Yoga and dance lessons are sure to grab your attention.
Get creative and take an art class, attend a wine lecture or exercise those vocal pipes with karaoke. Or if you simply want to relax, why not sunbathe by the pool, chill out at The Oasis (the on board child-free haven) or pick up a bargain at one of the many shops on board?
Shows
The calibre of the shows on board P&O Cruises is second to none. Some of the world´s best performers can be found in these shows, bringing to life exotic tales in an elegant and fascinating manner.
Shows like "Pirates of the Pacific" will have you on the edge of your seats and "Do you wanna dance" will have you wishing you took those dance classes when you were younger.
Shows like "Pirates of the Pacific" will have you on the edge of your seats and "Do you wanna dance" will have you wishing you took those dance classes when you were younger.
The Pacific Cirque* is an amazing floating circus that will no doubt take your breath away. Watch as the performers juggle effortlessly and dare death defying acrobatics right before your eyes.
*Pacific Cirque is available on selected cruises only.
Theme Nights
Dressing up isn´t just for kids! Embrace your inner child and transform yourself for the night at one of P&O´s on board theme nights. From Elvis and Gatsby to White parties and Rock ´n´ Roll dance parties, these are guaranteed wild nights.
Casino
Think you have luck on your side? P&O´s onboard casinos offer an exciting range of popular table games, including Blackjack, Roulette and Three Card Poker. Regular Bingo sessions are also held throughout the cruise.
Cinema
Enjoy the latest movies on the big screen or choose from the side selection available from your in-cabin TV.
Carnival Cruises
Daytime Activities
Fitness centre, spa, mens and ladies beauty services, shopping, casino, swimming and waterpark sports are only some of the activities to keep you busy during the day.
Play some mini golf on your way to the Pacific Islands. Have a swinging good time at the onboard mini-golf course.
Treat yourself to a relaxing and tranquil experience at the spa.
Enjoy a jog? With Carnival Spirit`s jogging track it`s a breeze!
Bars, Shows and Clubs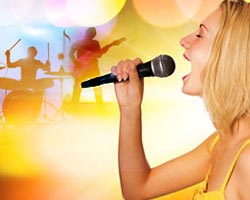 For a relaxing time, check out the entertainment on Carnival Spirit, casino, cocktail lounges, bars, dancing and comedy is amoung the options to choose from.
Feel like a frozen tequila drink? How about an ice-cold Mexican beer? Grab a stool, amigo. This is where you wanna be.
Blue Iguana Tequila Bar offers real Mexican brews and tequila. Hey Amigo - grab a stool and try a slushy tequila drink or an ice-cold Mexican cerveza. The menu offers Mexican favourites for you to enjoy.
Then there is the Comedy Club, Nightclubs and Redfrog Pub, the EA Sports bar, Video Arcade, pool and deck parties - so much to name!
Royal Caribbean
Royal Caribbean sets a cruise industry benchmark with magical, epic productions, all nights on all cruises – all included in your fare. They are the only cruise line that offers awe-inspiring Broadway musicals, as well as ice skating shows, diving and original productions with a live orchestral backing, lighting, detailed costumes and fantastic talent sourced from all over the world.
Broadway At Sea
Sail with the cruise line that offers Award winning musicals on the seas! As an official sponsor of the Tony Awards, Royal Caribbean bring you the best of Broadway musicals, with epics such as CATS, Mamma Mia! and more.
AquaTheater Shows
518,600 litre) of incredible performance! Only on board Oasis Class ships, passengers experience the famous AquaTheater – divers and acrobats with sea dancers attempt stunts against a backlit stage of fountains, big screens and of course the marvellous vista of the sea!
Original Productions
Royal Caribbean Productions, the cruise lines in-house production company, brings together leading international talent to star in awe-inspiring shows from modern dance to musical acts, diving, aerial acrobatics and more.
DreamWorks Experience Parades
Everyone loves a good parade! But one featuring Shrek, Fiona, Po and Puss in Boots is certain to be unlike any you've ever seen. Get ready to be taken with laughter at character antics and a crew of stilt-walkers, cyclists and aerialists.
Let You Entertain Me – A Madagascar Aqua Show
On board Allure of the Seas, Alex, Gloria and others from the hit DreamWorks film Madagascar cut loose with high divers, swimmers, acrobats and more in the spectacular AquaTheater, against a back drop of wide open sea.