Dining on a Cruise
When returning from a cruise, one of the most common questions asked of cruisers is "How was the food?"
The answer is almost always the same… Amazing!
The food onboard today´s cruise ships rivals some of the best in the world. All-you-can-eat buffets, endless snacks and treats, and numerous specialty restaurants ensure the culinary needs and desires of each individual cruiser is met!
It´s no wonder so many people are taking the cruising option, when the possibilities are so endless.
Carnival Cruises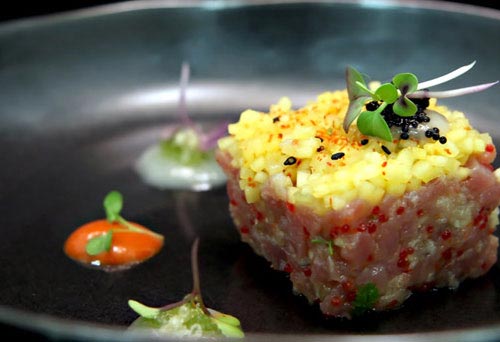 Dining
Cuisine for all
The menus on board Carnival Spirit has a wide variety to accommodate every taste and preference. From pizza & ice cream to ala Carte - the options are endless!
Asian cuisine available from the Bonsai Sushi Bar. (Chopsticks totally optional.) Our chefs will prepare your meals to perfection with your choice of combinations.
Celebrity chef Guy Fieri brings you the best burgers found on the sea! This best-selling author, restaurateur and Food Network personality bring all the appetizing appeal of a roadside burger to Guy´s Burger Joint, the cool poolside spot for hot burgers and hand-cut fries.
The coffee bar offers delicious pastries and premium coffee.
Pizza Pirate provides cruisers with a real selection of the freshest and best flavours.
All Day and Night Food
Carnival Spirit`s Kitchen never closes, that means whenever you feel hungry or peckish, you will be able to get something to fill your tastebuds.
Cha cha cha on over to the Blue Iguana Cantina, where the Mexican food is fresh and the atmosphere is fresher. Book a table at our legendary Red Frog Pub, or the Lido Buffet, Bonsai Sushi or Nouvea Restaurant – Fine dining experiences inspired by recipes from around the world.
Tour: Treat your taste buds to the experience of a lifetime, culminating in a sumptuous multicourse dinner hosted by one of our master chefs. Your VIP experience starts with cocktails and hors d`oeuvres for a select group of 12, followed by a tour to see the galley in operation. The evening concludes with a mind-blowing full-service dinner of amazing appetizers, entrees and desserts not found on our regular dining menus.
Reserve early because this once-in-a-lifetime experience has limited seating. It`s just $90 per person and can be booked on board through the ship`s guest information desk.
Kids eat well onboard!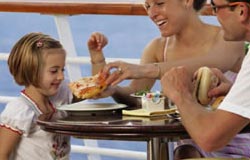 Whether your kid loves to try new things or stick to a few faves, we´ve got something on their menu guaranteed to be a big hit.
Our kids´ menu features delicious, fun foods to keep even the pickiest eaters happy. We´ve got all the familiar options they love from home, like spaghetti & meatballs, chicken nuggets, hot dogs, mac & cheese, peanut butter & jelly sandwiches, and fresh fruit and veggies.
Small treats make great eats.
Sample some of the best Carnival has to offer. A voyage to new destinations is the perfect time to try new things... and here´s the perfect place: The Sweet Spot.
Stop in to The Sweet Spot for a new and different delicacy each day — the dishes will give you a taste of the flavours that await at dining venues across the Carnival fleet.
---
Princess Cruises
The food on board Princess Cruises is world renowned, and with good reason. At any given time of the day on a Princess Cruise ship, a group of chefs are working hard at ensuring all of your culinary needs are being taken care of. Whether it´s baking fresh bread three times a day or preparing delicious sauces from the freshest of ingredients, they know what it takes to make your dining experience one to remember for all the right reasons.
Traditional Dining
Embrace the classic cruise experience when you take the traditional dining option. Indulge in a glorious array of freshly prepared food, served at set times in elegant dining rooms. This option allows you to enjoy the consistency of having the same wait staff and table mates each evening.
Anytime Dining*
Those seeking flexibility in dining times will love the Anytime Dining Option. Dine with whomever you wish, at the time you choose (between 5:30pm and 10:00pm). Choose from elegant, upscale venues and enjoy taking it easy and eating when it suits you best.
*Anytime dining is not available on the Sea Princess while in Australia, Pacific Princess, Ocean Princess, Sun Princess and Dawn Princess.
Specialty Restaurants*
Bayou Café and Steakhouse
This New Orleans-style restaurant offers fabulous Creole and Cajun traditional cuisine, along with an atmosphere that will get you in the mood for a night of partying.
The Salty Dog Gastro Pub
Craving a really good steak? Or maybe something a little more rustic? At the Salty Dog enjoy the best and most fresh ingredients brought together in the charming pub meal tradition with a gourmet twist! Voted "Best Burger at Sea" by Cruise Critic, the menu features The "Ernesto," a savoury rib eye burger crafted exclusively for Princess by Chef Uchimura, amongst other inventive small bites.
*Specialty restaurants can be found on selected cruise ships. Additional charges apply.
Sabatini's
Those after a more authentic dining experience can visit Sabatini's, where they will find a world class collection of Italian food and wines at your beck and call. Pick something up while passing by or enjoy a glass of wine and tapas with your new friends.
Crown Grill
A refined steak specialty restaurant that serves aged and hand cut steaks and premium seafood options, including grilled shrimp and lobster. With a beautiful wood décor and open kitchen, there is no wonder this restaurant was named among the "Best Cruise Ship Steakhouses" by USA TODAY.
Room Service
Don´t feel like getting out of bed to get some food? Take advantage of the personal room service on offer and enjoy delicious treats like sandwiches, salads, soups and cakes. Pizza can also be ordered for a small additional charge


---
P&O Cruises
When you choose to holiday with P&O Cruises, all your main meals on board are included in your fare. Choose from a tantalizing array of delicious cuisine, prepared by top chefs from around the world. There is something for everyone, any time of the day!
Your Choice Dining
As the name suggests, Your Choice Dining means you can choose who you dine with, where and when. A flexibility in hours means you can choose to dine from 5:30pm, well through the evening.
For dinner, choose one of the main dining rooms, which offer full service A La Carte dining. Tables range from 2 -10 people and peak times are similar to restaurants on land.
Dine from the A La Carte menu in the main dining rooms anytime from 5:30pm – 10:00pm
For breakfast and lunch you will get to choose from delicious buffet selections. The menu is similar to the A La Carte menu in the main dining room; the only difference being that you serve yourself.
Sumptuous buffet selections are available from 6.00am - 10.30am and 11.30am - 2.30pm.
Enjoy A La Carte in the main dining room from 7.30am - 9.30am and 12.00pm - 2.00pm
Specialty Restaurants*
If you aren´t in the mood for a buffet or sitting down to a meal in the main dining room, why not try out The Grill on the Pacific Dawn, Pacific Jewel or Pacific Pearl and The Seafood and Steakhouse Restaurant on the Pacific Sun? Offering a more casual approach, this is the perfect option for those seeking a laid back atmosphere while dining.
Cruisers can dine at the Seafood and Steakhouse* from 5:30pm – 10:00pm on Pacific Sun.
Dragon Lady
Be seduced by the mysterious setting and exotic spices at the Pan-Asian restaurant Dragon Lady.
Angelo's
Classy upscale Italian dining with a modern charm. Experience the dolce vita and indulge in a dinner to remember with all the flavours of contemporary and regional Italy.
La Luna
Exclusive to the Pacific Jewel and Pacific Pearl, this casual dining venue offers tempting Asian cuisine in the evening and healthy meal choices throughout the day.
The Café
The Café can be found on the Pacific Jewel and Pacific Pearl and is a haven for those with a sweet tooth, offering a range of cookies, waffles and desserts, and baked fresh every day.
Salt Grill by Luke Mangan
Exclusive to the Pacific Jewel, Pacific Dawn and Pacific Pearl, Salt Grill offers signature dishes like the crab omelette and liquorice parfait with lime syrup. Enjoy an exclusive food experience for only a fraction of what you would pay on land.
400 Gradi Pizzeria
Rejoice and enjoy in a new world class pizzeria by Chef Johnny Di Francesco. A mix of fresh ingredients, bold, robust flavours and Italian know-how ensures these are the finest pizzas on the sea!
Chef´s Table
Brand new to the Pacific Pearl and Pacific Jewel, Chef´s Table offers 12 guests the exclusive dining experience in the ship´s private wine room. Enjoy cocktails and a degustation menu paired with specially selected wines. The menu will be introduced by the Executive Chef.
*Additional charges apply.


---
Royal Caribbean
From cupcakes to sushi rolls, tapas to a five-course degustation, a Royal Caribbean cruise is a journey of culinary adventure. The innovative chefs, each trained and certified to the highest degree, will take your palate on an experience with a line-up of complimentary and specialty food options. Package your meals with a beverage deals and save on your favourite drinks.
My Time Dining
AThe award winning dining program, My Time Dining, offers flexible and traditional eating options for all guests on Royal Caribbean voyages. The flexible option allows you to select your dining time and companions every day. You can choose different times each day, so you can remain flexible with your on shore and on board plans. The traditional dining allows you the choice of early or late seating times for each day of your cruise.
Sorrento's Pizza
For an authentic New York style pizza experience, head over to see Sorrento's for pizzas straight out of the oven. Try rotating innovations from Hawaiian to Pizza Florentine and chorizo – with classics pepperoni and cheese always available.
Jade Sushi
Get your chopsticks ready! An almost endless buffet of delicious sushi delights, Jade features innovative fusion style dishes alongside classic favourites like fried rice, lemon chicken and more.
Dog House
How do you like your hot dog? Pull up a chair at the counter for traditional hot dogs, bratwurst, sausages and other delicious meat options, plus an impressive variety of toppings to garnish your bun.
Café Promenade
The multi-level Royal Promenade is the heart of our ships – and the best spot for people watching. Pick a table with a view at Café Promenade, serving Starbucks or illy coffee, snacks, pastries and sandwiches throughout the day and into the night – so you can enjoy the action when you please.
Boardwalk Donuts
Hit the Boardwalk on our Oasis-class ships and choose your favourite doughy goodness – chocolate, iced, sprinkled and more – with freshly brewed coffee and speciality drinks.
Wonderland
Our chefs twist their culinary methods to create an elaborate dreamscape of never-before-seen delights. It all begins as you open your menu and find your element – Sun, Ice, Fire, Water, Earth and Dreams.
Jamie's Italian
Jamie Oliver may be one of Britain's most famous food exports, but it's his love of the Italian style of cooking and the Roman way of life that inspires the menu at Jamie's Italian. Get up close and personal with some of the best flavours from the 'Naked Chef' and experience what a true quality restaurant on the seas can produce.
Chef's Table
An eclectic and unique culinary experience – join up to 14 guests in an exclusive hideaway to embark on a five-course, gourmet menu. Every course is paired with a wine selected to enhance your enjoyment of each individual dish. The menu, wine selections and price vary from ship to ship and itinerary. Fees apply.
Samba Grill Brazilian Steakhouse
A churrasco style restaurant with rhythm and flair, offering a variety of meats carved right in front of you straight from the skewer, plus a choice of soups, salads and delicate starters available from the buffet. Fees apply.
---
Holland America
Explore a range of delicious on board dining options when cruising with Holland America. With everything from a hearty burger and fries to the Exotic Asian flavours of Tamarind the ultimate in casual and refined dining is here with a Holland America Cruise experience.
Pinnacle Grill
Enjoy meals inspired by the USA's Pacific Northwest, such as salmon from Alaska and grain-fed raised beef from Washington's Double R Ranch. Complement your dining with a variety of specialty wines from celebrated vineyards across the globe.
Cost: $39 per person
Canaletto
This quintessential Italian restaurant offers a selection of meals that celebrate the shared platter. Sample Braised Chicken Cacciatore, Branzino ai Ferri or a classic pasta dishes of spaghetti Pomodoro or garlic ravioli with shrimp. Buon appetito!
Cost: $15 per person
Tamarind
Tamarind inspires the tastebuds with exotic menus channelling the culinary expertise of Asia. Menus inspired by Master Chef Rudi Sodamin feature dishes in reverence of the elements of water, wood, fire and earth. This is a restaurant that is lauded by critics and cruise goers alike and rivals many of the best restaurants in the world.
Cost: $25 per person
Grand Dutch Cafe
Inspired by the rich Dutch heritage of Holland America and adorned with blue-and-white Delftware, the Grand Dutch Cafe is the ideal location to experience a world class pint of lager or your favourite café beverage, along with a list of traditional savoury Dutch snacks.
Cost: A la Carte
Dive-In
Fancy a grilled burger on brioche or a famous gourmet hot dog? Dive in For alfresco dining by the pool, including lighter fare such as grilled chicken breast sandwiches, vegetarian-friendly portabella mushroom stacks and plenty more.
Cost: Included
---
Celebrity
Dining with Celebrity Cruises is an experience splendid for the senses. Choose between casual or refined, Italian or Sushi, inside amongst the beautiful decorative designs or outside under the stars. With a dozen specialty restaurants, and a variety of bars & lounges every experience is something special.
Qsine
This restaurant offers a culinary journey that delivers aspects of surprise and delight. Our James Beard featured Master Chef created 'Qsine' to deliver something you've never experienced before—on land or at sea. Leave any preconceived notions behind. Come along and try some new things. Your palate deserves a challenge! Ipad's make the dining experience fun and interactive.
Blu
Exclusive to Aqua Class, this restaurant is a sensation for breakfast and dinner. With a recently revamped menu, retaining the more popular fare from the original menu, an added array of clean, crisp flavours and inventive cuisine will tantalize you and leave you wanting more. Intimate surroundings and personalized service with natural lighting are all part of the reimagined setting of Blu.
Tuscan Grille
Personal and professional service are the cornerstone of this restaurant. Take the traditional style and eclectic flair of Italy, with contemporary inspirations, and delivered in abundance with cuisine reminiscent of the hills of Tuscany. It's all a part of the experiential character of Tuscan Grille.
Murano
The best service, impeccable design, world-class fare and elegant sophistication are lauded to the utmost at Murano. Experience masterful presentation, an expansive selection of seafood and cheeses from around the world, or an extensive French and America wine list. Charming and effortless, Murano will transport you through dish and décor, to a sophisticated and contemporary level of fare.
Silk Harvest
As the premier Asian restaurant on any Celebrity ship, Silk Harvest takes you on an experience of the Orient, offering authentic Asian cuisine perfectly paired with a contemporary fusion of Japanese, Thai, Chinese and Vietnamese fare. Enjoy a family friendly setting amidst casual and enjoyable dining options.