Children on Cruises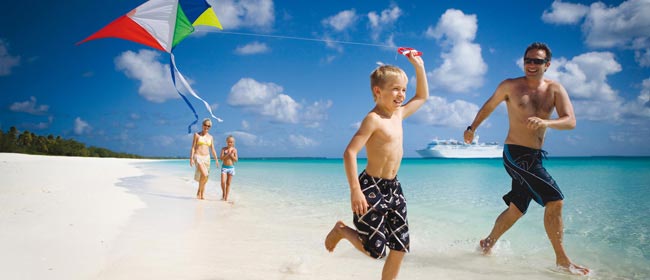 Holidays are a time to spend with the family. A cruise holiday offers the perfect chance to spend quality time with your loved ones, while also being able to enjoy quiet time by yourself.
The cost of most children´s centre´s and onboard activities is included in the fare of your cruise. Kids and teens programs are cleverly targeted towards specific age groups, ensuring the needs of your child or children will be met while you are onboard.
With loads of onboard entertainment and activities for younger cruisers there really is no excuse not to bring them along on your next cruise!
Princess Cruises
All Princess Cruise ships, with the exception of the Ocean and Pacific Princess, have dedicated Youth Centers and Teen Lounges, ensuring the needs of your children are met while onboard. Experienced counselors are onboard to ensure the younger cruisers stay happy throughout the cruise, with youth programs offering a range of art and crafts projects, talent shows, parties and much more.
Youth Centers
Opening Hours
Sea Days: 9:00am-12:00pm, 1:00pm-5:00pm, 6:00pm -10:00pm
Port Days: 8:00am-5:00pm, 6:00pm -10:00pm
The Treehouse
Age: 3-7
(Formerly Princess Pelicans) The Treehouse is specially catered to the youngest of the cruisers, with dedicated counselors on hand to keep them entertained throughout the day. The kids can enjoy kids-only dance parties, movies and cartoons, ice-cream and pizza parties, pyjama parties, fun fairs and art projects.
The Lodge
Age: 8-12
(Formerly Shockwaves) The Lodge is the perfect program for those who aren´t "little kids" anymore, but aren´t quite teenagers yet either. Children taking part in the Shockwaves program can enjoy kids-only dinners, dance parties, movies, PS2/PS3 and Wii games, scavenger hunts, sports tournaments and quirky theme nights. .
Teen Lounges
Opening Hours
Sea Days: 9:00am-12:00pm, 1:00pm-5:00pm, 6:00pm -10:00pm
Port Days: 8:00am-5:00pm, 6:00pm -10:00pm
Age: 13-17
The teens-only lounges are exclusive for teenage cruisers. Offering only the coolest of amenities, they are the ideal ´chill-out´ spot to make new friends and pass the time while at sea. The lounges are packed with PS3/PS4 and Nintendo games, the latest movies, music and foosball tables.
The teen lounges also host an exciting array of events for teens including teens-only dance parties, late-night movies, sport tournaments, casino nights, talent shows, formal dinners, mocktail competitions, DJ workshops, teen makeovers and hip hop dance classes.
Group Kid Sitting
Sitting is available for children aged between 3 and 12, between the hours of 10:00pm and 1:00pm. A fee of $5 USD is applicable for each child, per hour. The kids can sit back, relax and watch a movie and play games with new friends.
P&O Cruises
P&O welcomes children aged 12 months and over to cruise. They are unable to accommodate infants under this age, due to limited neo-natal facilities onboard. All children aged 3 and under must remain with their parent/guardian at all times.
You can find out all there is to know about onboard activities for the kids in a daily newsletter, specially designed for the younger ones.
Turtle Cove
Age: 2-6 year olds
Opening Hours: 9:00am-10:00pm
Children can take part in activities like musical chairs, Wacky Facts and PlayStation contests, evening movies, arts and crafts (charges apply), birthday parties, disco and line-dancing parties and afternoon ice-cream – yum!
Keep an eye out for TC and Skipper; P&O´s two lovable characters who often frequent Turtle Cove and the Shark Shack during their very own Junior Cruises Show. The show is perfect for the whole family.
Shark Shack
Age: 7 -10 year olds
Opening Hours: 9:00am-10:00pm
Book your kids into Shark Shack and they will enjoy Guitar Hero and air hockey challenges, mocktail demonstrations, talent shows, arts and crafts (charges apply), movies and cartoons and scavenger hunts.
Keep an eye out for TC and Skipper; P&O´s two lovable characters who often frequent Turtle Cove and the Shark Shack during their very own Junior Cruises Show. The show is perfect for the whole family.
HQ and HQ+
Age: 11 – 17 year olds
Opening Hours: 10am–12noon, 2:00pm–6:00pm and 7:00pm–1:00am
At HQ kids can throw their enthusiasm into cruise quizzes, hip hop dance lessons, sports competitions, talent shows and onboard versions of The Amazing Race. The themed nights and dance parties also always prove to be a hit.
Group Child Minding
Group child-minding is available from 10:30pm to 1am at a nominal charge of $5 per child, per hour. Child minding is suitable for children aged between 3 and 11.
Cruisers should keep in mind that entry into the Children´s Centers operates on a first come, first served basis. Entry is not guaranteed.
Family Time
Embrace the cruising lifestyle with your family and take part in the Beach Sports program, which is specifically designed to encourage quality family time.
When you go to shore at various ports of call you can enjoy activities like beach volleyball, cricket and soccer. Back on the ship, why not try your hand at something a little ´out there´ and juggle with Pacific Cirque™, learn how to Latin dance or strut your stuff to one of the fun themed nights?
Ocean Friends Club
P&O has collaborated with the Sydney Aquarium to bring to its cruisers the Ocean Friends Club. This educational program is packed to the brim with interactive ´touch and feel´ activities, art and craft and energetic games. Your kids will learn about the wonderful world under the sea and will also gain a free entry pass to Sydney Aquarium.
Carnival Cruises
There is heaps of fun on offer on this cruise ship holiday for little ones, big ones and the whole family.
The largest waterpark at sea in Australia, mini golf, family friendly comedy shows and three different age-appropriate youth programs means plenty of exciting choices for all ages.
Camp Carnival
Young kids 2–5 will have a blast with toys, arts and crafts. Juniors from 6–8 can make spin art and play engaging games. Kids from 9–11 can relax at pool parties and try scavenger hunts. Fun for all ages!
Circle "C"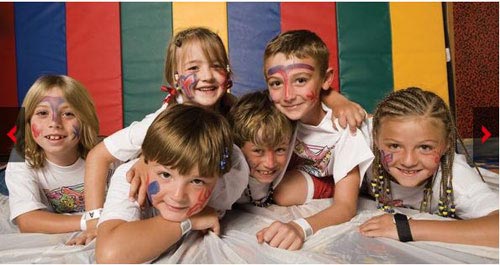 Young teens 12–14 hang out together for late-night movies, night time swims, sports, the latest video games and dance parties.
Club 02
Teens ages 15–17 gather in their own lounge area to play the latest video games, dance on the state-of-the-art dance floor, or just relax and chat with friends at the non-alcoholic drink bar.
Royal Caribbean
6 months – 3 years
Dedicated nursery
At the Royal Babies Nursery, the youngest guests (aged from 6 to 36 months) are cared for by professionals while enjoying programs designed specifically for them. Daytime and evening drop-off is on offer with hourly fees of USD 6.00 for day and USD 8.00 during evening sessions. This service is available on select ships only.
Babies and Tots programs
Join your baby in the fun of Royal Babies® or Royal Tots® interactive sessions. Each session, held on one of the on board lounges, will offer fun and games that make playtime a time for learning as well.
3 - 11 years
Aquanauts (Ages 3-5)
These little at-sea adventurers will enjoy the magic of Bubbling Potions, uncover the dinosaur-sized secrets of Jurassic Jr. and take over the ship with the Pirate Party Parade. Parents of three-year-olds can opt for pagers so that Adventure Ocean staff can stay in touch.
Explorers (Ages 6-8)
Space Mud, Fossil Fever, Meteorology Madness! Hands-on science gets young minds churning – along with explorations of the fine arts with Adventure Art and Adventure Theatre. Round off the night with dancing through the decades and ice cream for all.
Ages 12 to 14
Get physical with rock climbing events, dodgeball and Dance Dance Revolution video games, then relax a little and take it all in at BBQs and film nights. Plus, there's the chance to let your inner star shine with open-mic night events, talent shows and the Scratch DJ Academy.
Ages 15 to 17
Make new friends at themed nights, pool parties and group dinners. Feeling the competitive? Challenge a friend at karaoke stage, on the Wii or on the basketball court and see who becomes the reigning champ.
Holland America
Holland America's youth centre is dubbed 'Club HAL' and is a supervised space just for young ones ages 3 to 17 years old. It offers a variety of fun and educational activities, in a vibrant facility divided into rooms for different age groups.
Kids aged between 3 and 6 are taken on treasure hunts, storytelling adventures, arts and crafts sessions, ice cream sundae and pyjama parties, among many other activities. The room is full with age-appropriate books and toys, including Lego blocks, tables for art and Televisions. Decorations vary depending on the ship, however many of them embrace artistic themes, with various colours, life-size art replicas and more.
Young tweens from 7-12 have their share of games, including Wii and 360 Kinect. They can partake in gaming tournaments, races, scavenger hunts and dance parties with Karaoke. The rooms for this group generally include cool design features reminiscent of a New York street. On cruises to Alaska the kids can enjoy the Holland America's National Park Service Jr. Ranger program, which was designed to help kids learn about the area and offers a chance to get to meet a real park ranger.
Teens from 13 to 17 can enjoy their own area, situated next to Club HAL. Known as 'The Loft', it exhibits a trendy vibe and more 'grown-up' activities, like mocktail-making classes, hip-hop jam sessions, sports comps and nightclub evenings. The room is also comes with video games, televisions and movies.
Celebrity
Fun Factory
Happy children means happy parents! At the Fun Factory, Celebrity host activities for children and teenagers daily from 9am-10pm, with events organised according to your children's age. Shipmates is a centre for kids aged 3-5; Cadets is for those between 6-8; Ensigns for ages 9-11. Activities available include games, crafts, music, sports, karaoke, themed parties, movies and more.
X-Club Teen Entertainment
For young adults, Celebrity offers the best in hang outs for teens, with social activities, the latest in gaming, sports activities, and late night discos. Supervision provided.
Toddler Time for children under 3
Toddler time lets mums, dads and little ones interact with other children their own age. Staff provide toys for the group, including LeapFrog® interactive toys. Children who will be participating in events must be fully toilet trained; however, children can be accompanied to an activity if they're not.
Party Time
The Fun Factory provides a number of events where children can experience extra hours of fun and eat with youth staff for breakfast lunch and dinner.
Lunch Party: 12-2pm port days only
Dinner Party: 5-7pm every evening
Slumber Party: 10pm-1am every evening

These services are offered on a sign-up basis and are charged at $6 per hour per child. Exceptions: when at sea, or if sailing at or prior to 5PM, the Dinner Party is complimentary.