Accommodation
Deckplan
Explore all 16 decks of Queen Victoria filled with an incredible range of services and facilities on offer.
Attention to detail, with luxury the highest priority, makes Cunard Line the very best in the cruising business.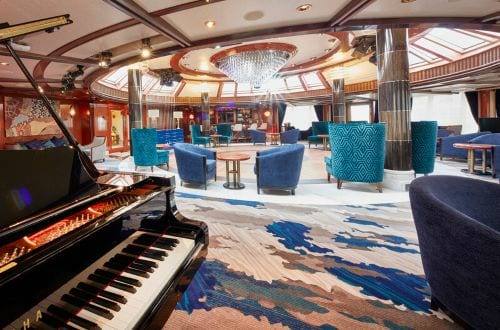 Dining
Cunard Line prides itself on offering the finest cuisine paired with the highest quality service. The two-tier Britannia Restaurant is the main dining venue, with menus designed by Cunard's Global Culinary Ambassador, Jean-Marie Zimmermann.
The most luxurious dining room however is the a la carte Queens Grill. Its twin Princess Grill just next door offers intimate single seating with the signature Cunard service and impressive menus.
Queen Victoria's alternative dining venue, Verandah Restaurant, serves contemporary French cuisine using authentic ingredients from France. Lido offers buffet dining all day for a casual breakfast or a quick bite. Each evening try a r theme of dishes, such as Italian, Indian or fondue.
Traditional afternoon tea is served by white-gloved waiters accompanied by the orchestra in the Queens Room ballroom. Cafe Carintha is a perfect place to relax with specialty teas and coffees and pastries. With room service available 24 hours, you can enjoy fine dining at your whim.
Entertainment
Every bar and lounge on board has a unique atmosphere. The glass-domed Hemisphere nightclub offers clear sky views by day and a dazzling starry backdrop by night. Sip Veuve Clicquot champagne from elegant Waterford crystal flutes in the champagne bar or drink ale and sing karaoke at The Golden Lion, an authentic British pub. The Royal Night Theme Balls hosted in the Queens Room ballroom are truly unforgettable.
The 3-storey Royal Court theatre is the first theatre at sea to have private boxes for the ultimate live performance experience. Live the high life and try your luck at blackjack in the Empire Casino!
Keep active with the state-of-the-art sports deck, golf nets, fencing and fitness centre. You can also stretch your mental muscles with Cunard ConneXions classes and Insights enrichment lectures. While away the afternoon with a quiet book in the library or an extravagant pampering in the Royal Spa and Hair Salon.
Facilities
Queen Victoria on board facilities include:
Dining
The Grills Terrace
Queens Grill
Princess Grill
Britannia Restaurant
Verandah Restaurant
Lido Restaurant
Cafe Carinthia
24 hour room service
Bars
The Commodore Club
Hemisphere
Queens Room
The Golden Lion
Winter Garden
Churchill's Cigar Lounge
Admiral's Lounge
Chart Room
Veuve Clicquot Champagne Bar
Midships Lounge
Entertainment
Empire Casino
Royal Court Theatre
Pub karaoke and quizzes
Fun and Relaxation
The Terrace
The Courtyard
Sports Deck
Card Room
Golf nets
Fencing
Royal Spa and Hair Salon
Fitness Centre
Cunard ConneXions
Children
Children's Outdoor Area
Teens Outdoor Area
The Play Zone and The Zone youth programs
Miscellaneous
Cunard Insights
Clarendon Fine Art
Cunardia maritime museum
Book shop
Image Photo Gallery
Royal Arcade shopping
Computer centre
Library
Card room
Queens Arcade
Tour office
Pursers office
Kids
All Cunard ships offer complimentary youth programs to entertain and look after children and teenagers aged 2-17 years while parents enjoy their cruise. Children's supper/tea is served daily so parents can have formal dinner by themselves.
Activities vary every day and run during the day and into the night. Depending on age, your young ones can take part in arts and crafts, movies, quizzes, table tennis and scavenger hunts. Specially designed areas The Play Zone and The Zone are the base of activities and can be used by appropriate age groups to simply relax and meet new friends.
A night nursery for ages 12-23 months is open from 6:00pm to 11:00pm daily on a first come first served basis. Children under 2 years old can use the facilities and activities during the day with parental supervision.