Due to the COVID-19 concern, our office will be closed on weekends.
Port of Call - Townsville
Surrounded by some of Queensland´s most incredible natural wonders and stunning regions, the city of Townsville is a jewel of East Coast Australia.
Brilliant contrasts between untouched rainforests, rugged outback landscapes and picturesque country terrain, make Townsville one of North Queensland´s most sought after cities.
With the Great Barrier Reef and island paradises like Magnetic and Hinchinbrook Islands just a stones throw away, it´s easy to see why Townsville is such a tourist magnet.
What to Explore
Expand
Magnetic Island
Magnetic Island is an island unlike any other in Queensland's tropical north. Located just 8km off Townsville, the island is comprised of untouched National Park, a resident population of 2,500 people and a variety of holiday resorts.
Explore the majestic Mt Cook, hidden patches of rainforest and eucalypt forest and imposing hoop pines while embarking on some of the 24 kilometres of walking tracks on the island.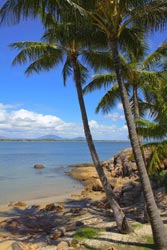 Castle Hill
Work off some of those pounds you have gained from over-consumption throughout your cruise and make the trek up the infamous Castle Hill.
This isolated pink granite monolith towers over the city, rising 286m above sea level and dominating the city skyline. The views from the top are unsurpassed and the military history you will find present here will fascinate and amaze.
Reef H.Q. Aquarium
Boasting all the wonders of the Great Barrier Reef in one small space, Reef HQ Aquarium is a must for lovers of the creatures of the deep.
As the "world's largest living Coral Reef Aquarium" this attraction boasts a range of displays and exhibits that focus on all aspects of this World Heritage Listed natural attraction.
Temperatures
Expand
Average Temperatures
January: 28°C
February: 28°C
March: 27°C
April: 25°C
May: 23°C
June: 20°C
July: 19°C
August: 20°C
September: 23°C
October: 26°C
November: 27°C
December: 28°C
Dining
Expand
Dining Suggestions
Townsville is bursting with an impressive array of different cuisines, along with some of the freshest and tastiest seafood around.
For a taste of the Mediterranean and Turkey, head to Osmans on Flinders Street. Offering a relaxed dining experience and delicious food, Osmans is a must for all lovers of food.
A Touch of Salt Restaurant is located in the heart of the city and overlooks the beautiful Ross River. With the ultimate dining experience on offer, this one simply cannot be passed up.
Bring to Shore
Expand
What to bring to shore?
Wear comfortable clothing and shoes and bring along a hat, sunscreen and bottled water.
Your camera will also be put to good use.
Docking
Expand
Docking
Your cruise ship will dock at the Townsville Port, which is a 10 minute drive from the city centre.
Taxis are available outside the pier area and shuttle buses are available for transportation into the city centre.
Information
Expand
General Information
Currency: Australian Dollar (AUD$)
Language: English
Population: 185,768
Time Zone: AEST (UTC+10)