Positioned in a place where the sky meets the land and the outback meets the sea, Broome is a magical destination that needs to be seen to be believed.
Characterised by pure white sands, stunning red rocks and cobalt blue waters, Broome is a tropical paradise simply begging to be explored. A unique cultural diversity and rich indigenous history make this a destination that is both intriguing and surprising.
Often referred to as "The Gateway to the Kimberley", this 15km long peninsula is a one-of-a-kind holiday destination and is perfect to explore all year round.
What to Explore
Expand
Cable Beach
Stretching for a majestic 22 kilometres, Cable Beach boasts beautiful white sand and stunning turquoise water. A camel safari can usually be spotted on a balmy tropical night, and the sun setting over the Indian Ocean is a sight not to be missed
Roebuck Bay
Roebuck Bay is one of Broome's most spectacular natural attractions. The best time to visit is in the cooler months, when you will be able to view the natural phenomenon of the Staircase to the Moon. See the full moon reflecting off the tidal flats of Roebuck Bay, creating a truly breathtaking sight that simply cannot be missed.
Temperatures
Expand
Average Temperatures
January: 30°C
February: 29°C
March: 30°C
April: 28°C
May: 25°C
June: 22°C
July: 21°C
August: 23°C
September: 26°C
October: 28°C
November: 29°C
December: 30°C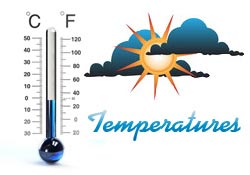 Dining
Expand
Dining Suggestions
Broome may be a small place, but it offers a wealth of great dining options for visitors.
Go where the locals call home and pay a visit to the Roebuck Bay Hotel/Motel. Offering a combination of dining, dancing and nostalgia, the "Roey", as the locals like to call it, is an iconic part of the region's history.
Take your love of all things tropical one step further with a visit to the Mango Place. Offering a unique selection of mango wines, mango smoothies, mango ice-cream and delicious mango fudge and candy, your taste buds will be in for a treat.
Treat yourself even further with a trip to the Wharf Restaurant, where you can sample some of Western Australia's finest seafood. Oysters are half price between 2pm and 5pm daily.
Bring to Shore
Expand
What to bring to shore?
Wear light, protective clothing, a hat and sunscreen as the sun here is particularly strong.
Comfortable shoes are a must, especially if you are planning on doing some walking.
Be sure to bring the camera along too.
Docking
Expand
Docking
Your cruise ship will dock at the Broome General Berth, Port Drive, which is a 10 minute drive from the city centre of Broome.
Limited taxis are available outside the pier area and shuttle buses are available for transportation into the city centre.
Information
Expand
General Information
Currency: Australian Dollar (AUD$)
Language: English
Population: 11,547
Time Zone: AWST (UTC+08:00)