Select Your Cabin Type Below...
We weren't able to find any available cabins on this cruise.
| Day | Date | Port | Times |
| --- | --- | --- | --- |
| 1 | 03 Mar 21 | Sydney - Australia | Depart 4:30pm |
| 2 | 04 Mar 21 | Cruising | |
| 3 | 05 Mar 21 | Cruising | |
| 4 | 06 Mar 21 | Noumea - New Caledonia | Arrive 08:00am Depart 5:00pm |
| 5 | 07 Mar 21 | Lifou - Loyalty Island | Arrive 08:00am Depart 5:00pm |
| 6 | 08 Mar 21 | Vila - Vanuatu | Arrive 08:00am Depart 7:00pm |
| 7 | 09 Mar 21 | Cruising | |
| 8 | 10 Mar 21 | Mare - New Caledonia | Arrive 07:00am Depart 4:00pm |
| 9 | 11 Mar 21 | Cruising | |
| 10 | 12 Mar 21 | Cruising | |
| 11 | 13 Mar 21 | Sydney - Australia | Arrive 06:30am |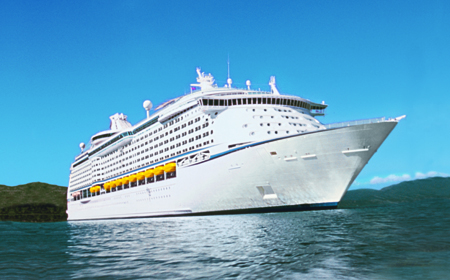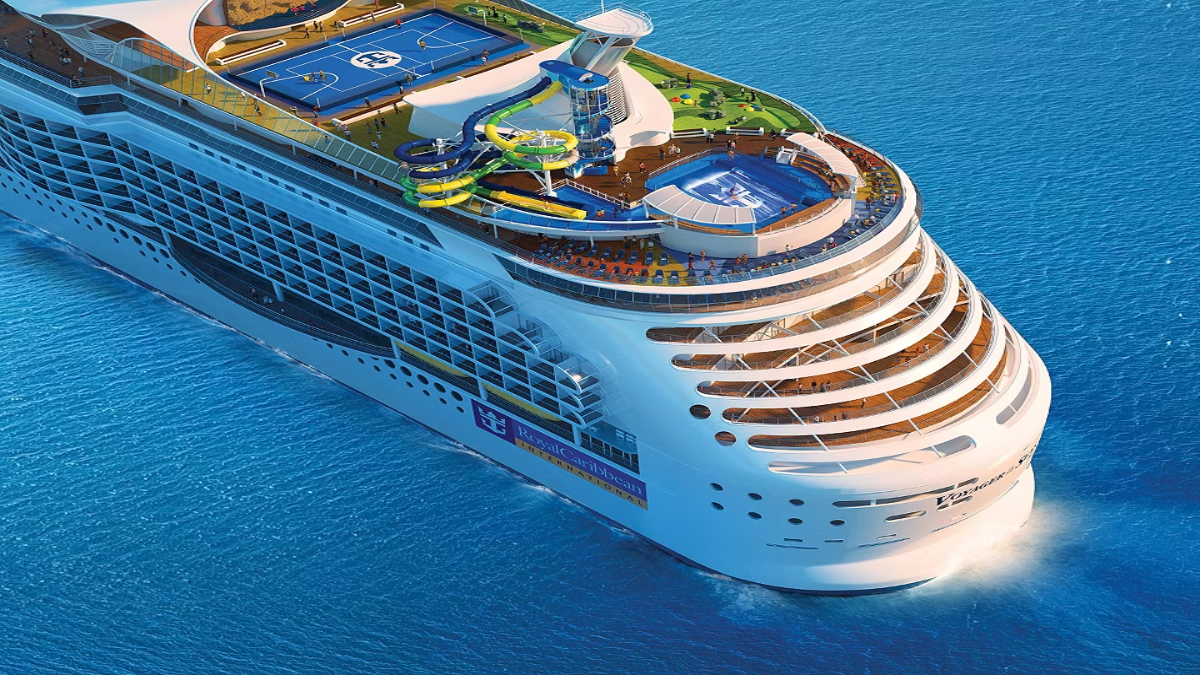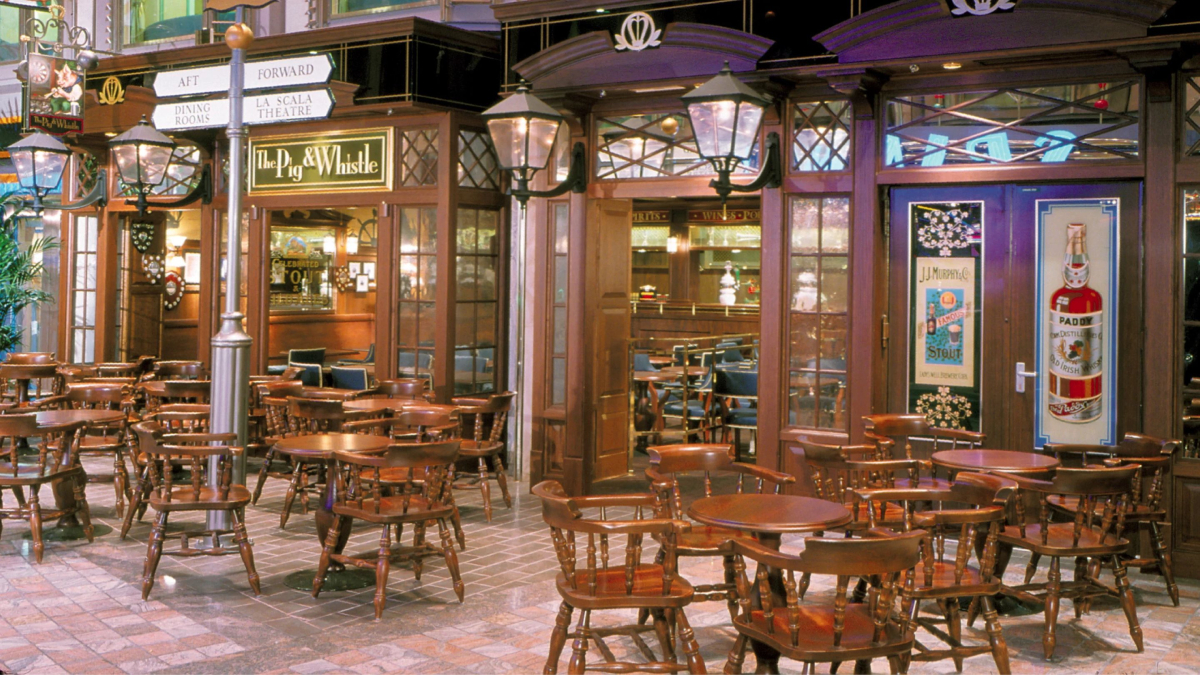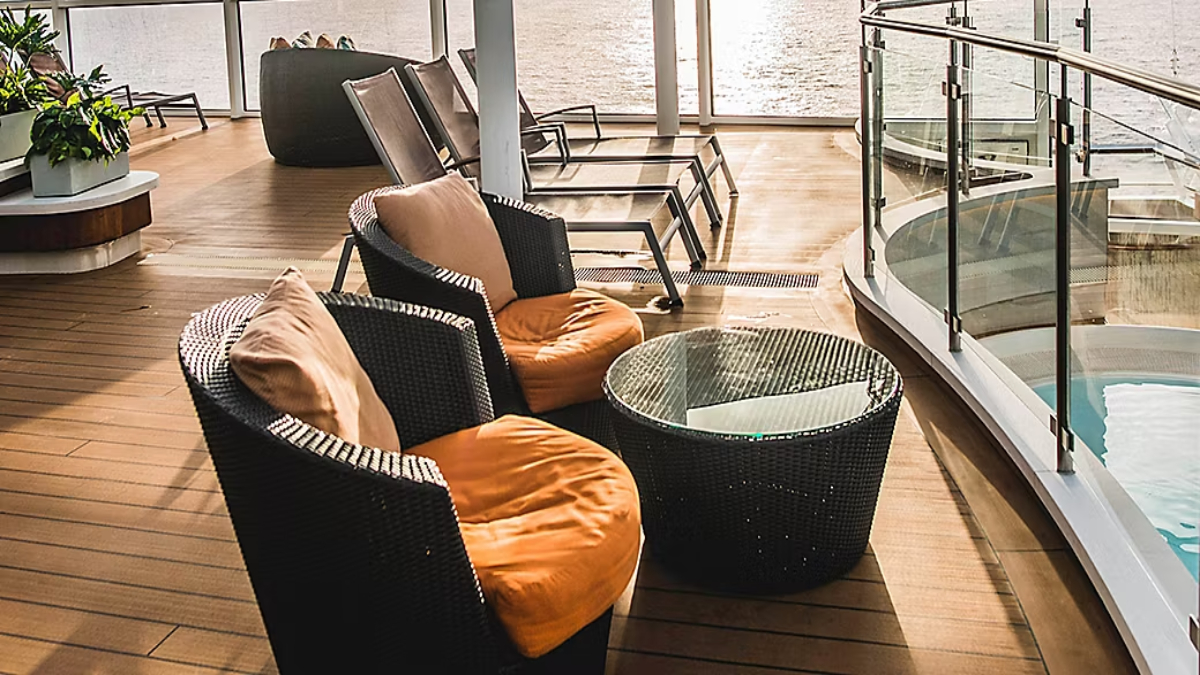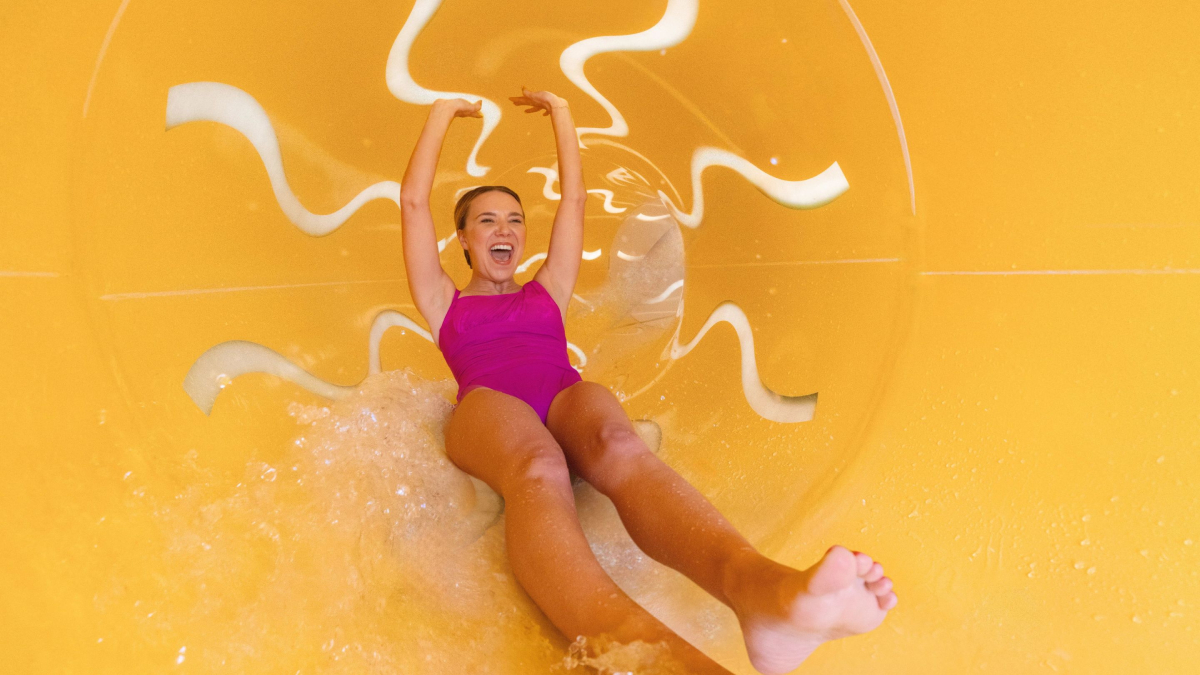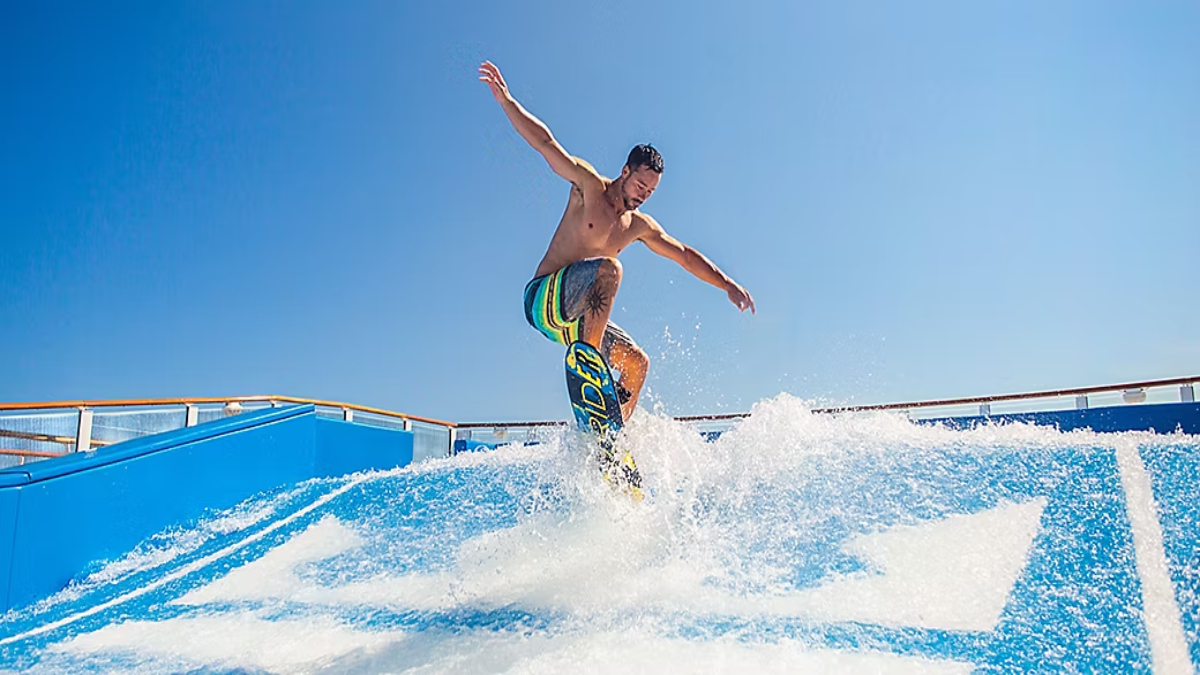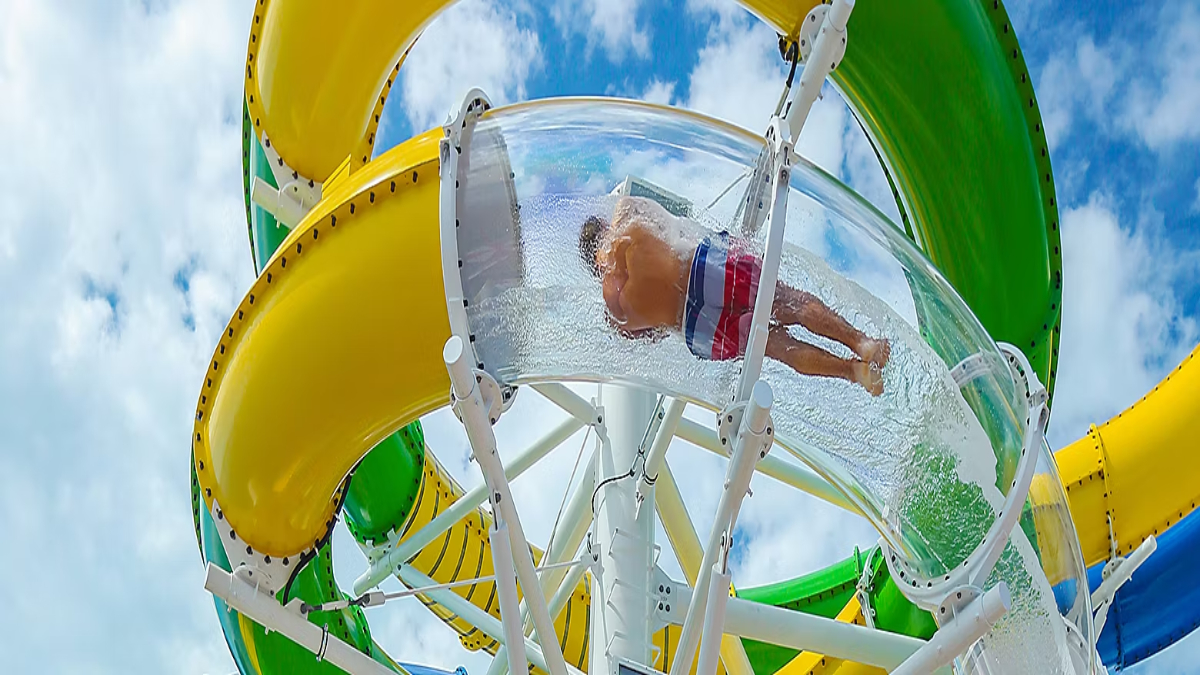 Ship Details
Accommodation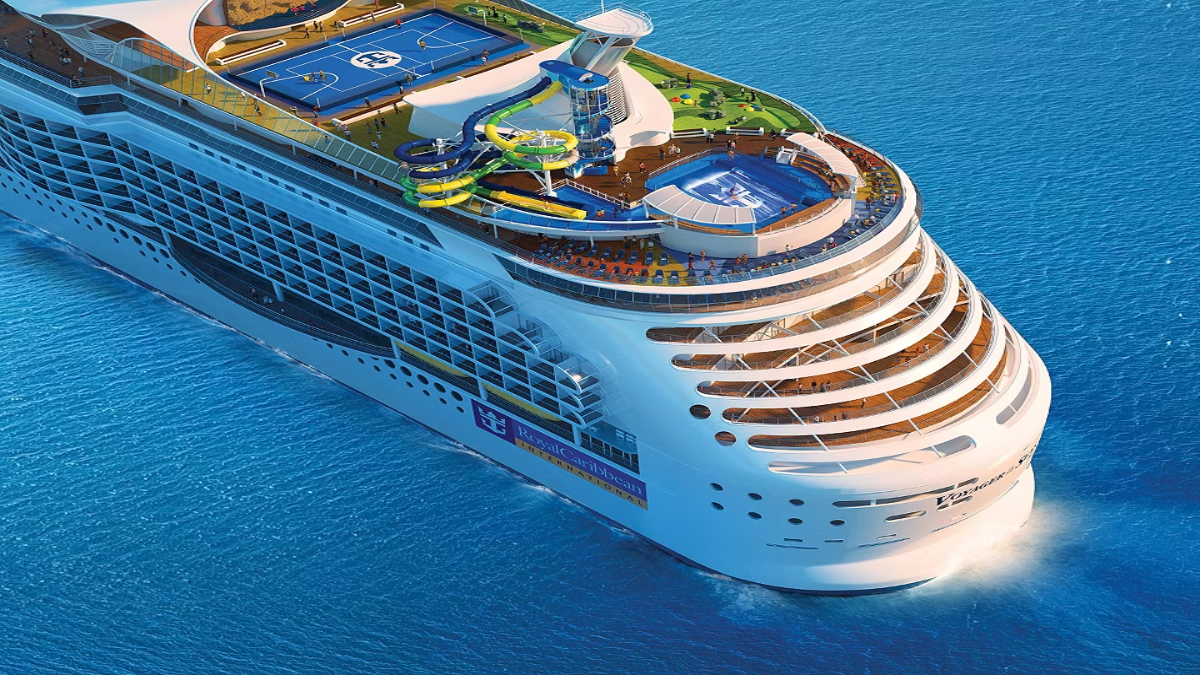 Deckplan
With spacious public areas, enhanced staterooms and a spectacular multi-storey dining room, this ship is worth checking out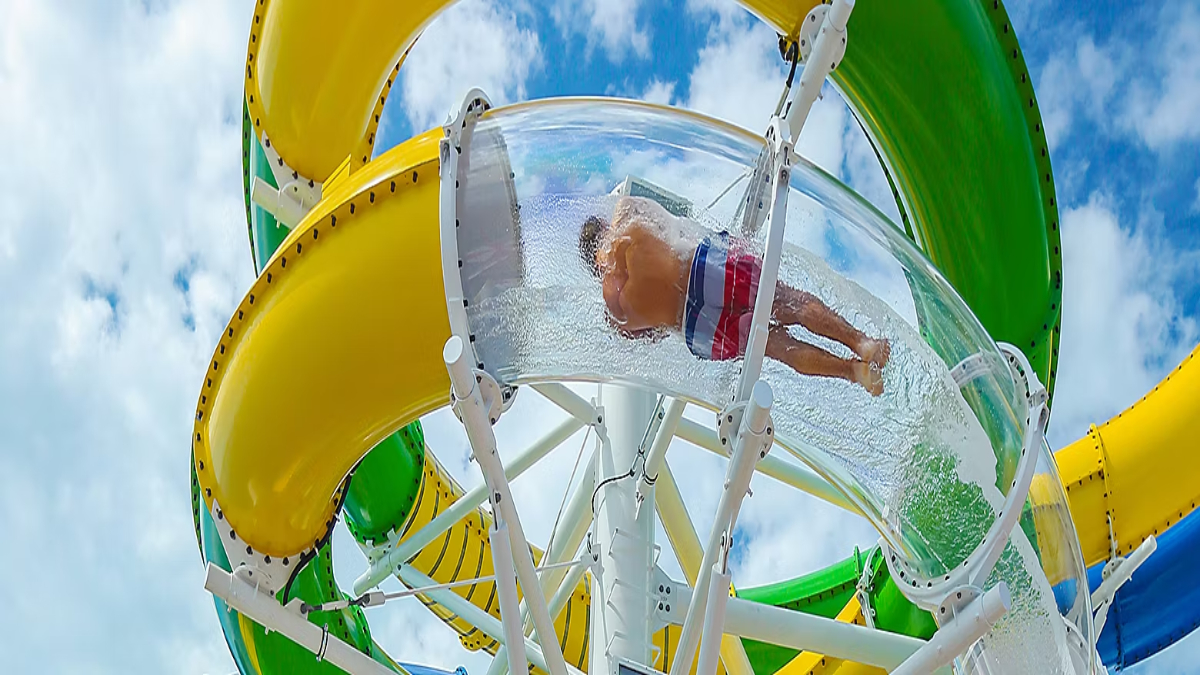 Dining
Food glorious food... first the complimentary ones:
The Multi Level Dining room provides A la carte Breakfast, Lunch and Dinner.
The Cafe Promenade for coffee, pastries and snacks
Another option is the Windjammer Café with spectacular views
Jade Sushi and Asian fusion
Or if you're feeling like a night in, you can opt for room service
Or take a look at the Specialty restaurants, listed below, where for one low cover charge you can choose any items off the menu from appetizer to dessert.
Portofino - traditional Italian restaurant
Johnny Rockets 1950's diner
Ben & Jerry's Ice Cream
Entertainment
Enjoy the Broadway style entertainment in the 3 story main theatre
Marvell at the live entertainment nightly on the Promenade
Get wowed by the ice skating shows
Try your luck in the the 600 square metre Vegas style Casino
Visit one of the 14 bars, lounges and clubs
Shop till you drop at Duty Free prices for clothing, fragrances & jewellery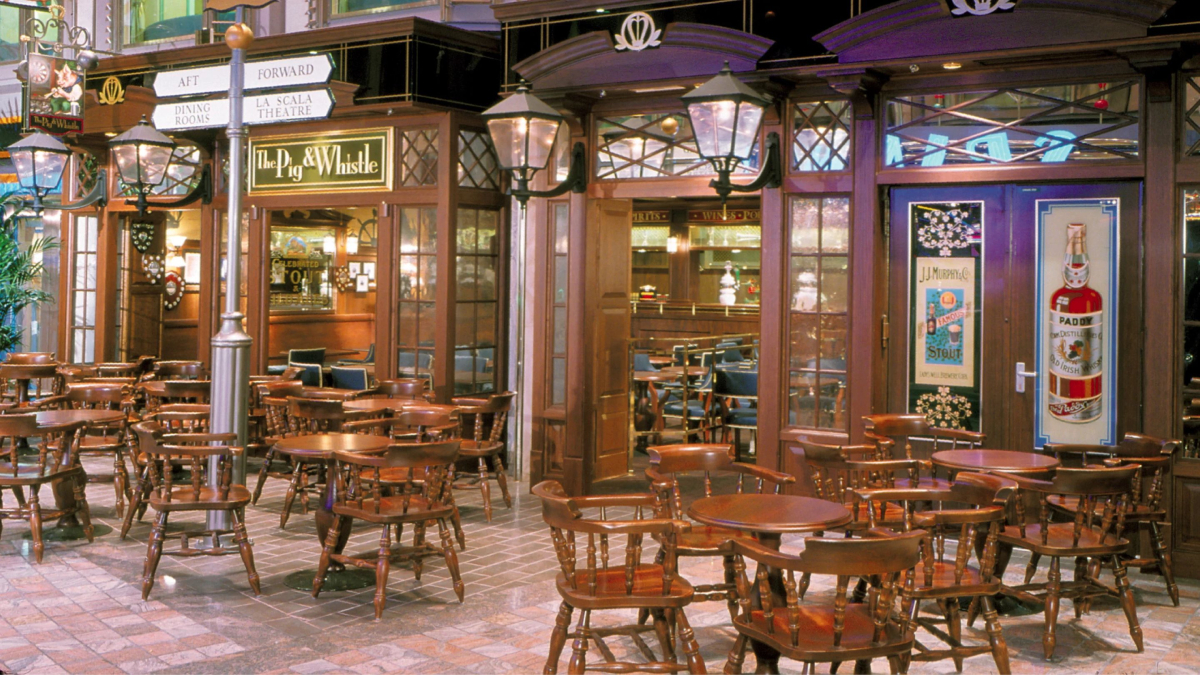 Facilities
A huge ship and a huge range of facilities are offered that include dining, to kids clubs, swimming, shopping, eating, Broadway-quality shows, sports, cinema and so much more!
Dining
Windjammer Cafe
Cupcake cupboard
Johnny Rockets 1950 Diner
Portofino Italian restaurant
Cafe Promenade
Bars
Viking Crown Lounge
Champagne Bar
Pig and Whistle English Pub
Schooner Bar
Scoreboard sports bar
Entertainment
Three-storey Main Theatre
Broadway style shows
Duty Free Shopping
15 more clubs and lounges
Vegas-style Casino
Fun and Relaxation
Adult-only retreat
Vitality Spa
4 pools
6 whirlpools
State of the Art Fitness Centre
Yoga & Tai Chi classes
Rock-climbing wall
Ice skating rink
Basketball Court
Jogging track
Video game arcade
Mini-golf course
Kids
3-5 year olds - Aqunauts Club
6-8 year olds - Explorers Club
9-11 year olds - Explorers Club
12-14 year olds activities
15-17 year olds activities
Teen hang out zones
Teen spa
An adventure kids pool with a waterslide
Family Activities- contests, lectures, enrichment classes and games
Dreamworks Experiences with meet and greets from your kids' favourite characters from Madagascar, Shrek and Kung-Fu-Panda featuring memorable moments with parades and dining with the characters.
Deck Plan
Ship Legend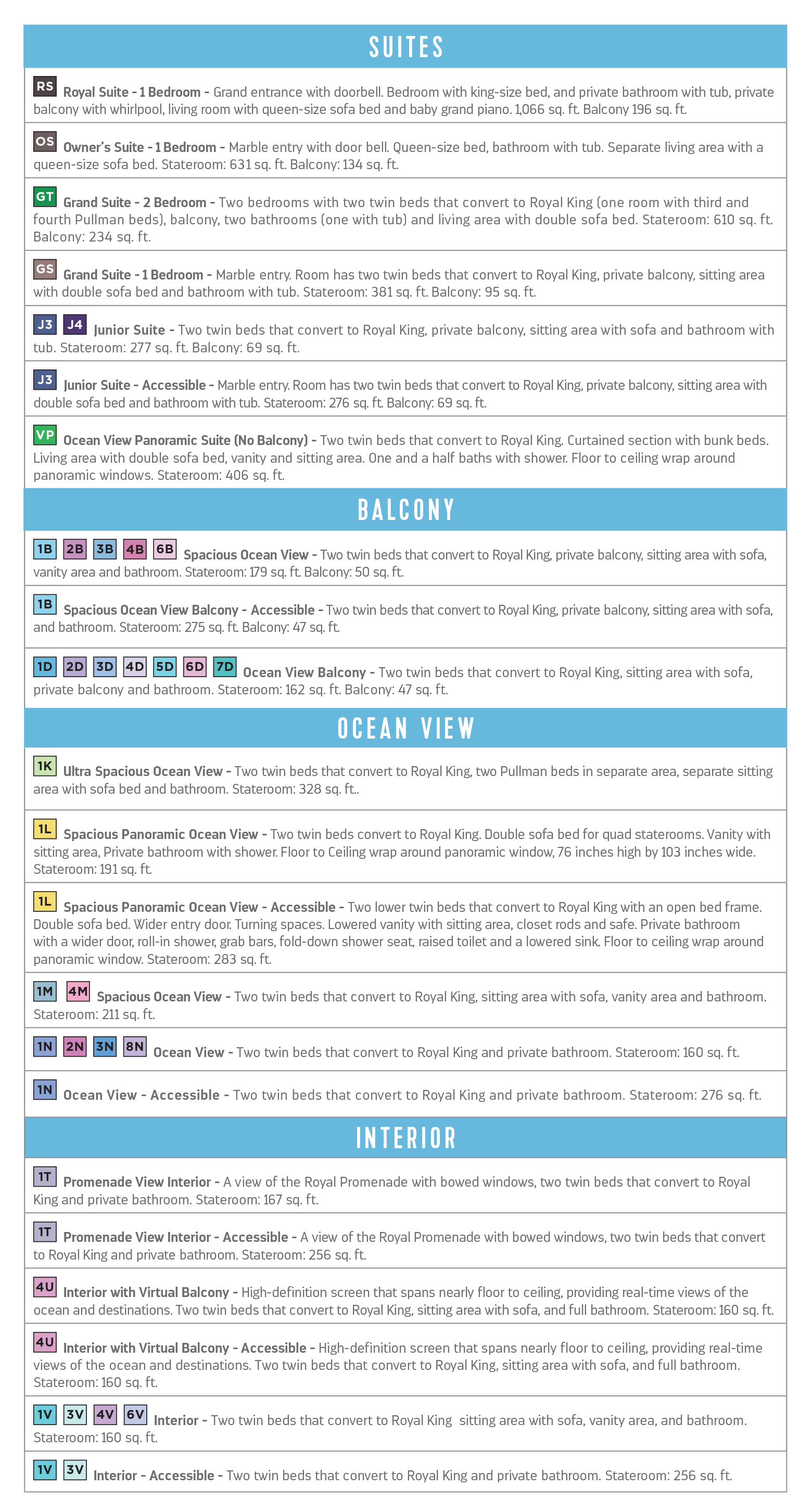 Suite
Royal Suite
Seperate bedroom with king-size bed
Private balcony
Whirlpool bathtub
Living room with queen-size sofa bed
Baby grand piano
Dining table for four
Entertainment centre, DVD player, stereo, VCR
Two TVs
Three phones
Private bathroom
Vanity Area
Safe
Can accomodate a rollaway bed and/or travel cot

Max 4 berth
Cabin size: 105.9m²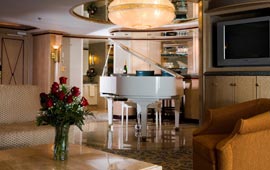 ---
Royal Family Suite
Two bedrooms with twin beds that convert to queen size
Two bathrooms (one with shower, one with bathtub)
Walk-in closet
Living area wit double sofa bed and Pullman bed
Private balcony
Two TVs
Two phones
Refrigerator
Vanity Area
Can accomodate a rollaway bed and/or Play Yard.

Max 8 berth
Cabin size: 480.1 sq. ft
Balcony size: 59.2 sq. ft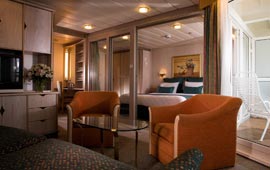 ---
Grand Suite
Two twin beds (can convert into queen-size)
Private Balcony
Sitting area with sofa bed
Private bathroom with bathtub
Refrigerator
Vanity Area
TV, DVD player, two phones
Safe
Can accomodate a rollaway bed and/or Play Yard

Max 4 berth
Cabin size: 353.1 sq. ft
Balcony size: 110.9 sq. ft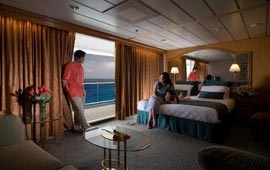 ---
Accessibility Suite
Two twin beds (can convert into queen-size)
Open bed frames
Wider entry door
Turning spaces
Private balcony
Sitting area with lowered balcony
Closet rods
Safe
Private bathroom with a wider door
Roll in shower, grab bars, fold-down shower bench, hand-held shower head
Raised toilet and a lowered sink

Max 2 berth
Cabin size: 276 sq. ft
Balcony size: 69 sq. ft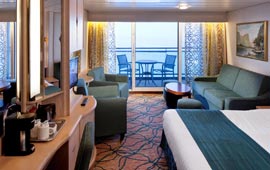 ---
Junior Suite
Two twin beds (can convert into queen-size)
Private balcony
Private bathroom with bathtub
Sitting area with sofa
Refrigerator
Vanity Area
TV & phone

Max 4 berth
Cabin size: 241 sq. ft
Balcony size: 64 sq. ft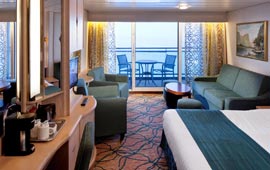 ---
Owners Suite
Queen-size bed
Private balcony
Private bathroom with bathtub
Seperate living area with queen-size sofa bed
Refrigerator & mini bar
Dining table for two
Two TVs, two phones, DVD player, VCR, stereo
Safe
Vanity Area

Max 4 berth
Cabin size: 515.6 sq. ft
Balcony size: 116 sq. ft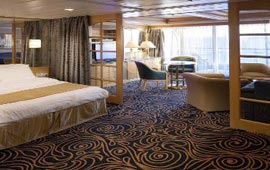 ---
Balcony
Superior Oceanview Stateroom
Two twin bed (can covert into queen-size)
Private balcony
Sitting area with sofa bed
Private bathroom
Refigerator
TV, phone and safe
Vanity Area

Max 2 berth
Cabin size: 191.8 sq. ft
Balcony size: 42 sq. ft
---
Accessible Balcony Stateroom
Two twin beds (can convert into queen size) with open bed frames
Wider door entry
Turning spaces
Private balcony
Sitting area with lowered vanity
Private bathroom with a wider door
Roll in shower, grab bars and fold-down shower bench
Hand-held shower head, raised toilet and a lowered sink

Max 2 berth
Cabin size: 350 sq. ft
Balcony size: 39 sq. ft
---
Oceanview
Family Oceanview Stateroom
Two twin beds (can convert into queen size)
Additional bunk beds in seperate area
Private bathroom
Seperate sitting area with sofa bed
Refrigerator & mini bar
TV, phone and safe
Can accomodate a rollaway bed or Play Yard
Vanity Area

Max 6 berth
Cabin size: 237 sq. ft
---
Large Oceanview Stateroom
Two twin beds (can convert into queen size)
Sitting area with sofa
Private bathroom
Vanity Area
Minibar
Tv & phone
Safe

Max 4 berth
Cabin size: 151 sq. ft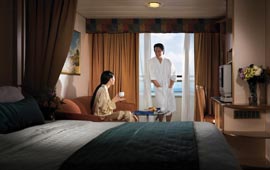 ---
Accessible Oceanview Stateroom
Two twin beds (can convert into queen size) with open bed frames
Wider door entry
Turning space
Sitting area with lowered vanity
Private bathroom with wider door
Roll in shower, grab bars, fold-down shower bench
Hand-held shower head, raised toilet and a lowered sink

Max 2 berth
Cabin size: 255 sq. ft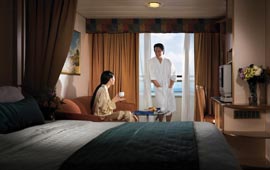 ---
Interior
Supperior Interior Stateroom
Two twin beds (can convert into queen size)
Private bathroom
TV, two phones, safe
Vanity area
Some have Pullman beds

Max 4 berth
Cabin size: 164 sq. ft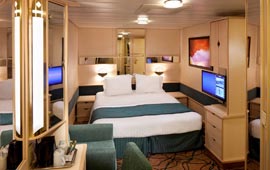 ---
Large Interior Stateroom
Two twin beds (can convert into queen size)
Private bathroom
TV, phone, safe
Vanity area

Max 2 berth
Cabin size: 142 sq. ft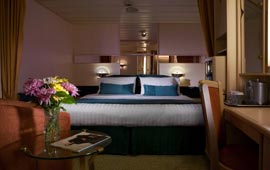 ---
Interior Stateroom
Two twin beds (can convert into queen size)
Private bathroom
TV, phone, safe
Minibar
Vanity area

Max 2 berth
Cabin size: 132.4 sq. ft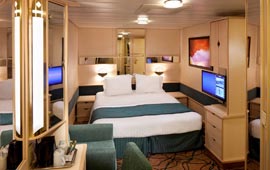 ---
Accessible Interior Stateroom
Two twin beds (can convert into queen size) with open bed frames
Wider entry door
Turning spaces
Sitting area with lowered vanity
Private bathroom with a wider door
Roll in shower, grab bars, fold-down shower bench
Hand-held shower head, raised toilet and a lowered sink

Max 2 berth
Cabin size: 142.1 sq. ft