Select Your Cabin Type Below...
Fare Type
Cabin Type
Selected Fare
| Day | Date | Port | Times |
| --- | --- | --- | --- |
| 1 | 01 Nov 22 | Brisbane - Australia | Depart 4:30pm |
| 2 | 02 Nov 22 | Cruising | |
| 3 | 03 Nov 22 | Cruising | |
| 4 | 04 Nov 22 | Vila - Vanuatu | Arrive 08:00am Depart 6:00pm |
| 5 | 05 Nov 22 | Mystery Island - Vanuatu | Arrive 08:00am Depart 6:00pm |
| 6 | 06 Nov 22 | Noumea - New Caledonia | Arrive 08:00am Depart 6:00pm |
| 7 | 07 Nov 22 | Cruising | |
| 8 | 08 Nov 22 | Cruising | |
| 9 | 09 Nov 22 | Brisbane - Australia | Arrive 06:30am |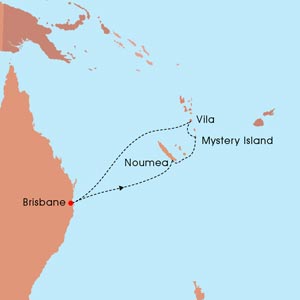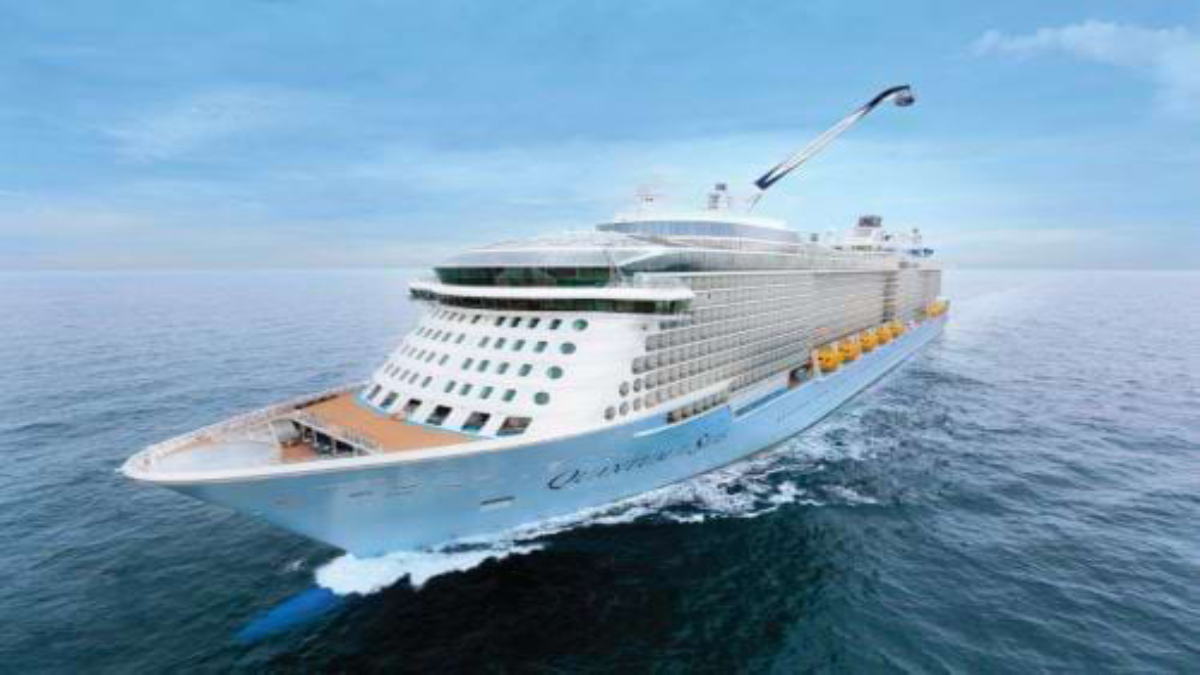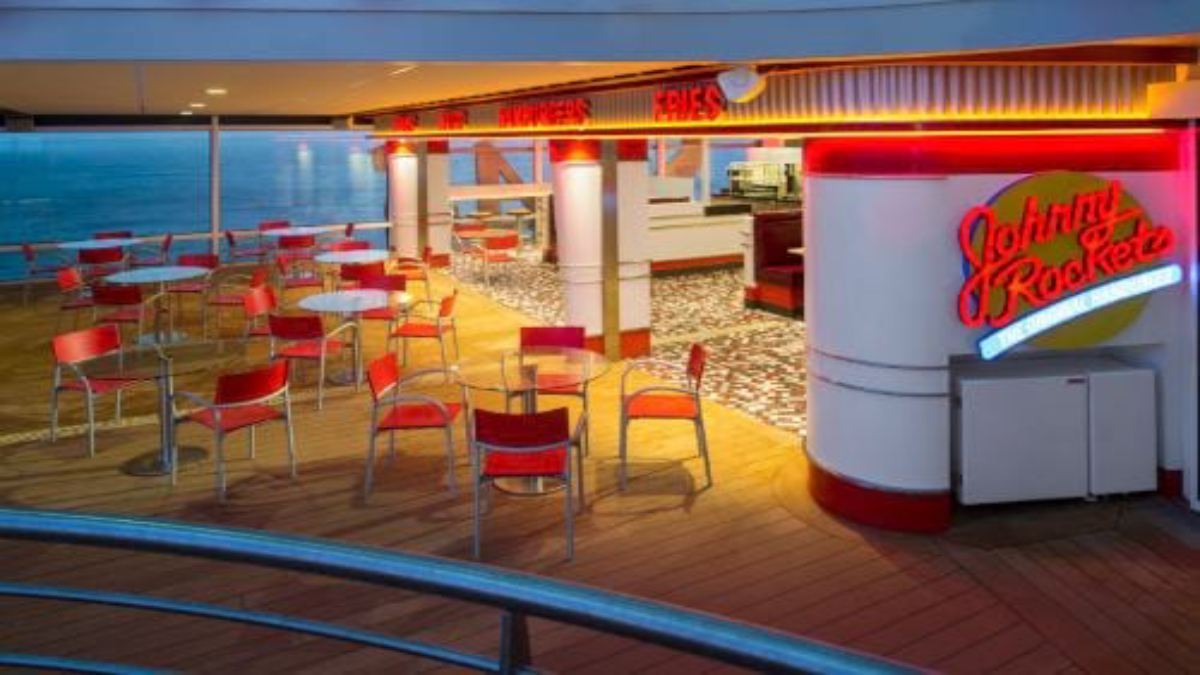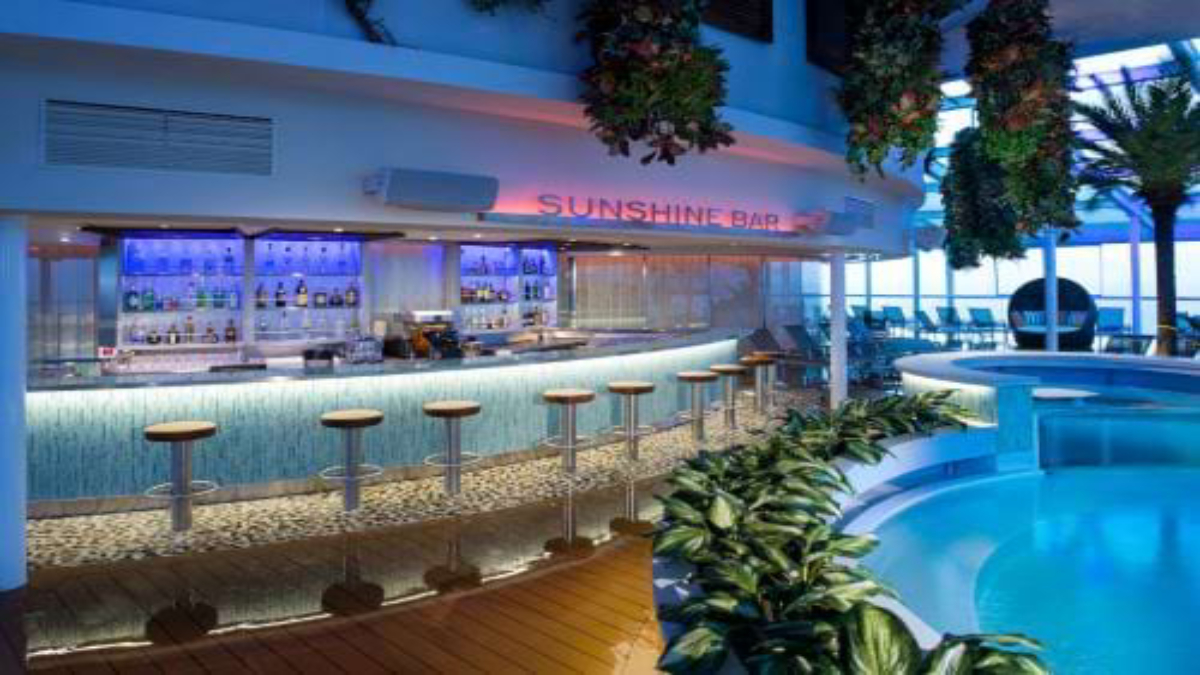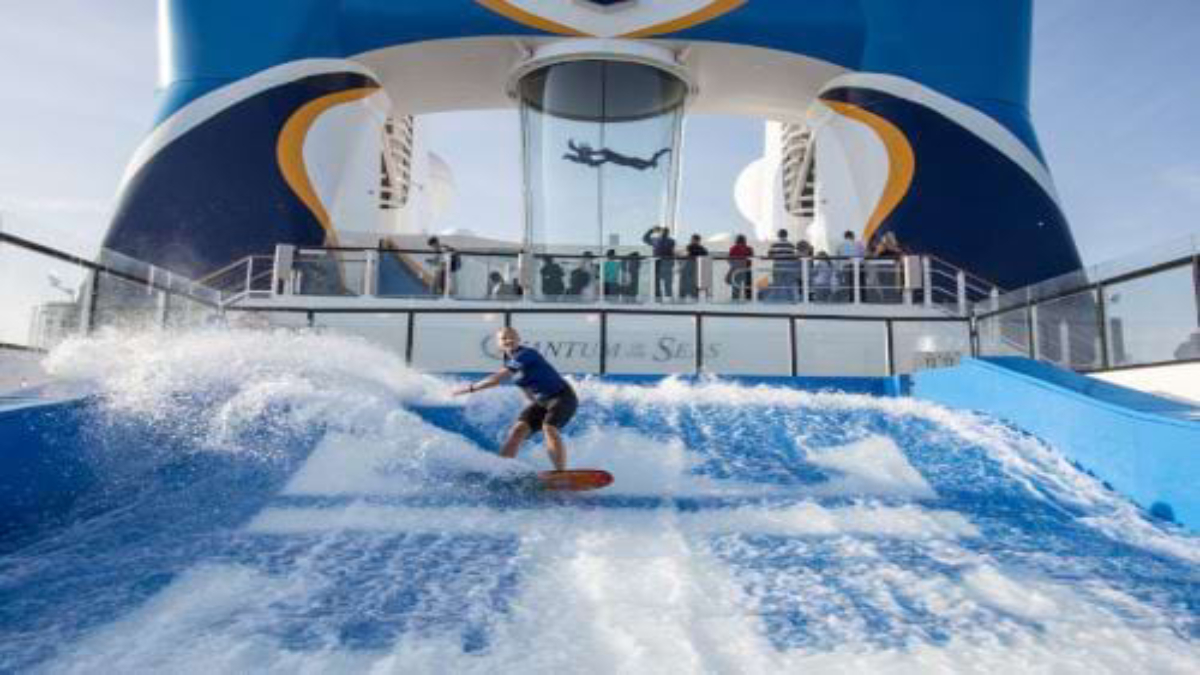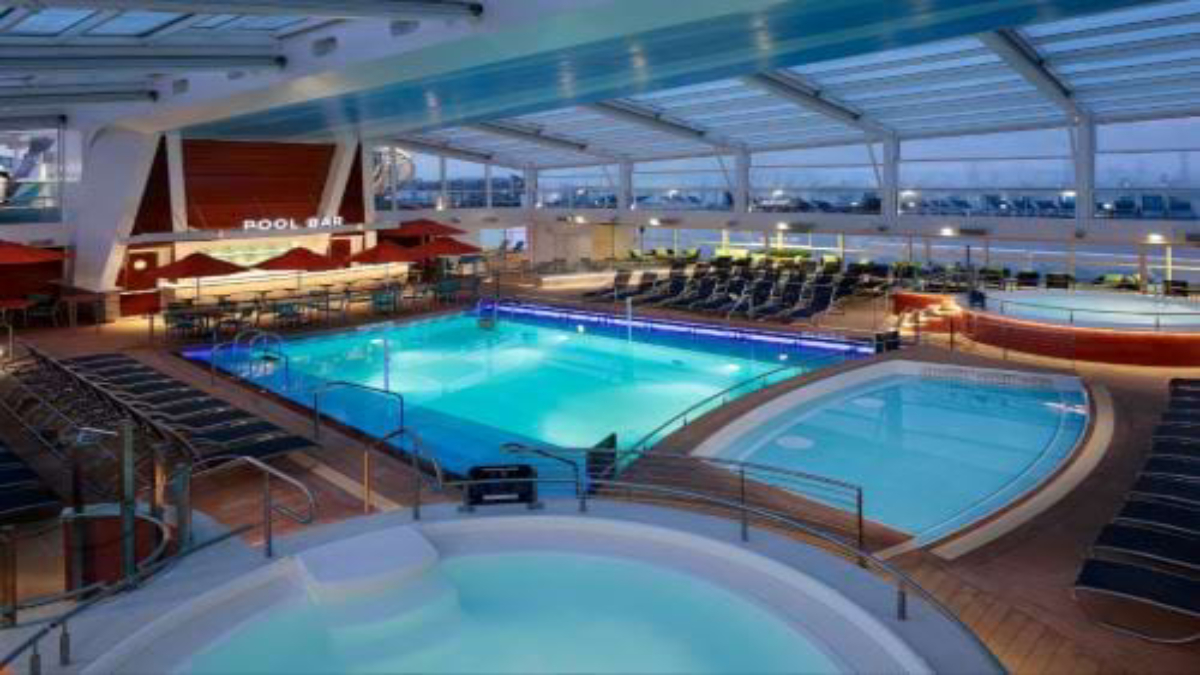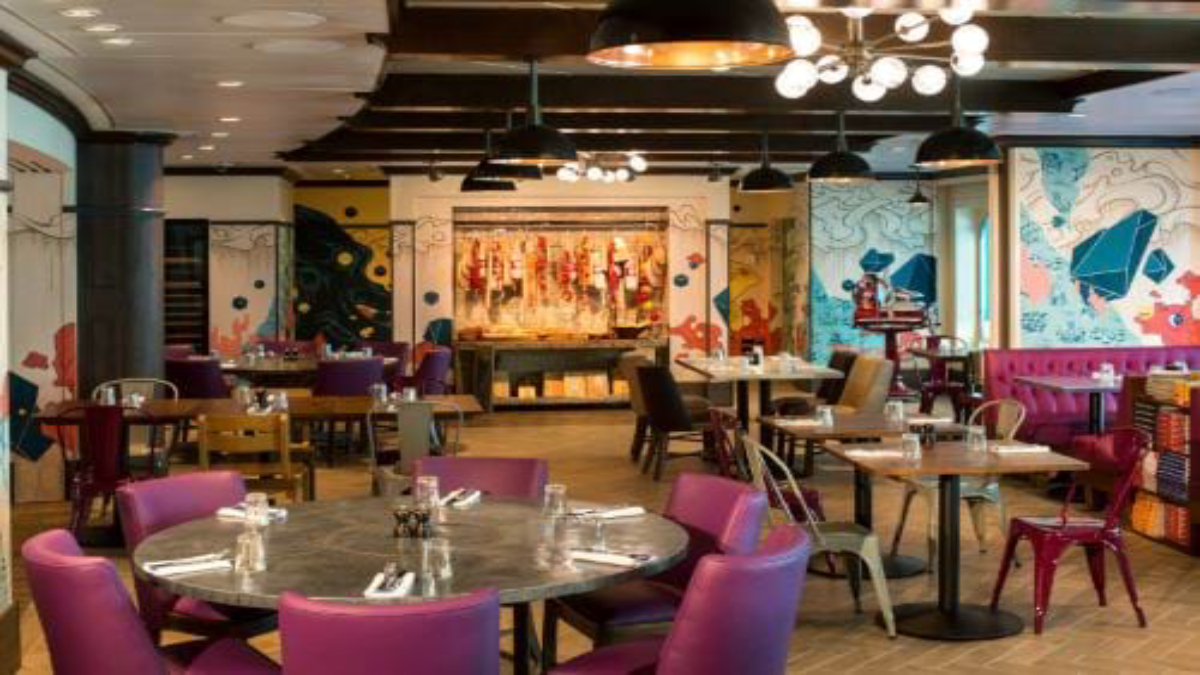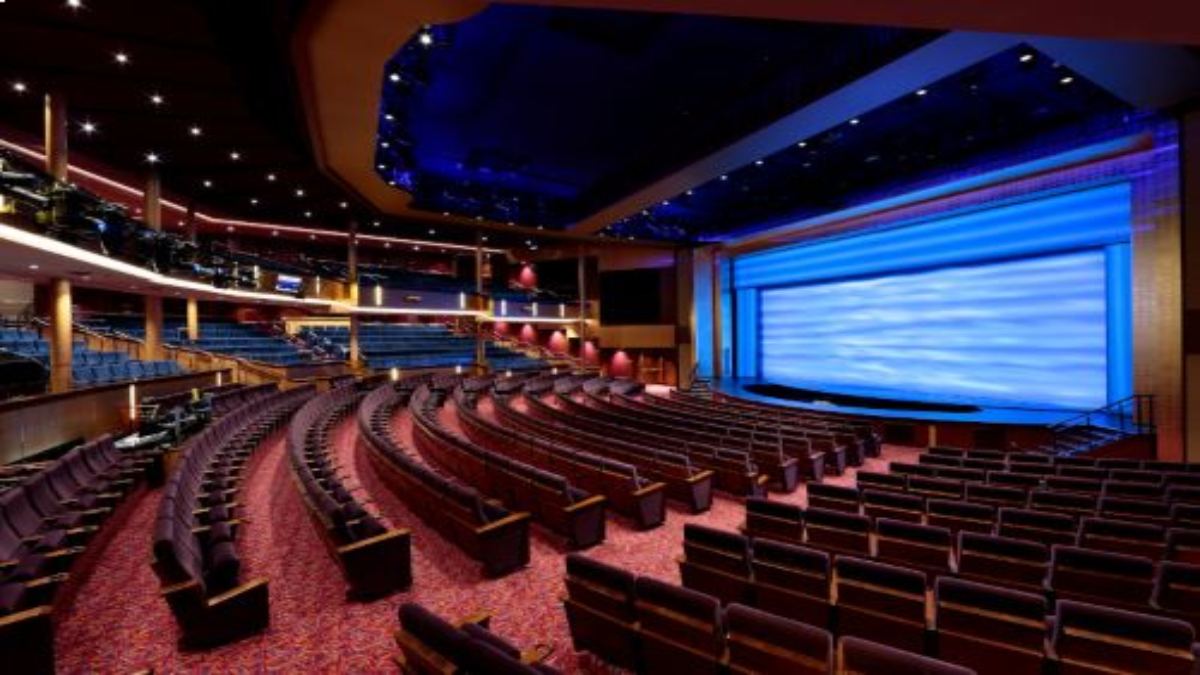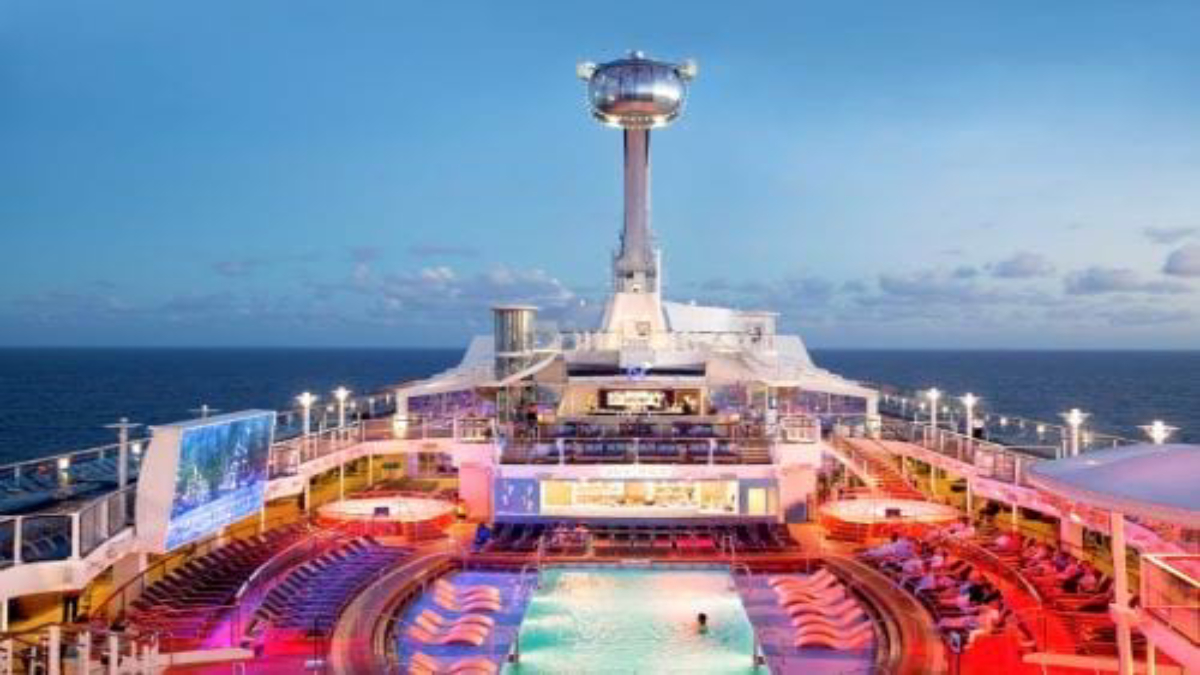 Ship Details
Accommodation
Deckplan
Dining
Quantum of the Seas offers a large variety of complimentary dining options which means you will never have to eat the same meal twice, unless you want to go back for seconds. From casual food truck style hot dog stands to fine dining at The Grand Restaurant, Royal Caribbean have all of your food needs covered.
There are also plenty of specialty dining options you may want to tantalised your tastebuds with, such as Jamie's Italian, Izumi Japanese and Samba Grill Brazilian Steakhouse.
Entertainment
If your dream holiday consists of spa treatments and poolside cocktails, Quantum will have you relaxing in no time. However if adrenaline is what you are chasing, the Quantum features the RipCord by iFly skydiving simulator, bumper cars, zip lines, rock climbing, FlowRider surf simulator and more!
Guests can also broaden their horizons by learning a language, working on their fancy footwork with dance classes, wine tasting and cooking demonstrations as well as jewellery making and scrapbooking.
Facilities
The Quantum of the Seas offers the following facilities.
Dining
American Icon Grill
Silk
Chic
The Grande Restaurant
Costal Kitchen – exclusively for Suite guests
Wonderland
Jamie's Italian
Michael's Genuine Pub
Sabor
Portofino
Devinly Decadence
The Café @ Two 70
Sorrento's
Windjammer Marketplace
Chops Grille
Izumi Japanese Cuisine
Chef's Table
Dog House
Johnny Rockets
Park Café
Jade Sushi
Boardwalk Donuts
Solarium Bistro
Bars
Ice bar @ Two70
Bionic Bar
Viking Crown Lounge
Entertainment
Music Hall Rock N Roll
Dj's and theme nights
Aerial shows
Piano Sing-alongs
Salsa Dancing
Comedy Club
Karaoke
Theme Nights
Casino Royal
Duty free shopping
Fun and Relaxation
RipCord by iFly
North Star observation capsule
FlowRider
30-foot rock climbing wall
Vitality spa
Fitness centre
220-foot outdoor poolside movie screen
Adults-only Solarium pool
Indoor pool with retractable roof
Whirlpools
Bumper cars
Roller skating
Basketball court
Circus school
Kids
3-5 year olds - Aqunauts Club
6-8 year olds - Explorers Club
9-11 year olds - Explorers Club
12-14 year olds activities
15-17 year olds activities
Adventure Ocean youth program
Royal Babies and Royal Tots program
H20 Zone kids water park
Teen only hangouts
Arcade
Teen spa
Deck Plan
Sorry deckplans are not available for these dates yet
Suite
Royal Suite
Seperate bedroom with king-size bed
Private balcony
Whirlpool bathtub
Living room with queen-size sofa bed
Baby grand piano
Dining table for four
Entertainment centre, DVD player, stereo, VCR
Two TVs
Three phones
Private bathroom
Vanity Area
Safe
Can accomodate a rollaway bed and/or travel cot

Max 4 berth
Cabin size: 105.9m²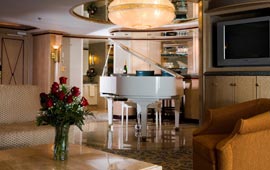 ---
Royal Family Suite
Two bedrooms with twin beds that convert to queen size
Two bathrooms (one with shower, one with bathtub)
Walk-in closet
Living area wit double sofa bed and Pullman bed
Private balcony
Two TVs
Two phones
Refrigerator
Vanity Area
Can accomodate a rollaway bed and/or Play Yard.

Max 8 berth
Cabin size: 480.1 sq. ft
Balcony size: 59.2 sq. ft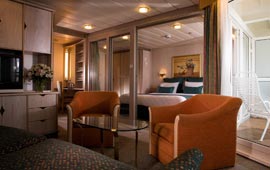 ---
Grand Suite
Two twin beds (can convert into queen-size)
Private Balcony
Sitting area with sofa bed
Private bathroom with bathtub
Refrigerator
Vanity Area
TV, DVD player, two phones
Safe
Can accomodate a rollaway bed and/or Play Yard

Max 4 berth
Cabin size: 353.1 sq. ft
Balcony size: 110.9 sq. ft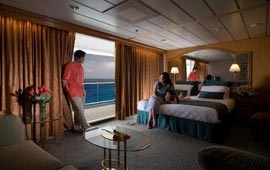 ---
Accessibility Suite
Two twin beds (can convert into queen-size)
Open bed frames
Wider entry door
Turning spaces
Private balcony
Sitting area with lowered balcony
Closet rods
Safe
Private bathroom with a wider door
Roll in shower, grab bars, fold-down shower bench, hand-held shower head
Raised toilet and a lowered sink

Max 2 berth
Cabin size: 276 sq. ft
Balcony size: 69 sq. ft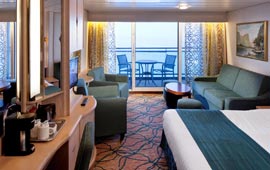 ---
Junior Suite
Two twin beds (can convert into queen-size)
Private balcony
Private bathroom with bathtub
Sitting area with sofa
Refrigerator
Vanity Area
TV & phone

Max 4 berth
Cabin size: 241 sq. ft
Balcony size: 64 sq. ft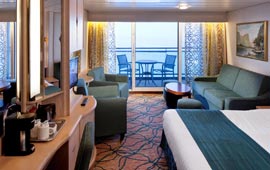 ---
Owners Suite
Queen-size bed
Private balcony
Private bathroom with bathtub
Seperate living area with queen-size sofa bed
Refrigerator & mini bar
Dining table for two
Two TVs, two phones, DVD player, VCR, stereo
Safe
Vanity Area

Max 4 berth
Cabin size: 515.6 sq. ft
Balcony size: 116 sq. ft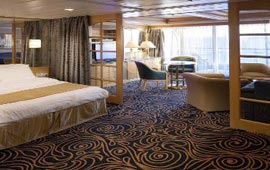 ---
Balcony
Superior Oceanview Stateroom
Two twin bed (can covert into queen-size)
Private balcony
Sitting area with sofa bed
Private bathroom
Refigerator
TV, phone and safe
Vanity Area

Max 2 berth
Cabin size: 191.8 sq. ft
Balcony size: 42 sq. ft
---
Accessible Balcony Stateroom
Two twin beds (can convert into queen size) with open bed frames
Wider door entry
Turning spaces
Private balcony
Sitting area with lowered vanity
Private bathroom with a wider door
Roll in shower, grab bars and fold-down shower bench
Hand-held shower head, raised toilet and a lowered sink

Max 2 berth
Cabin size: 350 sq. ft
Balcony size: 39 sq. ft
---
Oceanview
Family Oceanview Stateroom
Two twin beds (can convert into queen size)
Additional bunk beds in seperate area
Private bathroom
Seperate sitting area with sofa bed
Refrigerator & mini bar
TV, phone and safe
Can accomodate a rollaway bed or Play Yard
Vanity Area

Max 6 berth
Cabin size: 237 sq. ft
---
Large Oceanview Stateroom
Two twin beds (can convert into queen size)
Sitting area with sofa
Private bathroom
Vanity Area
Minibar
Tv & phone
Safe

Max 4 berth
Cabin size: 151 sq. ft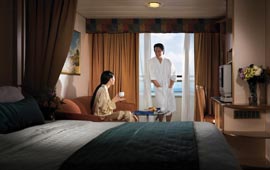 ---
Accessible Oceanview Stateroom
Two twin beds (can convert into queen size) with open bed frames
Wider door entry
Turning space
Sitting area with lowered vanity
Private bathroom with wider door
Roll in shower, grab bars, fold-down shower bench
Hand-held shower head, raised toilet and a lowered sink

Max 2 berth
Cabin size: 255 sq. ft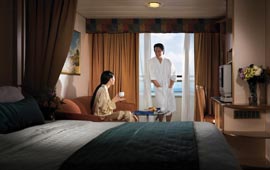 ---
Interior
Supperior Interior Stateroom
Two twin beds (can convert into queen size)
Private bathroom
TV, two phones, safe
Vanity area
Some have Pullman beds

Max 4 berth
Cabin size: 164 sq. ft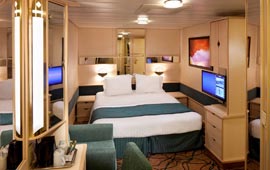 ---
Large Interior Stateroom
Two twin beds (can convert into queen size)
Private bathroom
TV, phone, safe
Vanity area

Max 2 berth
Cabin size: 142 sq. ft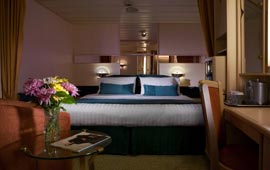 ---
Interior Stateroom
Two twin beds (can convert into queen size)
Private bathroom
TV, phone, safe
Minibar
Vanity area

Max 2 berth
Cabin size: 132.4 sq. ft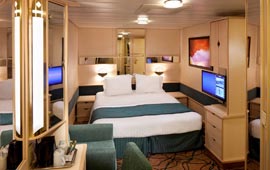 ---
Accessible Interior Stateroom
Two twin beds (can convert into queen size) with open bed frames
Wider entry door
Turning spaces
Sitting area with lowered vanity
Private bathroom with a wider door
Roll in shower, grab bars, fold-down shower bench
Hand-held shower head, raised toilet and a lowered sink

Max 2 berth
Cabin size: 142.1 sq. ft