Accommodation
Deckplan
Explore all 12 magnificent decks of Queen Elizabeth to see the luxurious services and facilities provided. Beautiful artwork and old-world nautical interior fittings are just some of the fine detail that makes Cunard Line cruises a truly elegant experience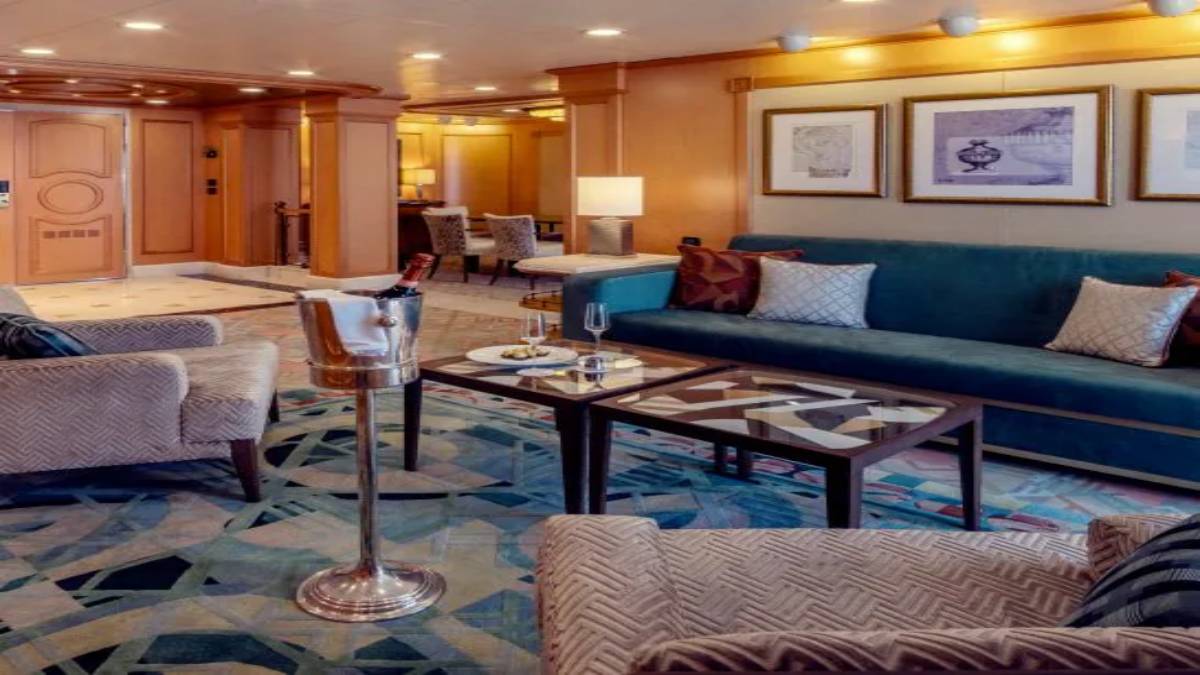 Dining
The two-tier Britannia Restaurant boasts gourmet menus designed by Cunard's Global Culinary Ambassador, Jean-Marie Zimmermann. Choose from an early or late sitting and be sure to make an entrance down the grand staircase.
Queens Grill pairs an a la carte menu with attentive service in the Queen Elizabeth's most luxurious dining room. Princess Grill just next door offers intimate single seating with the signature Cunard service and impressive menus.
The elegant Verandah Restaurant serves contemporary French cuisine using authentic ingredients from France. Buffet dining is available all day in the Lido restaurant, which in the evening is reborn as one of several regional venues: Asado South American Grill; Jasmine Asian cuisine; and Aztec modern interpretations of Mexican classics.
Traditional afternoon tea is served by white-gloved waiters accompanied by the orchestra in the Queens Room ballroom. Cafe Carintha is a perfect place to relax with speciality teas, coffees and pastries. With 24 hour room service you will have access to a magnificent range of dining options at any hour.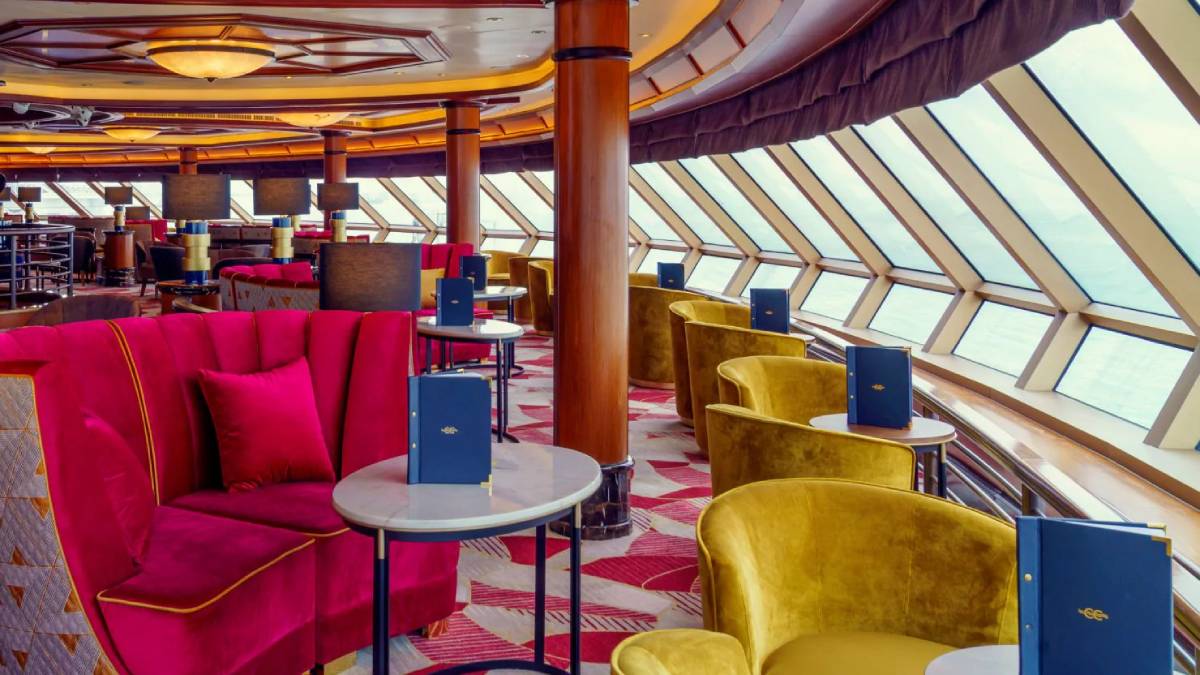 Entertainment
Two-storey Royal Court Theatre is home to the Queen Elizabeth Theatre Company, who perform musical productions and abridged Shakespeare classics. The Theatre also shows first-run feature films.
Try your luck at blackjack in the Monte Carlo inspired Empire Casino with 13 gaming tables and over 120 slot machines.
Evenings bring a refined ambiance with the resident pianist playing soft relaxing music in Midships Bar. The lively Yacht Club features nautical decor including the compass-shaped dance floor. Royal Night Theme Balls are hosted in the exquisitely decorated Queens Room Ballroom accompanied by a professional orchestra.
Enjoy the occasional supper club under the conservatory roof in the Garden Lounge for an evening of 1930's glamour. The Golden Lion hosts classic pub entertainment including karaoke and a Pub Quiz every night.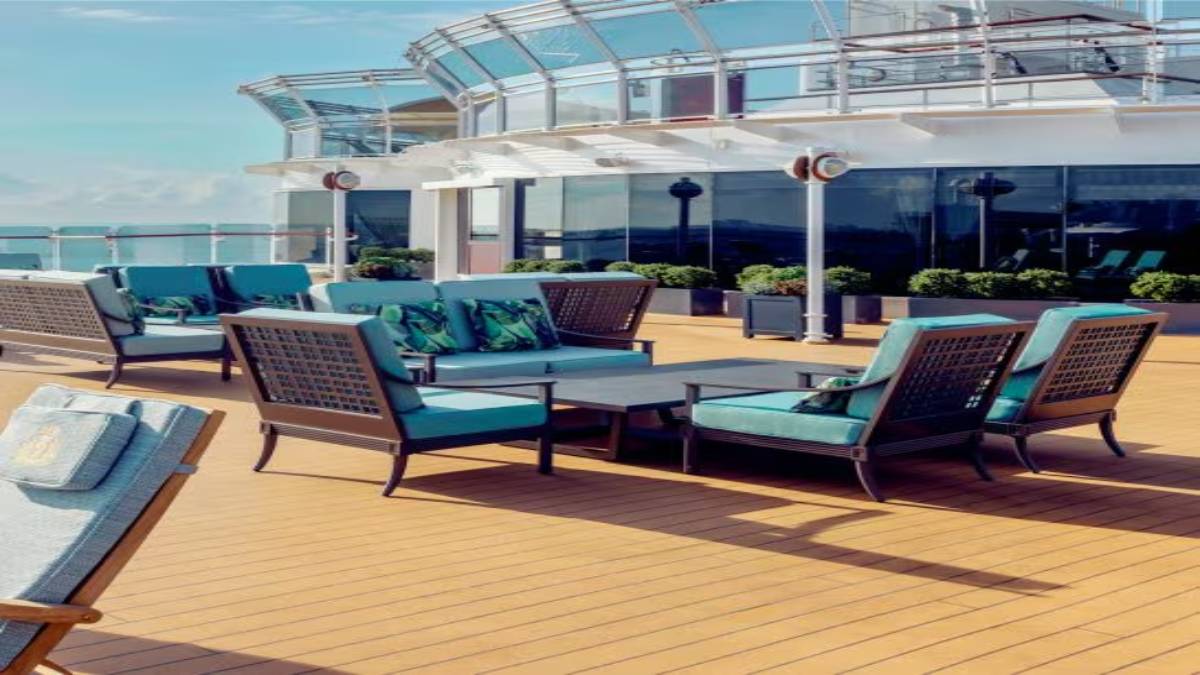 Facilities
Dining
The Grills Terrace
Queens Grill
Princess Grill
Britannia Restaurant
Verandah Restaurant
Lido Restaurant
Queens Room
Cafe Carinthia
24 hour room service
Bars
The Commodore Club
The Golden Lion
The Yacht Club
Queens Room
The Garden Lounge
Churchill's Cigar Lounge
Admiral's Lounge
Entertainment
Royal Court Theatre
Empire Casino
Karaoke
Quizzes
Fun and Relaxation
The Terrace
The Courtyard
Games Deck
Card Room
Book Club
Cunard ConneXions
Royal Spa
Fitness Centre
Children
Children's Outdoor Area
Teens Outdoor Area
The Play Zone and The Zone youth programs
Miscellaneous
Cunard Insights
Queens Arcade
Royal Arcade shopping
Cunard Place
iSTUDY and internet centre
Art gallery
Cunarders' Gallery
Library
Tour office
Pursers office
Kids
All Cunard ships offer complimentary youth programs to entertain and look after children and teenagers aged 2-17 years while parents enjoy their cruise. Children's supper/tea is served daily so parents can have formal dinner by themselves.
Activities vary every day and run during the day and into the night. Depending on age, your young ones can take part in arts and crafts, movies, quizzes, table tennis and scavenger hunts. Specially designed areas The Play Zone and The Zone are the base of activities and can be used by appropriate age groups to simply relax and meet new friends.
A night nursery for ages 12-23 months is open from 6:00pm to 11:00pm daily on a first come first served basis. Children under 2 years old can use the facilities and activities during the day with parental supervision.