Regarded as the capital of Western Australia´s Mid West and gateway to the magnificent Abrolhos Islands, Geraldton is an intriguing city bursting with stunning natural scenery and attractions.
Positioned 450km north of the city of Perth, Geraldton´s small town appeal and coastal location makes it one of the state´s most desired places to visit.
Relax on the untouched, white sandy beaches or take a dip in the cool, refreshing aqua waters. Snorkeling is a popular activity engaged in by locals and visitors alike, while windsurfing, kite surfing and fishing are also great past times.
Geraldton´s warm and welcoming atmosphere is matched with its unique array of art galleries and boutique shops. In fact, there seems to be something for everyone here.
What to Explore
Expand
Abrolhos Islands
As one of Western Australia's most unique marine areas, the Abrolhos Islands are home to more than 90 species of seabird and incredible ship wrecks.
A total of 122 islands are clustered into three main groups: the Wallabi Group, Easter Group and Pelsaert Group. Each is incredible to explore, with the surrounding reefs a breeding ground for playful and interesting marine life.
Choose to take a scenic flight over the islands or an ecotour on the islands, where you can encounter creatures like the Australian sea lionand the clever bottlenose dolphin.
Kalbarri National Park
Spanning 183,004 pristine hectares, Kalbarri National Park stretches from the lower reaches of the Murchison River, right into the sea.
Magnificent red and white banded gorges and colourful wildflowers characterise this park and are particularly stunning from The Loop, Z Bend, Hawkes Head Lookout and the Ross Graham Lookout.
Wildlife is often spotted as well, and visitors should keep a look out for the western grey kangaroos and emus.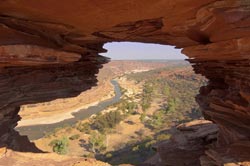 HMAS Sydney II Memorial
Pay your respects to the 645 Australian sailors tragically lost at sea in 1941 with a visit to the HMAS Sydney II Memorial.
This beautifully designed memorial features a silver dome of 645 seagulls, each representing a lost sailor, a wall of remembrance showing the photographs of the ships and the names of the Sydney crew, and a bronze statue of a woman gazing desperately out to the sea.
This memorial is a truly special place to visit and a must for anyone interested in Australia's wartime history.
Temperatures
Expand
Average Temperatures
January: 26°C
February: 26°C
March: 25°C
April: 22°C
May: 19°C
June: 16°C
July: 15°C
August: 14°C
September: 16°C
October: 18°C
November: 20°C
December: 23°C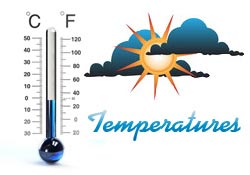 Dining
Expand
Dining Suggestions
Don't be deceived by the small size of Geraldton; in terms of dining, the options here are seemingly endless.
Experience the freshest seafood imaginable at The Boatshed Restaurant, delicious modern cuisine at Skeetas and authentic Italian food at L'Italiano.
If you are just after some tasty fish and chips, check out either Barnacles on the Wharf or Chis and Fips, with both offer some of the freshest fish and most delicious chips around!
Bring to Shore
Expand
What to bring to shore?
Wear comfortable clothing and shoes and bring along a hat, sunscreen and bottled water.
If you are planning on snorkeling, hire or bring your own equipment on shore.
Your camera will also be put to good use.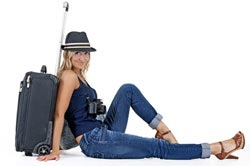 Docking
Expand
Docking
Your cruise ship will dock at Geraldton Port, just a 5 minute drive from the city centre of Geraldton.
Taxis are available near the pier area and public buses are available for transportation into the city centre.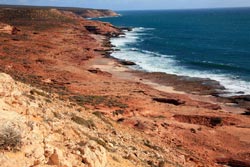 Information
Expand
General Information
Currency: Australian Dollar (AUD$)
Language: English
Population: 36,95
Time Zone: AWST (UTC+8)