Due to the COVID-19 concern, our office will be closed on weekends.
Port of Call - Christmas Island
Get back to nature when you visit beautiful Christmas Island. Here, wildlife roams free, the beaches are deserted and birds lazily breeze through the skies without a care in the world.
Often referred to as the Galapagos Island of the Indian Ocean, Christmas Island boasts a unique history, fascinating culture and impressive industries.
It is the ideal port of call for a relaxed day out in the sun, while experiencing some of the finest examples of Mother Nature.
What to Explore
Expand
Bird Watching
Keen bird watchers will fall in love with the diversity of birdlife they will find on Christmas Island. Boasting hundreds of species of birds, including 13 land species (7 of which are endemic to the island), this truly is a bird paradise.
Highlights will no doubt include the Abbotts Booby, the Christmas Island Frigatebird and the Christmas Island Hawk Owl.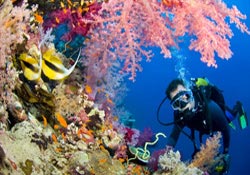 Scuba Diving
Experience the wonders of the deep when you dive under the crystal clear waters surrounding Christmas Island. With some of the longest drop-offs in the world, here you will find a unique collection of untouched coral, hundreds of species of tropical fish, playful dolphins and whale sharks.
Plunge off the northern coast of the island and you will find tropical species like the surgeon fish, wrasse, butterfly fish, gobies, anemones and eels.
Several dive operators operate in the area and all pride themselves on their personalised customer care and exceptional local knowledge.
Red Crab Migration
Over 120 million bright red crabs call Christmas Island home and the annual crab migration is a sight not to be missed. In their journey to the sea to spawn, they resemble a sea of red and purple over the pure white sands of the island's deserted beaches.
Migration usually begins at the start of the wet season (October/November) and spawning dates frequently occur between 20-22 of October, November and December.
Temperatures
Expand
Average Temperatures
January: 27°C
February: 27°C
March: 28°C
April: 28°C
May: 27°C
June: 27°C
July: 26°C
August: 26°C
September: 26°C
October: 26°C
November: 27°C
December: 27°C
Dining
Expand
Dining Suggestions
Christmas Island may be small, but it offers an impressive selection of dining options for visitors. For a delicious burger why not head to Barracks Cafe or the Club Road Cafe.
To sample some international cuisine, while enjoying unsurpassed views of the Indian Ocean, dine at the Golden Bosun Tavern. A delicious array of desserts will have you rolling out the door.
Bring to Shore
Expand
What to bring to shore?
Plenty of sunscreen and a hat are a must when you come ashore on Christmas Island.
Light clothes and comfortable shoes will make your day more pleasant.
A camera will capture the amazing wildlife your eyes will fall upon.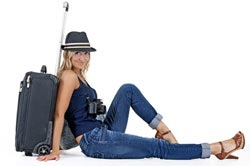 Docking
Expand
Docking
Your cruise ship will dock at the port near Flying Fish Cove, which is within walking distance to many of the island's points of interest.
Limited public transport is available on the island but many places are within walking distance of each other.
Information
Expand
General Information
Currency: Australian Dollar (AUD$)
Language: English
Population: 1,402
Time Zone: (UTC+7)
Prices displayed as per person.
Map
Brand
Departing
Duration
Itinerary
Twin
Quad
See Details

7th October 2020
San Diego To Sydney

San Diego To Sydney
San Diego - California

, 07 Oct 2020

19th October 2020
San Diego To Sydney

San Diego To Sydney
San Diego - California

, 19 Oct 2020

19th October 2020
San Diego To Sydney

San Diego To Sydney
San Diego - California

, 19 Oct 2020

17th November 2020
San Diego To San Diego

San Diego To San Diego
San Diego - California

, 17 Nov 2020

21st February 2021
San Diego To San Diego

San Diego To San Diego
San Diego - California

, 21 Feb 2021