Due to the COVID-19 concern, our office will be closed on weekends.
Port of Call - Bangkok - Thailand
Bangkok is an enchanting and enthralling city that never fails to live up to expectations. As the capital city of Thailand it offers exotic, enchantment and excitement all rolled into one.
This land of golden temples, spirit houses shopping megamalls, has so many contrasts it is often difficult to keep up. High-rise buildings, heavy traffic congestion and intense heat are just some of the things you can expect here, while magnificent temples and palaces, authentic canals and a vibrant nightlife are never too far away.
Full of hidden gems just waiting to be discovered, Bangkok is a city that encompasses everything south-east Asia is all about and is the perfect opportunity to indulge in the exotic.
What to Explore
Expand
Grand Palace
Situated right in the heart of Bangkok, the Grand Palace is without a doubt the must-see attraction when visiting the city. As the official residence for Kings of Siam (and later Thailand) since 1782, it is now used for special events and royal ceremonies.
Nestled on the banks of the Chao Phraya River, the palace is partially open to the public as a museum, with its beautiful architecture and intricate detail continuing to fascinate visitors from the world over.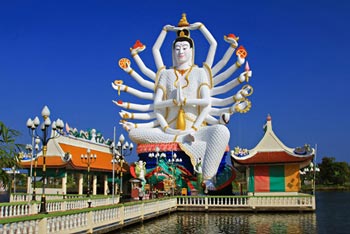 Floating Market
Your visit to Bangkok simply won't be complete without an experience at the Floating Market. Damnoen Saduak is the pioneer of all floating markets, and offers an authentic Thai experience. See wooden row boats piled high with gorgeous tropical fruits and fresh produce. Although completely chaotic, this adventure promises to be an experience you will remember forever.
Wat Pho (Temple of the Reclining Buddha)
Known as the largest temple in Bangkok, Wat Pho is home to the famous Reclining Buddah; a 36 meter long statue covered in gold leaf. His feet alone measure 3 metres, and he is exquisitely decorated with mother-of-pearl illustrations.
Wat Pho also offers fabulous massages and a range of good English-speaking guides who can show you the best ways to fill your time while visiting.
Temperatures
Expand
Average Temperatures
January: 27°C
February: 28°C
March: 29°C
April: 30°C
May: 30°C
June: 29°C
July: 29°C
August: 28°C
September: 28°C
October: 28°C
November: 27°C
December: 26°C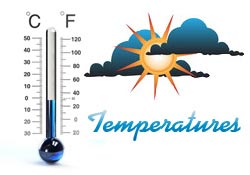 Dining
Expand
Dining Suggestions
There are so many dining options in Bangkok it's almost impossible to narrow it down to just a few suggestions. However, when it comes to the cuisine you should try the following should definitely be on your list: Tom Yum Goong (Spicy Shrimp Soup), Pad Thai, Gaeng Daeng (Red Curry), Chicken with Cashews, Som Tum (Spicy Green Papaya Salad), Khao Pad (Fried Rice), Tom Kha Kai (Chicken in Coconut Soup), Pak Boong (Morning Glory), Gaeng Keow Wan Kai (Green Chicken Curry) and Yam Nua (Spicy BeefSalad).
Bring to Shore
Expand
What to bring to shore?
Comfortable shoes are a must if you plan on doing a lot of walking around.
If you are staying outdoors, a hat and sunscreen are essential, along with bottled water.
Ensure you bring your passport, identification and cash/credit cards.
Make sure you don't forget your camera either!
Docking
Expand
Docking
Your cruise ship will anchor in Laem Chabang, which is 140 kilometres from the city centre of Bangkok.
Taxis are widely available at the port, however it usually works out cheaper to book a shore tour that includes your transportation into the city.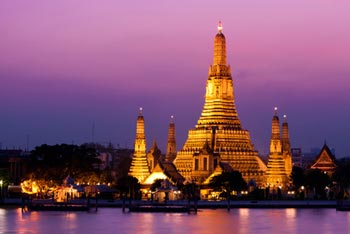 Information
Expand
General Information
Currency: Baht (THB)
Language: Thai and English
Population: 6,972,000
Time Zone: GMT+7