Why Should I Cruise?
We've tackled some of the most common reasons why many people say they don't want to cruise. There's really a cruise for everyone, so read on and see what kind of cruise we can offer you.
What do I do all day?
You might imagine that a cruise ship is just a big floating poolside deck where everyone spends their days lounging around drinking Pina Coladas. Not at all (unless you're into that)!
Cruise ships are jam packed with all kinds of things to do. They're designed to offer something for everyone. This makes them especially great for family holidays, as everyone can do something they enjoy. What kind of traveller are you?
Active and adventurous?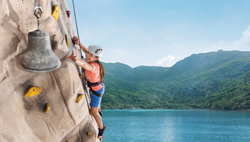 Check out the gym, sports court and pool. Royal Caribbean ships feature rock climbing walls on the top deck, Carnival ships offer water slides and P&O's Pacific Jewel has just launched an adventure course with high ropes, a flying fox, laser tag and more.
Got family?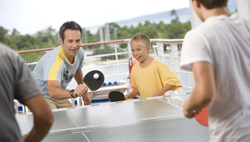 Book the kids into the onboard youth program so Mum and Dad can enjoy some time to themselves.
Late night reveller?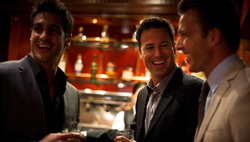 Make great new friends or celebrate with your fellow travellers in the bars, nightclubs and casino. Each ship has several different late-night venues with different kinds of atmospheres so whether you want to hit the dance floor or want to relax with a scotch on the rocks there's a bar onboard that's perfect for you.
Need to unwind?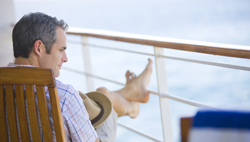 Escape from everything with adults-only retreat areas offered on many ships. Even better, choose a line where there are fewer children, such as Cunard, Princess and Celebrity.
Feeling hungry?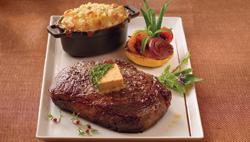 Cruises are becoming a haven for foodies. With specialty restaurants, buffets, snack and dessert venues and room service in addition to main dining, you'll never run out of menus to sample. A food and wine specialty cruise may just be the perfect thing for you.
Are you not entertained?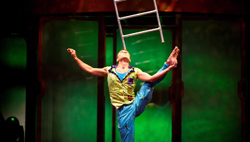 Sit back and enjoy the show with live performances from music to dance to acrobats. First-run feature films are also run in theatres or poolside big screens. There's even specialised comedy cruises. Enrichment classes and lectures are available to expand your knowledge in all kind of fields.
Each cruise line markets itself to a different type of traveller.
Carnival calls their fleet 'Fun Ships'
Cunard is unique for its old-world elegance
Celebrity offers modern luxury
P&O is a family favourite
Royal Caribbean is best for active, energetic travellers
Princess offers premium cruising at an affordable price.
Your cruise can take you to ports that otherwise aren't so easily accessible. For the cost of return flights, you can cruise the Pacific Islands or Asia with food, accommodation, transport and activities all included. On a cruise, everything you need is included in just one simple purchase.
What will you do when in port? Go to a beach? Sightseeing? Museums, culture, shopping and many other things. You can choose to go with a pre-planned shore excursion run by the cruise line or easily find your own adventure.
To get an idea of what the ports around the world have to offer, check out our port pages.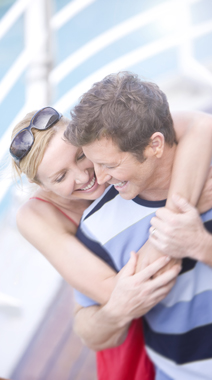 Aren't cruises for retirees?
That used to be the case but you'll now find a diverse group of people of all ages and interests on ships. This is because cruises are now highly economical, making them a popular choice for all kinds of travellers. So you're sure to make interesting new acquaintances! That being said, the more expensive cruises will have fewer children and the average age of passengers increases with the length of the cruise.
Each cruise line has its own unique personality so it's just a matter of finding the one that suits you best. If you don't want to dress up to go out for dinner every night, you don't have to! Cunard and Celebrity (as luxury cruises) require a higher standard of dress while Carnival and P&O are very casual. Princess and Royal Caribbean are middle-ground.
It's too expensive!
Cruises are actually very cost efficient compared to other holidays. A regular overseas holiday means buying flights, hotels, taxis, three meals a day plus entertainment costs - and it adds up. A cruise is one purchase that covers everything you need and saves you money. This is because cruises package everything together in the one location, so they can operate more cost-efficiently. You can see the difference in our holiday comparison guide.
Also, since cruises are all-inclusive, you know exactly how much you'll be spending apart from a bit of pocket money for souvenirs and splurging on extras.
Even if they weren't cheaper overall, cruises are still better value for money. If you paid $1,000 to fly to your destination, you just spend that time and money travelling. When you spend the same amount on a cruise, the ship itself is a destination with proper accommodation, dining and entertainment like you'll never find on a plane.
Cruises just seem like a hassle
Planning a cruise holiday is much simpler than any other. The hotel, travel and attractions are all combined in one purchase - it's easier to be sure everything is organised when it's all planned for you. There's a huge range of cruises to choose from depending on where you want to go and what kind of ship you want to travel on.
Once you're on your cruise you have nothing left to worry about. No waiting around in airports or kids asking 'Are we there yet?' because your ship will be full of entertainment. There's no cooking, cleaning or trying to figure out where to get dinner. In fact you'll be spoiled for choice onboard.
It's also a convenient way to holiday as a family or group, because everyone can do their own thing without being far apart.
But I like my normal holiday
A cruise offers a completely different way to see the world. You'll reach ports you would never see outside a cruise. Cruises offer better value and greater convenience than regular holidays. It's a lifestyle that will make you feel right at home as you travel across the world.
A cruise makes the perfect gift - you can't get it wrong and there's something for everyone onboard.