Cook Islands Destinations
Say Kia Ora to the Cook Islands

Situated halfway between New Zealand and Hawaii, the Cook Islands are a group of 15 and are regarded as the "secret of the Pacific".
Boasting a unique, unsurpassed beauty, an idyllic climate and some of the friendliest people you´ll ever come across, the Cook Islands are a true paradise that simply must be experienced.
Divided into the Northern Group and the Southern Group, many of the Cook Islands are absolute must-dos. The southern islands are all about stunning scenery, bush-clad volcanic peaks and stunning palm-fringed blue lagoons. The northern islands are somewhat more remote and deserted and are an adventure lover´s paradise.
Spend some time exploring the Cook Islands and you will very quickly discover why they are a true paradise of New Zealand and the South Pacific.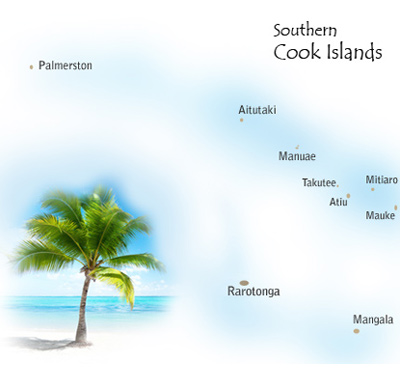 ´´Largely unspoiled by tourism, the Cook Islands are unique and varying with no two islands the same. They are ideal for travelers seeking more than just the cliché island experience, and are a true masterpiece of Mother Nature.´´