Sydney Harbour Cruise Terminal
Your cruise departing Sydney will dock at the Sydney Harbour Cruise Terminal. World renowned for its natural deepwater channels, the Opera House and Harbour Bridge, Sydney has one of the worlds most beautiful harbours.

Cruise passenger vessel facilities are located at Barangaroo 5 and the Overseas Passenger Terminal at Circular Quay. Sydney is the only port in Australia with two dedicated cruise terminals.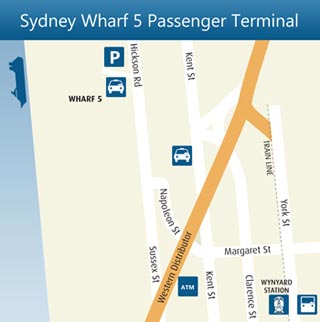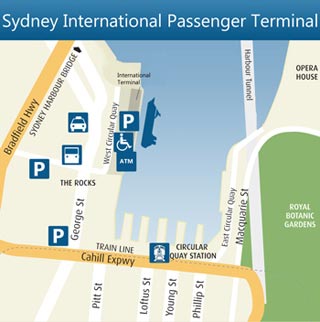 Ferries
Travel on Sydney´s iconic harbour with services to the inner harbour, Sydney´s Eastern Suburbs, Manly or along the Parramatta River. Ferry kiosks are located at Circular Quay and Manly.
Hotels
There are numerous hotels in close vicinity to Portside Wharf.
Sydney Harbour Marriott Hotel at Circular Quay

30 Pitt Street Sydney NSW 2000

T: (02)9259 7000

Novotel Sydney on Darling Harbour Hotel

100 Murray Street, Darling Harbour, NSW 2000 Australia

T: +61 2 9934 0000

Park Hyatt Sydney

7 Hickson Road, The Rocks, Sydney, NSW 2000, Australia

T: +61 2 9256 1234

Docks Hotel

Level 1, Harbourside Shopping Centre, Darling Harbour, NSW 2000, Australia

T: (02) 9280 2270
FAQ:
Q: Can we park long term at Sydney Harbour?
A: Short-Term Parking (Except at terminal which is drop off and pick up only).
This is a short term parking facility only and passengers departing on Cruises from the facility must not leave their cars on site at the Cruise Ship Terminal/Portside Wharf. Circular Quay Train Station is within walking distance.
There is long term parking at Darling Harbour.
Wilsons Parking in Murray Street, Darling Harbour.
Q: Are friends and family allowed to come on deck for a look while the ship is docked?
A: Unfortunately only ticket holders will be allowed to board the cruise ship.
Q: Can friends and family watch as the ship depart?
A: Yes, a viewing platform is available at the wharf.
Q: Where can I rent a car?
A: If you can´t convince family or friends to take you to the wharf, you can hire a car or call a taxi. Compare Car Hire for Sydney Car Rentals.