Newcastle - Cruise Port Terminal
There is no pedestrian access to the portside at Newcastle wharf.
Taxis may be limited in Newcastle and the following shuttle service will be available for 2012 season
Disembark:
Pier- City bus transfer will be available to purchase whilst onboard ship. The cost will be $10 per person and will be charged to your onboard account.
Embark:
A shuttle bus service will operate from Newcastle Train station between 10am - 2pm on day of embarkation only. Passengers will be asked to sign a form and cost will be charged to your onboard account. Cost $10 per person.
Passenger Terminal information:
| | |
| --- | --- |
| Distance to/from City | 5km/10mins |
| Distance to/from Airport | 30km/45mins |
| Public Transport | Taxis |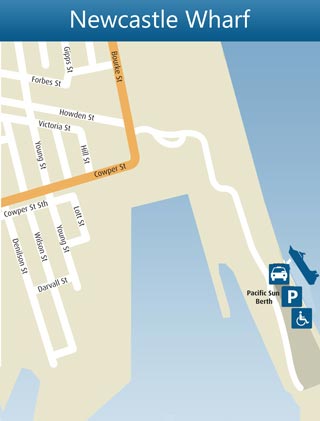 P&O: Passengers have to book a car space in advance and are required to call (02) 4974 5013 to make a booking. Passengers are required to leave their name, address, contact phone no., email address, vehicle details (rego, make and colour), date of departure and date of return. Passengers must make payment over the phone by credit card, please note that all passengers must meet the cost of the credit card bank merchant fees (0.75%). Passengers will then be mailed their car park access card directly in which they will also receive a parking space number and the name of the Car Park in which they are to park.
By default the access card will be sent out using normal post free of charge. A priority post is available, however passengers will be required to cover these costs.
The access card will allow passengers to enter the car park and to leave without the need to queue and see the car park attendant. The car park is NOT within walking distance of the port terminal. If passengers require a taxi they only need to let the attendant know and he´ll ring a taxi for them.
Discount parking for passengers can be booked and paid in advance with Newcastle Airport on (02) 4928 9822. www.newcastleairport.com.au.
Hotels
There are numerous hotels in close vicinity to Newcastle Wharf .
Botaba Bed & Breakfast‎

32 Andrew Close, Boat Harbour NSW 2316

(02) 4981 9018

Leilani Haciendas

6 Kurrawa Close, Nelson Bay, NSW 2315

(02)4981 3304

Marina Resort

33 Magnus Street, Nelson Bay, NSW 2315

(02)4981 4400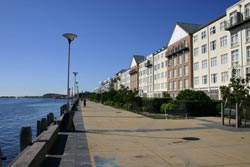 FAQ
Q: Am I able to drive onto the Wharf to collect passengers outside the terminal?
A: There is no public parking on the wharf. However there is short-term parking with limited car spaces available.
Q: Is there long term parking available?
A: There is no long term parking available on the Harbour.
Q: Are friends and family allowed to come on deck for a look while the ship is docked?
A: Unfortunately only ticket holders will be allowed to board the cruise ship.
Q: Where can I rent a car?
A: If you can´t convince family or friends to take you to the wharf, you can hire a car or take a taxi.