Melbourne Harbour Cruise Terminal
Your cruise ship departing Melbourne will dock at the Melbourne Harbour Station Pier (Outer West), ±25 minute drive from Melbourne Airport.
Station Pier is Melbourne's historic primary passenger terminal situated on Port Phillip.
The pier operates 24 hours a day and is open to pedestrian access from 6am to 9pm (except when cruise or naval ships are visiting).
Hotels
There are numerous hotels in close vicinity to Melbourne Harbour .
Holiday Inn On Flinders

575 Flinders Lane, Melbourne VIC 3000

(03) 9629 4111

The Westin

205 Collins Street, Melbourne VIC 3000

(03) 9635 2222

Crown Towers

1/8 Whiteman Street, Southbank VIC 3006

(03) 9292 6868

Grand Harbour Accommodation

16A Waterview Walk, Docklands VIC 3008

(03) 9640 0172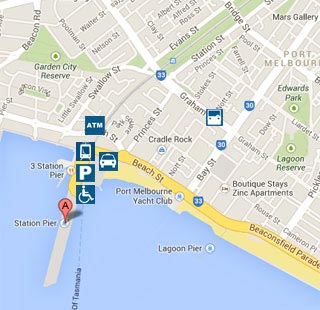 FAQ:
Q: Can we park long term at Melbourne Harbour?
A: Limited Short term paid parking is available in the Waterfront Place precint immediately adjoining Station Pier.
There is long term parking available at Melbourne´s Tullamarine Airport. Taxis are available from the airport to the harbour. Ace Parking Port Melbourne and A1 Airport Parking are a convenient long term parking facilities located on the Airport.
Docklands has parking for free for the first hour, and then $5 per hour after that. Docklands is centrally located which makes it easily accessible by car, train, tram, ferry, and bike or on foot.
Buses are available near Station Pier. Visit Public Transport Victoria for more information.
Trams provide a convenient route from the city centre. Visit Public Transport Victoria for more information.
Q: Are friends and family allowed to come on deck for a look while the ship is docked?
A: Unfortunately only ticket holders will be allowed to board the cruise ship.
Q: Where can I rent a car?
A: If you can´t convince family or friends to take you to the wharf, you can hire a car or take a taxi.