Fremantle - Victoria Quay Cruise Terminal
Your cruise departing Fremantle Passenger Terminal will dock at the Victoria Quay. The Fremantle Port has an international food court, arts and crafts, amusement centre and juice bar, Fremantle Maritime Museum and the Rottnest Ferry Terminals and all is just a stone´s throw from the Fremantle Railway Station.
With a massive licensed alfresco terrace looking over Fremantle´s picturesque working harbour, E-Shed Markets is the only waterfront market in Western Australia. From here you can watch the boats and ships passing by.
Hotels
There are numerous hotels in close vicinity to Victoria Quay .
The Esplanade Hotel

Marine Terrace, Fremantle WA 6160

(08) 9432 4000

Bar Orient

39 High Street Fremantle WA 6160

(08)9336 2455

Platinum Suites Fremantle

1 South Street, Fremantle WA 6160

0411 225 245

Pier 21 Apartment Hotel

7-9 John Street, 6159 Perth

(08) 9432 4000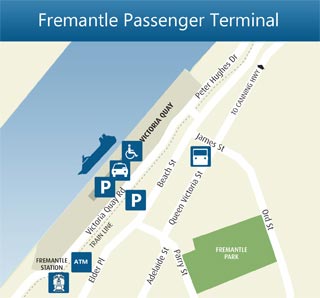 FAQ:
Q: Can we park long term at Fremantle Victoria Quay?
A: There are a number of parking areas in Victoria Quay, short, medium and long-term options.
Due to operational and security requirements, the parking area in front of the Fremantle Passenger Terminal building has been designated for the convenience of passengers for set down and pick-up only. Overnight parking is not available in front of the Passenger Terminal. Overnight and short-stay parking (up to 14 days) is available on Victoria Quay near C and D Sheds.
Long term car parks
Wilson Parking

3/235 St Georges Terrace,Perth WA 6000

(08) 9415 2800

Cliff Street Car Park No. 22

(near Scoot Freo scooter hire)

Ticket parking.

T: 9432 9999
Q: Are friends and family allowed to come on deck for a look while the ship is docked?
A: Unfortunately only ticket holders will be allowed to board the cruise ship.
Q: Can you watch the ship depart?
A: Yes, friends and family can view the ship departing from the wharf. A popular spot for this is the E Markets Restaurants.
Q: Where can I rent a car?
A: If you can´t catch the bus, or convince family or friends to take you to the wharf, you can rent a car or call a Taxi.