Brisbane - Portside Wharf Cruise Terminal
Your cruise departing Brisbane will dock at the Portside Wharf Cruise Terminal, which is a 10-15 minute drive from the city centre of Brisbane. Taxis are available and public transport is located nearby.
Portside Wharf in Hamilton is capable of harbouring ships of up to 270 metres in length. The purpose-designed facility is catering for cruisers every need and is ranked world class in the Cruise Industry.
Boasting a state-of-the-art terminal to cruises from Brisbane, Portside Wharf Cruise Terminal features an abundance of restaurants, fresh food markets, cafés, fashion and cinemas, influenced by the great European plazas.
There is plenty to see and enjoy while waiting to board the ship. Family and friends can watch from the second level as the ship sets out to the open seas.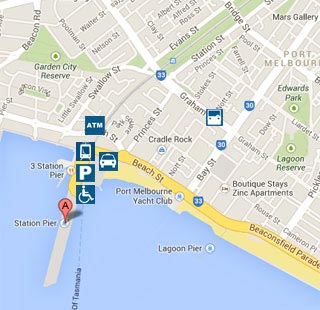 Hotels
There are numerous hotels in close vicinity to Portside Wharf .
Airport Ascot Motel

550 Kingsford Smith Dr, Hamilton QLD 4007

(07) 3268 5266

Bretts Wharf

449 Kingsford Smith Dr, Hamilton QLD 4007

(07) 3868 1717

Mantra on Queen

570 Queen Street, Brisbane QLD 4000

(07)3234 8888

Quality Hotel Airport International

528 Kingsford-Smith Drive, Hamilton QLD 4007

(61) 7 3268 6388
FAQ:
Q: Can we park long term at Brisbane Portside Wharf?
A: Short Term Car Parking is available on site for those dropping off or collecting passengers from the Brisbane Cruise Terminal.
This is a short term parking facility only and passengers departing on Cruises from the facility must not leave their cars on site at the Cruise Ship Terminal/Portside Wharf.
Long Term Parking is available with Gateway Airport Parking (GAP) which is a full service parking solution offering great rates for CRUISE AND AIRPORT parking in Brisbane. GAP can accommodate a total of 1200 vehicles comprising of 500 undercover spaces and 700 outdoor spaces available every day.
How to book your Brisbane Parking
Q: Are friends and family allowed to come on deck for a look while the ship is docked?
A: Unfortunately only ticket holders will be allowed to board the cruise ship.
Q: Can you watch the ship depart?
A: Yes, a viewing platform is located on Level 2, alongside Moda Events in the Portside Wharf precinct.
Q: Where can I rent a car?
A: A variety of car rental agencies are located at the Brisbane Airport and in the Brisbane CBD. Compare Car Hire in Brisbane.