Ship Inspection ~ Dawn Princess
On Friday I was lucky enough to step onboard the newly refurbished Dawn Princess.
The Dawn is being 'Australianised' with the addition of a beer garden and wine festival. Dining onboard is getting a make over with a new Italian Cafe (the pizza's looked to die for!) as well as a make over for the buffet which will become the World Food Market. The Dawn will transform the pool deck into a mini-marketplace with live music, tasty food, beers and wines twice a cruise, for sailings over seven nights.
These new features will give the ship a fresh feel along with new carpets in some staterooms and common areas and upgrades to a few of the bars. The Wheelhouse Bar will be the go to place for all whiskey connoisseurs with the introduction 56 new types of whiskey. The classic den styling of big leather chairs and dark wood finishes, gives the Wheelhouse a warm and relaxing feeling.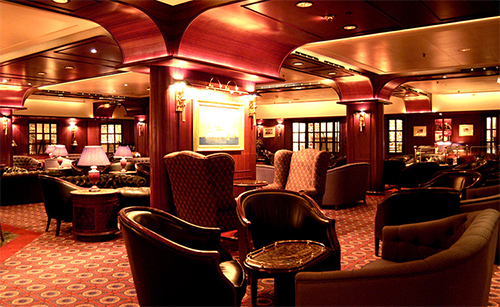 Heading up to the Lido Deck (deck 14) you will find the Oasis bar and hot tub with stairs down to deck 12 that features a small pool, two more hot tubs and plenty of seating area to catch some sun. Sticking with the lounging theme, deck 12 also boasts 2 pools, 2 hot tubs and the riviera bar just incase you hadn't found a spot to relax yet. However the best spot on the ship for peace, quiet and indulgence would have to be The Sanctuary Pool. This adults only area is $40 per day per person or you can choose to pay $20 for a morning or afternoon getaway session. With it's small capacity, there are two staff members on hand to look after you. Being on the top deck at the front of the ship, The Sanctuary is far away from the noise and distractions of ship life.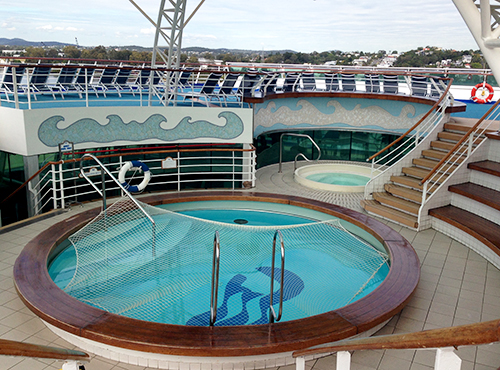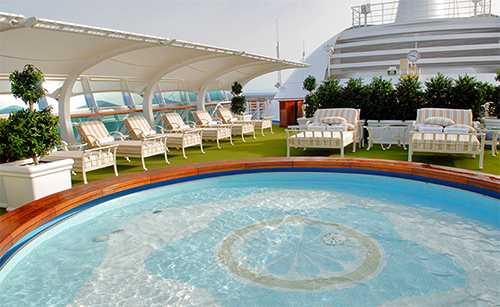 If you like to be pampered on your holiday, look no further than the Lotus Spa and Sauna. With treatments like the chocolate indulgence body treatment, exotic lime & ginger salt glow with massage, la therapie hydra-lift facial and the fire & ice pedicure, you will look at feel like a million dollars. Prices and services are subject to change, discounts are sometimes offered for treatments on shore days. However if chocolate body treatments aren't your thing, the Beauty Salon is also available for a fee. Whether you are after a quick wash and blow dry or a full colour and cut, the staff in the salon have you covered.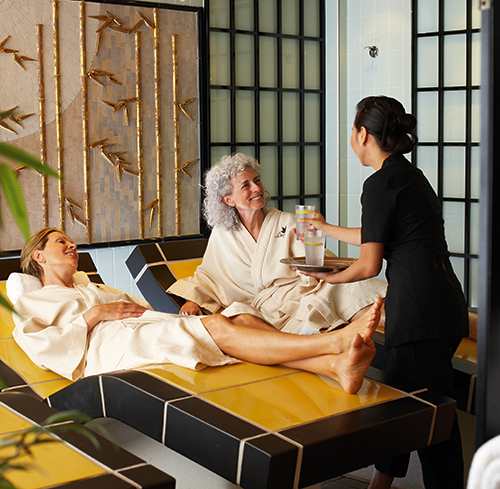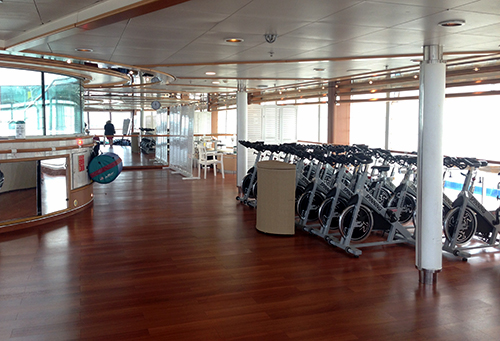 Sometimes keeping up with your exercise regime on holidays is tough at best. Princess have options for all fitness types. Not only is there a fitness centre with an attractive ocean view and sports courts, there are also classes scheduled throughout the cruise such as Zumba and Pilates classes. Seminars are held in a wide range of topics from 'Detox for health and weight loss', 'The truth about Botox and dermal fillers' and 'Pain solutions with Acupuncture.'
Entertainment onboard the Dawn is quiet impressive. The large Art Deco style Princess Theatre seats 550 guests and features Broadway style shows and first-run feature-length films. The second showroom onboard is the Vista Lounge where you can take in a variety of performances form cabaret shows to comedians, musicians, magicians and more. If these options don't tickle your fancy there is also the Casino and Movies Under the Stars outdoor theatre.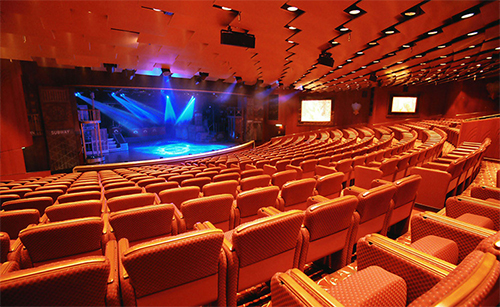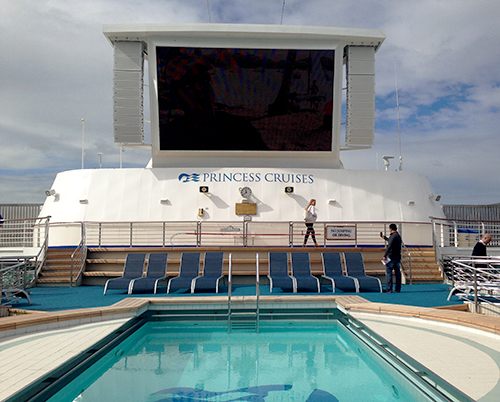 If you're looking for a cool drink the Wheelhouse isn't the only watering hole on the ship. Each deck near the main pool area has it's own dedicated bar, as well as the Atrium Lounge and Bar, Magnums and Jammers nightclub for the night-owls who like to dance.
If you follow our blog you will notice the one common thread I always talk about is food. Although there are plenty of options onboard, the new La Scala Pizzeria is a huge hit. Included in your cruise, pizzas and calzones looked and smelled divine with many guests choosing this as their lunch time favourite.
The horizon court buffet serves everything you expect on a cruise and more. Open 24 hours a day you can sleep in or stay up as long as you like and still enjoy a salad or chocolate snack. At night part of Horizons turns into the Sterling Steakhouse, a great place to treat yourself to a juicy steak. Within Horizons you will find Amuleto Italian cafe which is heaven on water for sweet tooth's. Speaking of sweet things, Princess has said goodbye to the self-serve soft-serve to make way for the New Zealand Natural ice-cream company on deck 12. Even in the chill of winter I wanted to buy a scoop!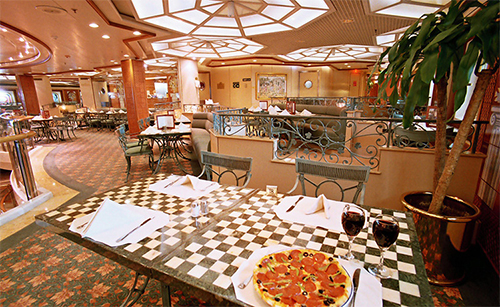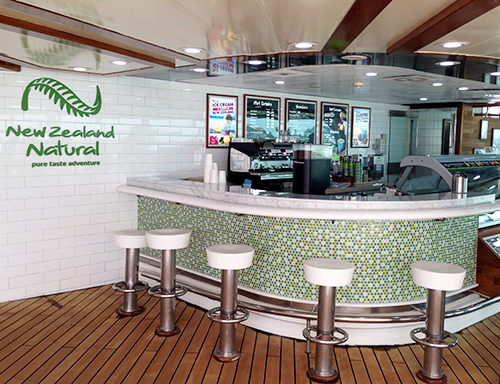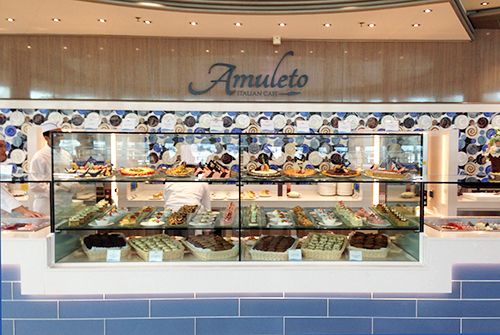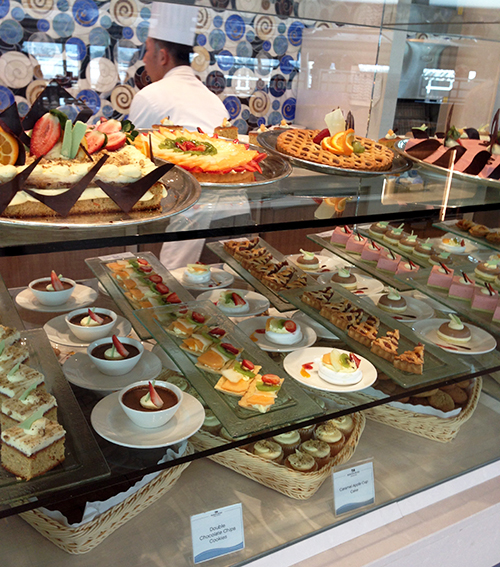 The Venetian Dining Room on deck 6 is a classic dining area, with warm lights and an dark timber finishes. With the curtains drawn I completely forgot I was on a ship. The below images are a sample of the dishes you can expect from the Venetian.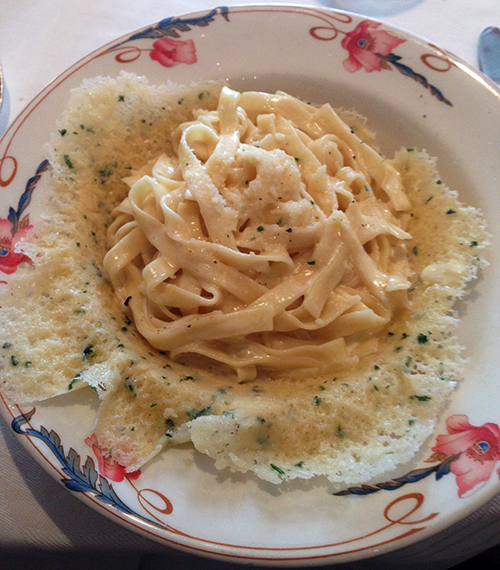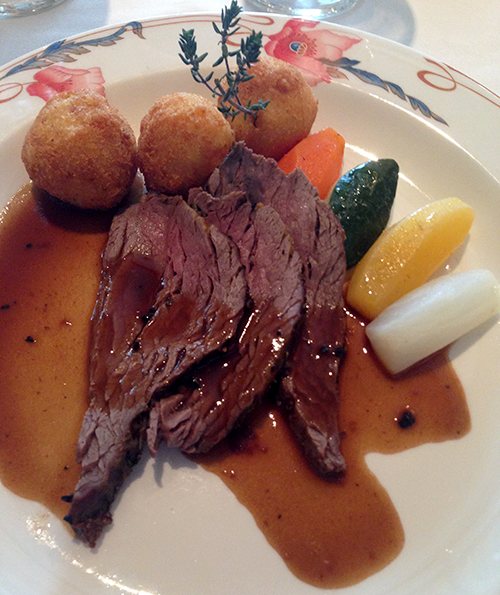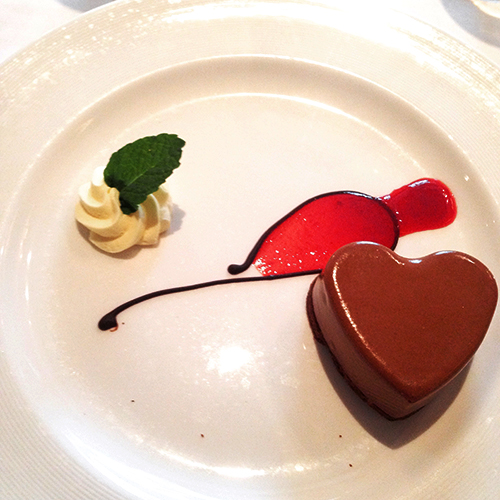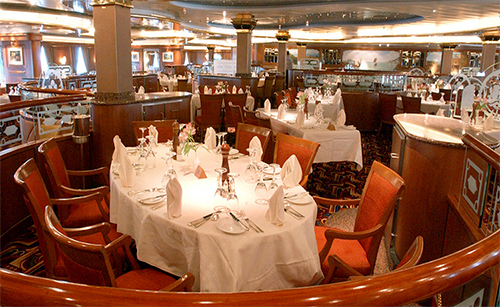 I started lunch with a very creamy Fettuccine Alfredo, followed by Chateaubriand of Beef Tenderloin and the Princess Love Boat Dream rich chocolate mousse on brownie. To be completely honest I was satisfied after the second course but I never turn down dessert! How could you when it looks that good?
One thing that I was pleasantly surprised with was the facilities for children of all ages. Princess is usually seen as a cruise line for more mature clientele, however the facilities they offer for children are wide ranged. I spoke with the QLD Business Development Manager, Peter Darby, who said Princess are seeing more and more families travelling together to celebrate big milestones as well as grandparents taking their grandchildren with them on holidays. Peter said it was important they cater for all ages groups and continue to improve activities and facilities for children onboard.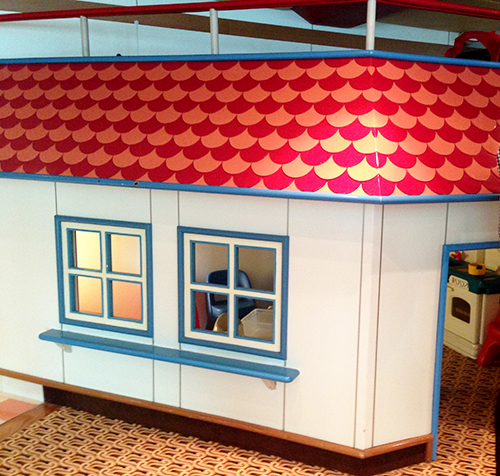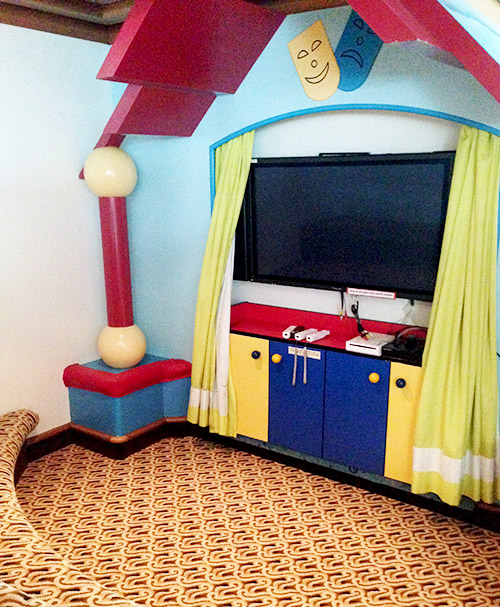 For Princess Pelicans aged 3 to 7, the youth centre contains a play gym, cubby house, craft areas, computers, TV with kid friendly video games, books and more. For parents who are concerned about leaving their young ones alone in unfamiliar territory, the staff offer pages to the parents so they are able to be contacted immediately if their child is in need.
Shockwaves for ages 8 to 12 share an area with younger cruises, however they also have activities around the ship such as Jr. Chef@Sea cooking classes, science projects, sports competitions and more.
Teenage cruises have their own dedicated area with video games, computers, Foosball table and more. Some of the activities teen cruises can participate in include dance parties with nonalcoholic cocktails and a DJ space to create their own DJ sets, sports classes and competitions and hip hop classes just to name a few.
The Dawn Princess cruises Australia, New Zealand, Asia, Hawaii and South Pacific departing from Brisbane, Sydney, Fremantle, Auckland and Singapore.