Global Spotlight: Japan Fuses Ancient & Modern
Unique for its unusual blend of tradition and ultra-modernity, Japan is a perfect choice for those who want to explore foreign culture without losing the comfort of modern facilities. As a country of myriad islands the best way to explore as much of Japan as possible is by sea.
Highlights
– Spot a geisha in the temple city Kyoto
– Tokyo's Harajuku for quirky fashion and shopping
– Mt Fuji and its beautiful surrounding lakes
– World-famous bullet train (Shinkansen)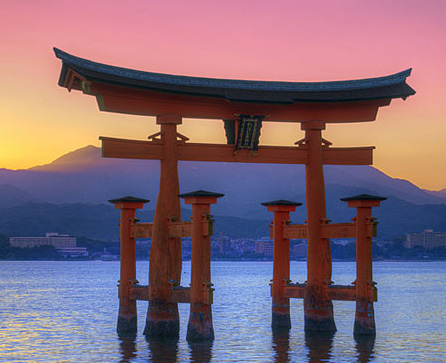 Official Shore Tours
Japan has an excellent transport system and is very English-friendly, so it's easy to explore without an organised tour. We do recommend however taking a tour if you'd like to visit Mt Fuji.
Mt Fuji & Hakone National Park (Royal Caribbean, Princess, Celebrity)
Scenic walk and cable car ride through the forest and natural hotsprings, then take a boat cruise on Lake Ashi, famous for views of Mt Fuji and its clear reflection on the water's surface.
Kyoto Temples Tour
Princess: Nijo Castle, Golden Pavillion, Heian Shrine, Kyoto Handicraft Centre
Royal Caribbean: Golden Pavillion, Heian Shrine, Kiyomizu Temple, bullet train ride
Celebrity: Kiyomizu Temple, Nijo Castle, Golden Pavillion
Our Tips
Best temple: Kiyomizudera (Water Temple) in Kyoto for beautiful buildings, gardens and views over the city
Must-try food: Okonomiyaki, a cross between an omelette and a pancake which is cooked right in front of you on a hot plate
Unique experience: Catch a train during rush hour. You'll be squashed in like sardines in a can.
Japan Cruise Itineraries
Princess cruises Japan from Yokohama near Tokyo and Otaru in Hokkaido. Diamond Princess features a new Japan cruise program so you can really experience Japanese culture. Japanese-style breakfasts, Sake rice wine tastings, karaoke, traditional performances and Japanese bathhouse are all unique features found on Princess's Japan cruises.
Celebrity cruises Japan from Yokohama near Tokyo
Royal Caribbean cruises Japan from Tokyo