Confessions of a first time cruiser
If you are anything like I was before starting at Deck Chair Cruising, my idea of cruisers were that of cramped cabins, sub-par food, that distinct RSL smell and of course Titanic.
Like most people, I don't like admitting I am wrong, but here goes…. boy was I wrong!
My partner and I recently took a short cruise from Sydney to Brisbane on the Royal Caribbean Legend of the Seas and I can say that we are both now hooked. Who wouldn't want their bed made, fresh towels, meals cooked, no cleaning! and endless entertainment?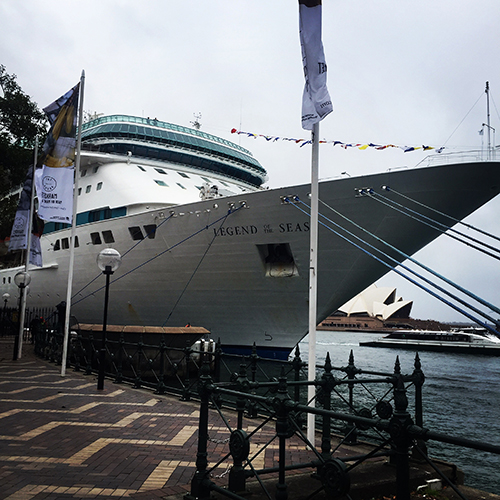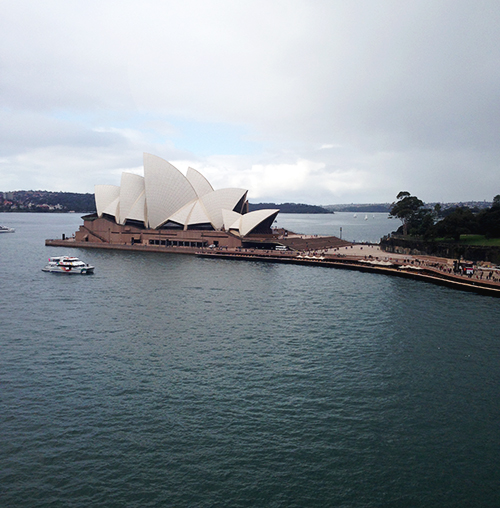 Our first interaction with Royal Caribbean staff occurred before we had even stepped into the cruise terminal at Circular Quay and from that moment until we got in our cab in Brisbane we were greeted with smiles and approachable genuinely friendly service all round. There are even first time cruiser tours that show you around the ship and explain the days activities.
One thing on the top of my list when booking hotels is a good bed, because a bad nights sleep will ruin even the best holiday. My partner is 6′ 7″ so it's hard to find beds that sleep a giant human and myself comfortably, and the bed in our balcony stateroom was just right, perfect for an afternoon nap. Opening the curtains and door to our balcony on the first morning was truly breath taking. I thought I would be afraid of being so far out without land visibility but instead I found myself being taken aback by the beauty of the open ocean. It was like having a beach front property with the most spectacular views, a prime spot for room service breakfast. The late night room service burgers, onion rings, fruit platter, cookies and cheesecake were also made better by the sounds of the ocean.
Food is 2nd on our list of important factors while travelling. We aren't foodies per say but we certainly enjoy spending money on good food over other things in life. Our lunch at the Windjammer was surprisingly good, because like you my expectations were set low. With so many options, there is bound to be something you will enjoy. There is an array of fruits, vegetables, salads and desserts, however the menu changes daily. One day's lunch special was Spaghetti Bologense, the next morning there was a Mexican feast including breakfast burritos, nachos, tacos and more. Chinese noodles, BBQ ribs, lobster bisque .. I really could go on and on, I took good stock of what was on offer.
However if you are looking for fine dining, you cannot go past the Romeo and Juliet restaurant. I couldn't actually believe that it was complimentary dining! My entree of watermelon and raspberry soup was followed up by an equally delicious seafood marinara spaghetti that was one of the best I have ever had. Dessert sounded like heaven on earth, unfortunately I was too full to indulge. I was so excited to go back the second night, however it was the first of three formal nights onboard and as we were only onboard for 2 nights we didn't have room to pack our best attire.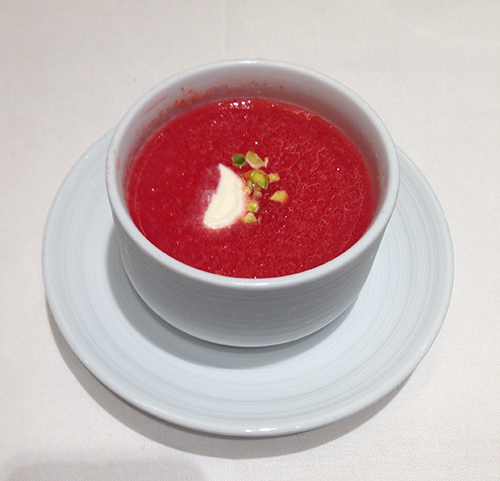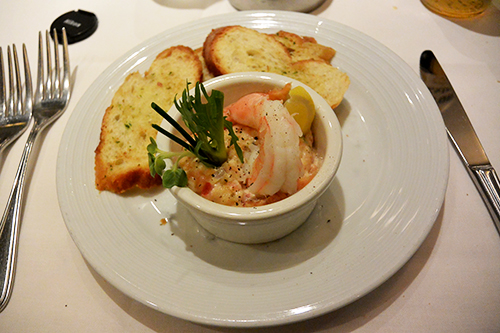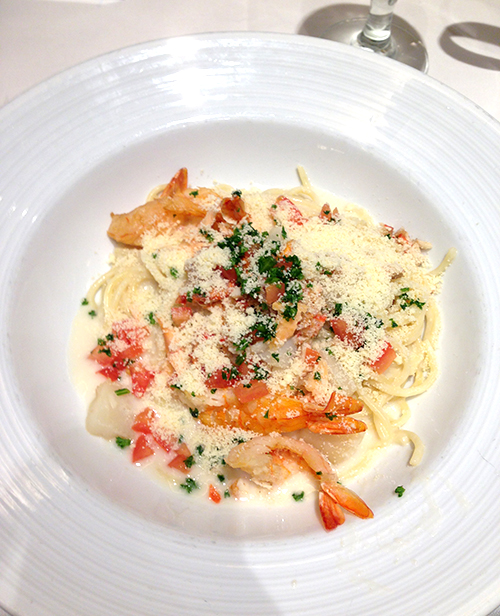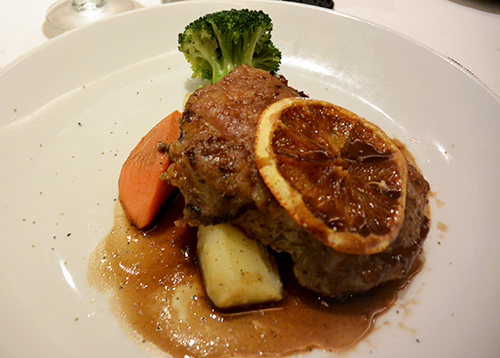 Formal dinning nights really are spectacular, everybody is dressed to the nines, enjoying champagne and smiling ear to ear. As one passenger said to me "It really is a great chance to have a special night, dress up with the family and enjoy great food. We don't often get to dress up when we are back at home, it's a nice excuse."
To add to the spectacle of formal night we had the opportunity to witness the Champagne Chandelier Girls, (may not be the official name), and captains welcome. Gorgeous girls descended in giant chandeliers to serve guests, who had lined up in an orderly fashion, top shelf Champagne.
During the day there is plenty to keep you busy, or relaxed. A rock climbing wall, mini golf, cha cha classes, poker tournaments, bingo, table tennis and of course the pools and spas. We headed down for trivia in the Schooner Bar, however we missed out because we were 1 minute late and every last seat had been filled with passengers putting on their thinking caps. Word to the wise, book into activities, and be early for activities you can't book into so you don't miss out, especially on rainy days.
Unfortunately because the weather was overcast and rainy the roof of the Solarium, adults only pool and cafe, remained closed, meaning that it was a bit hot and stuffy. However the best thing about the Solarium is the coffee, real Illy coffee brewed fresh, anyway you like it. The food on offer was exactly what we felt like for an afternoon snack, or breakfast if you miss the Windjammer. Fresh fruit cups, toasted sandwiches and roast beef rolls to name a few.
At night the fun doesn't stop on the ship.
At this point I should mention the drinks packages. Typical newbie, I was skeptical of anything in a package actually being of real value. After buying 3 drinks we quickly realised we were dealing in US dollars and had almost spent the cost of a drinks package, it doesn't take long to get your monies worth. We went for the unlimited package because I don't much enjoy beer or wine. At 67USD per person per night it really adds up. However if you enjoy a cocktail by the pool, an afternoon wine or two and a few drinks with dinner, you will easily spend $67. Beers were $9-$11, spirits were $9-$14 and cocktails started from around $13+. With the unlimited package you can also drink top shelf spirits, not basics.
The R Bar is situated near the main stairs in the centre of the ship, where musicians take the stage and dancing is most welcomed. The Schooner Bar is the ships nautically themed drinking spot where a very skilled Pianist, Jake Henry was playing, and taking song requests, giving the bar a relaxed vibe. The Pool Bar is the most relaxed bar of them all, situated on deck 9 near the pool. You can take your drinks to the lounge chairs if you are looking to really chill out. Once you have your dancing shoes on, you can't pass up the Viking Crown Lounge/Club on deck 11. It's pretty cool to get your groove on whilst looking over the entire ship and ocean views.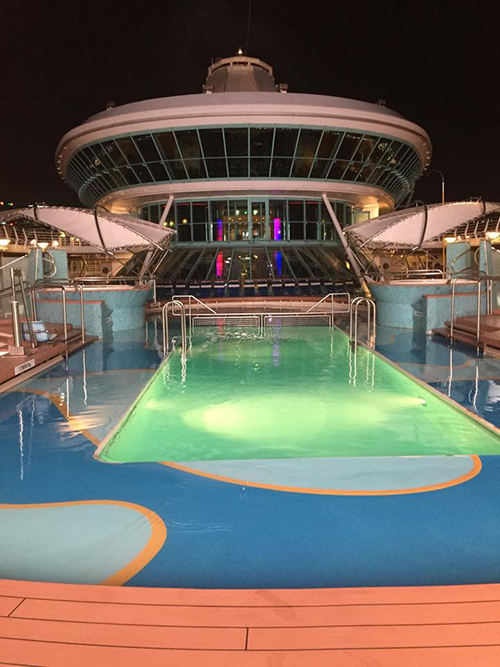 If bars aren't your thing, you can take in a show, which on the second night was Aussie Boys. Yet again we arrived on-time to find That's Entertainment Theatre jam packed. With barely enough room to stand at the back, it was still a very impressive show.
If you enjoy singing in the shower and have nerves of steal, why not try karaoke. We love karaoke and roped in some of our new found friends to hit the stage and bust out some tunes. The host of the show was very charismatic and encouraging, making you feel as at home as possible while potentially making a fool of yourself.
As somebody who feels uncomfortable in large crowds of people I don't know, cruises sounded a little bit daunting. However all of the other passengers we met on the cruise were happy, friendly and enjoyable to chat to, or share a table at the Windjammer with. From an Australia couple in their 20's enjoying their 10th cruise, to the America family of four who flew to Australia to take this cruise from Sydney to Singapore, to the lovely German couple who were on there 100th+ cruise, unsurprisingly they are Royal Caribbean Diamond members who spend more than a third of the year onboard, to the two America Navy men in their 30's relaxing on leave, you will unintentionally end up with onboard friends who may turn into life long friends.
We met a coupe who became friends 30 years ago on a cruise and have been booking holidays together ever since, they have even attended each-others children's weddings!
Now in terms of the cons, I did get seasick on the first full day onboard. Just before lunch the weather turned and I was in the casino, which has no view of the ocean, the slight rocking got a little too much for me and my brain decided it wasn't having a bar of it. Luckily the onboard shops had seasickness tablets, I grabbed a few bread rolls and an ice tea from the Windjammer and in a few hours I was ready to get moving again. Word of advice, buy tablets before you get onboard to avoid swaying through the halls trying to find the shops and take them! If you start to feel uneasy there is no point sucking it up like I tried to do and ruining your holiday.
Second word of warning, everything is in USD. Check the conversion rate before you leave to make sure you know exactly how much that beer, new watch or shore excursion is really costing you.
All in all, 95% of my opinions about cruising are positives, the other 5% was my ignorance and stubbornness. When, not if, I cruise again I will most definitely be booking a balcony room or above because I really enjoyed being able to feel the breeze in my hair without being in a public area and having the extra space to put my feet up. I would also like to travel on one of the bigger cruise ships or ocean liners, such as the Ovation of the Seas. Not only are they more stable, meaning less chance to get seasick, but I was in awe of the size of the Legend of the Seas and can only imagine the fun and adventure that can be had on a larger ship.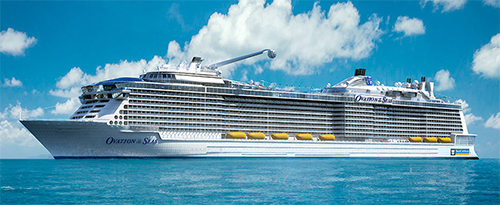 The Legend of the Seas will be returning for the summer down under on the 8th of December and will be the first Royal Caribbean ship to be based in Brisbane.
The Ovation of the Seas goes on sale tomorrow the 17th of June and will be cruising Australia and New Zealand from December 2016